Everyone loves an underdog story. It doesn't matter the sport or team. Seeing someone come from behind and work their way to the top is a feel-good story we can't resist.
All the best sports movies celebrate teams that overcome adversity. From serious biopics such as Miracle to hilarious comedies like Dodgeball, we all love underdog stories.
By defying the odds on the gridiron, they inspire us to reach for our dreams in our own day-to-day lives.
Here is our rundown of the best underdog stories in NFL history.
Table of Contents
Vince Papale
Vince Papale's story is the classic underdog tale. Most people know the system for making it onto an NFL team: be a star player in high school, get scouted and be a star player in college, then get drafted. It's a straightforward process – but difficult enough that only a small percentage of high school hopefuls make it.
Some players don't excel in high school but manage to walk on and secure places on college teams, others don't get drafted but secure a place on an NFL team as a free agent.
But hardly anyone has ever gotten a spot on an NFL team as a walk-on. Vince Papale did.
In 1974, Vince Papale was working as a high school teacher in Philadelphia when he managed to secure a spot playing for the very short-lived World Football League team the Philadelphia Bell. His performance was impressive enough to catch the attention of Eagles general manager Jim Murray.
At 30-years-old, Papale tried out and made the team, becoming one of the oldest rookies in NFL history. He was a wide receiver and served as special teams captain. His three seasons with the Eagles made him an NFL legend.
Papale's story continues to inspire people and has become entwined in popular culture. In 2006, his story was made into the movie Invincible, starring Mark Wahlberg.
RELATED: The Best Undrafted NFL Players of All-Time
Darious Williams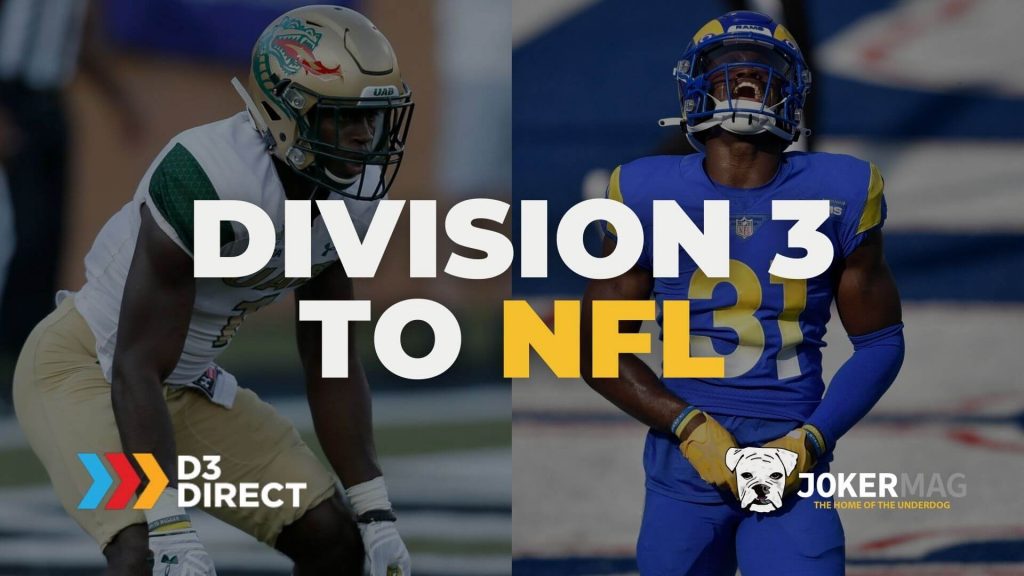 Darious Williams is another player whose path to the NFL was not a smooth one. Despite being a talented multi-sport athlete in high school, Williams was overlooked by all the big football colleges. For most young players, not making it into a well-known school marks the end of their desire to play.
For Williams, it was simply a roadblock to overcome.
He ended up at Marietta College, a Division III football program, where he played for a year. However, he ultimately left school to deal with family issues back home.
Then, Williams moved on to the University of Alabama at Birmingham. His first attempt to join the team failed, but on his second attempt as a walk-on in 2014, he made the team. There were more problems — the university canceled the football program, then brought it back, and Williams persevered.
Despite his impressive stats from UAB, during the 2018 season, he was passed over by NFL teams in the draft. The Baltimore Ravens picked him up as an undrafted free agent but released him after only four weeks. Finally, LA Rams coach Sean McVay saw what everyone else had been blind to and signed Williams.
McVay's faith was rewarded as Williams proved that his determination off the field was matched by his production on the field. The cornerback started in Super Bowl LVI and helped the Rams secure their first Super Bowl win in over 20 years.
Kurt Warner
Kurt Warner's story is another lesson in determination and believing enough in yourself to keep fighting for what you know you can achieve.
His story starts the way you'd expect for an NFL great. He went from playing in high school to playing at the University of Northern Iowa.
But despite being named the Gateway Conference's Offensive Player of the year his senior year, he was passed up during the 1994 NFL Draft and invited to Green Bay's training camp.
After getting cut by the Packers, Warner stocked shelves at an Iowa grocery store for $5.50 an hour.
Warner ended up playing arena football for the Iowa Barnstormers until 1997 when he was signed by the St. Louis Rams. Instead of playing with the Rams, however, he ended up playing for their European League team, the Amsterdam Admirals.
In 1999, Warner finally got his chance. The Rams' starting quarterback, Trent Green, suffered an injury in the preseason, and Warner was named the new quarterback. His long wait and patient dedication were rewarded as he led the Rams to a Super Bowl victory over the Titans.
Today, Kurt Warner is immortalized in the Pro Football Hall of Fame, with his story turned into a Hollywood movie, American Underdog.
J.J. Taylor
Standing at a mere 5 feet 5 1⁄4 inches, J.J. Taylor made it all the way to football's highest level. In a league focused on height, hand size, and power, Taylor overcame the odds to become the smallest active player in the NFL.
The speedy return specialist has been showcasing his athleticism since high school – when he was named Mr. Football as the best offensive player in California.
After battling back from a season-ending ankle injury his freshman year at Arizona, Taylor posted stellar numbers across his next three college seasons. He then chose to forgo his final year of eligibility to enter the 2020 NFL Draft.
Ultimately, Taylor went undrafted, later signing with the New England Patriots.
After spending time on their practice squad, J.J. Taylor has carved out a spot as a punt returner and part-time running back.
RELATED: The Shortest Players in the NFL: Now & In Football History
Shaq Barrett
At a co-ed boarding school near Omaha, Shaq Barrett didn't become a full-time starter until the end of his junior year.
He started his college football career at the University of Nebraska-Omaha but ended up transferring to Colorado State because Omaha dropped its football program entirely.
Despite his success at CSU, Barrett went undrafted. After the Denver Broncos picked him up, Barrett bounced around from the practice squad to the active roster, before finally winning Super Bowl 50 in 2016.
It wasn't until his age 27 season that he found a home in Tampa Bay. With the Buccaneers, Barrett has been a league-leader in sacks, a two-time Pro Bowler, and a key contributor on the Bucs' Super Bowl team in 2021.
Darren Sproles
A 5'6″ running back who battled a speech impediment growing up, Sproles defined the next generation of NFL playmakers.
He spent time with three teams in his career, setting franchise records for each. His 19,696 all-purpose yards rank 5th in NFL history.
Read More: Darren Sproles Hasn't Changed. Football Has.
Giants Take Down the Undefeated Patriots
The 2007 New England Patriots were the first team to complete a perfect regular season since the 1972 Miami Dolphins. Having won 3 Super Bowls over the past 5 seasons, they were 12-point favorites against the Giants.
Less than 2 minutes away from completing their perfect season, all the Patriots had to do was stop Eli Manning.
Instead, he marched 83 yards down the field – a drive made famous by David Tyree's leaping "Helmet Catch" on 3rd and 15 – to lead the Giants to a 17-14 victory.
Watch: Super Bowl XLII: 'Helmet Catch' game Patriots vs. Giants highlights
Eric Berry Beats Cancer
Halfway through the 2014 season, doctors discovered a mass in Berry's chest and confirmed the diagnosis of Hodgkin's lymphoma.
"I will embrace this process and attack it the same way I do everything else in life," he said in a statement. And he did – continuing to work out between chemotherapy treatments.
Just eight months after conquering the disease, he returned to the field and played at an All-Pro level for the Chiefs.
Read More: How Eric Berry Defied The Odds
Pierre Garçon
When the Colts selected him in the 6th round out of Division III Mount Union College, Garçon was a huge question mark for most football pundits. After all, how many D3 players can you name who had great NFL careers?
When asked about being the first NFL Draft pick to emerge from his school, Garçon only had four words: "It's time to work."
And he did – racking up 7,854 receiving yards (110th all-time) over his 11-year career.
RELATED: How Fred Jackson Went From 5'6″ Third-Stringer to D3 Coe College to NFL RB
Back-Up QB Frank Reich Leads Bills to Come Back From a 35-3 Deficit
In the final game of the 1992 regular season, Bills' starter Jim Kelly suffered a season-ending injury. That meant backup quarterback Frank Reich would take the reins in the team's playoff game against Warren Moon and the Houston Oilers.
Trailing 28-3 to start the second half, Reich threw a pass that bounced off his receiver's hands and was returned for a pick-six. That made the score a whopping 35-3 with less than two quarters of football remaining.
What followed is simply known as "The Comeback", as Reich shocked the 75,141 fans in attendance by leading his team to a stunning 41-38 overtime victory.
Watch: Frank Reich Leads "The Comeback" ('92 Wild Card) – NFL Films
Boston Scott
Scott is a 5'6″ running back who walked on at Louisiana Tech. Despite averaging 5.7 yards per carry in his senior year, he wasn't invited to the NFL Combine.
Even after being drafted by the Saints, he didn't last long – getting waived and signed to the practice squad in 2018. Later picked up by the Eagles, he had to fight every step of the way to finally put on that NFL uniform.
Now when he takes the field, he makes sure everyone remembers his name.
The Mile High Miracle
With 44 seconds remaining, the Ravens trailed the Broncos and Peyton Manning's high-powered offense by a score of 35-28. Anticipating a deep shoot, the Denver defense deployed seven defensive backs in coverage.
Avoiding defenders, Joe Flacco launched a bomb for receiver Jacoby Jones to chase down. The ball fluttered just past the reach of Broncos safety Rahim Moore and into the hands of Jones, who took it into the end zone to tie the game.
An overtime field goal won it for Baltimore – propelling them to an eventual Super Bowl win.
Watch: Joe Flacco's 70-Yard TD Pass to Jacoby Jones
Nick Foles, Super Bowl MVP
After stints in St. Louis and Kansas City – and briefly considering retirement – Nick Foles returned home to the team that drafted him to back up franchise quarterback Carson Wentz.
When Wentz went down in Week 14, Foles took over as the starter. All of a sudden, the #1 seed Eagles were underdogs in their first home playoff game.
Surrounded by doubt, Nick Foles led his team all the way to a Super Bowl victory over the vaunted New England Patriots – taking home the Pete Rozelle Trophy as MVP of the big game.
Watch: Nick Foles' Comeback from Near-Retirement to Super Bowl MVP
Raheem Mostert
A two-star recruit out of high school, Mostert spent four years at Purdue as mostly a return specialist. Signed as an undrafted free agent by the Eagles, he excelled in the preseason.
Despite his performance, Mostert got cut, triggering a journey that spanned six teams in two years. Then he found a home in San Francisco.
Over the next four seasons, Raheem Mostert went from the practice squad to the injured reserve to becoming the feature back of an NFC Championship team. Mostert is officially one of the fastest NFL running backs in league history.
Gardner Minshew
Despite setting records as a high school passer, Minshew didn't receive a single athletic scholarship offer. He went from Troy University, to Northwest Mississippi Community College, and then to ECU.
After graduating with his bachelor's degree, Minshew still had a year of eligibility left. With a few simple words, Coach Mike Leach lured Minshew away from Alabama and into the hearts of college football fans everywhere.
After leading the Cougars to their best season in school history, Minshew was selected by the Jacksonville Jaguars in the sixth round. Time will tell what happens next. But if history is any indication, you should never bet against Gardner Minshew.
Shaquil Barrett
Shaquil Barrett kicked off his college career at Nebraska-Omaha, a school that disbanded its football program one year later. So he transferred to Colorado State to keep his dream alive.
His senior year, he won Mountain West Conference Defensive Player of the Year. Yet when he declared for the draft, no team selected him. Later, the Denver Broncos signed him as an undrafted free agent.
Across five seasons with limited playing time, he racked up 14 sacks. In 2019 he signed a one-year, "prove it" deal with the Buccaneers. And he did just that – piling up a league-leading 19.5 sacks.
Watch: The Best Player in the NFL You've Never Heard Of
Jets Stun the Patriots in the Divisional Round
"For all you non-believers…" Bart Scott's infamous post-game speech came after the New York Jets stymied the heavily-favored Patriots on a frigid January night in 2011.
Going into Foxborough against top-seeded New England, no one expected the trash-talking Jets to stand a chance. But Rex Ryan's bunch prevailed, stunning both the fans in attendance and the millions watching at home.
Honorable Mentions
Tom Brady
Tarik Cohen
Boston Scott
Warren Moon
Deonte Harty
Austin Ekeler
Dan Arnold
Tony Romo
These underdog stories are a great lesson for all of us. No matter how talented you are, the world may not always see it.
With dedication and hard work, there's always a chance to overcome the odds and end up where you know you're meant to be.