Football is one of the most punishing contact sports in the world. But how tall do you have to be to hit the gridiron on Sundays?
According to official data from Pro Football Reference, out of 2,245 rostered athletes, the average height of an NFL player is 6 feet 2.16 inches (188.35 centimeters) for the 2022-23 season.
That's over 5 inches taller than the average American male (5 feet 9.1 inches).
Here is a complete breakdown of the average height of every NFL position – plus a bonus for undersized players searching for inspiration.
Table of Contents
Average Height of an NFL Quarterback
The average height of an NFL quarterback is 6 feet 2.49 inches (189.19 centimeters) for the 2022-23 season.
Notoriously the most important (and most scrutinized) position in the league, signal-callers are typically tall enough to be able to see over the offensive line. But over the past decade, we've seen smaller players make an impact under center.
At 5'10″, Kyler Murray is the smallest quarterback in the NFL today. The 2019 first-overall pick is an entire 8 inches smaller than Justin Herbert, one of the league's tallest starting quarterbacks (6'6″).
Average Height of an NFL Running Back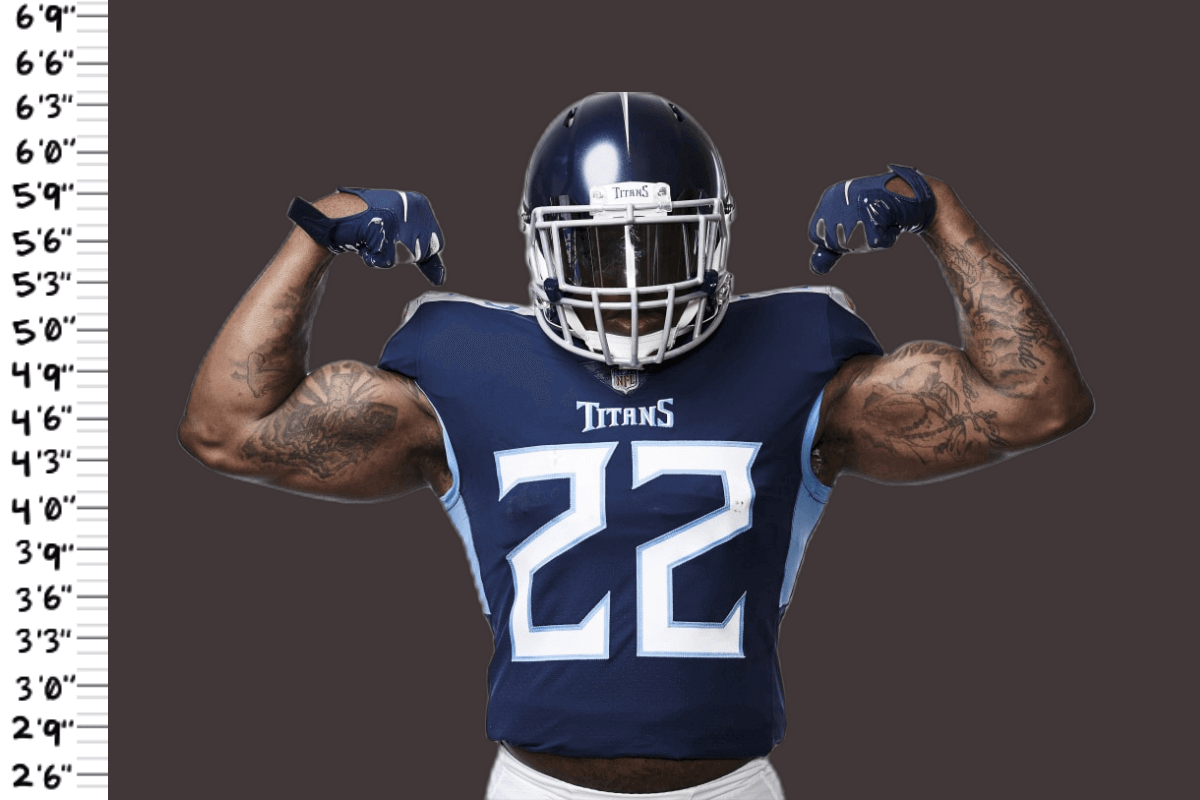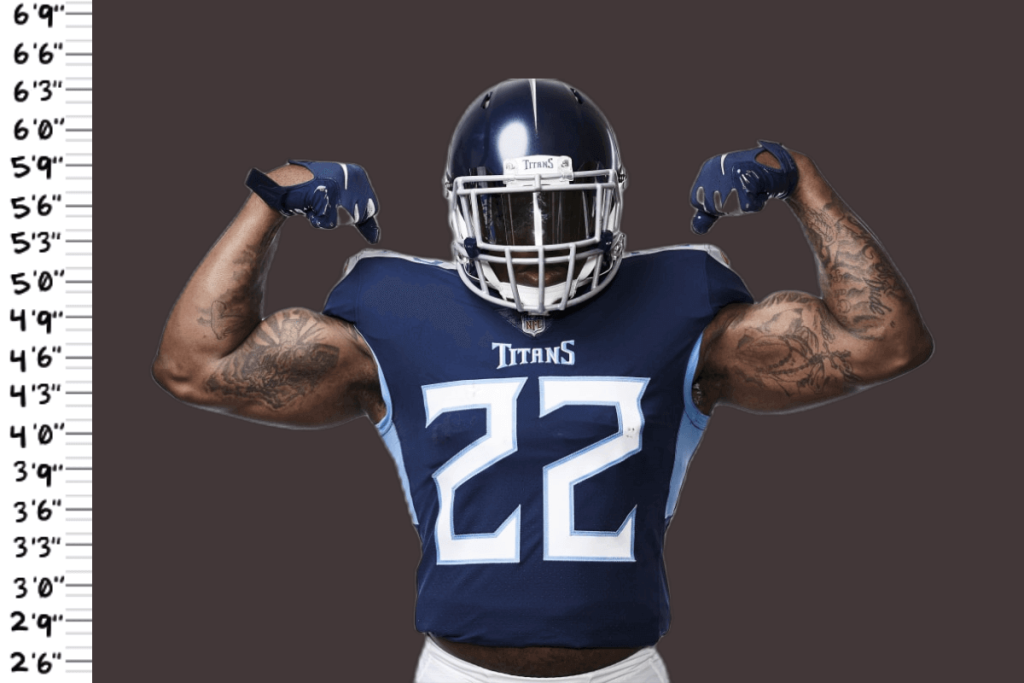 The average height of an NFL running back is 6 feet 0.59 inches (184.37 centimeters) for the 2022-23 season.
At the smallest position in professional football, halfbacks come in all shapes and sizes. With more NFL teams moving toward a "running back by committee" approach, there's enough room for everyone – from diminutive pass-catchers to big-bodied bruisers.
Listed at 5 feet 5 1⁄4 inches, running back J.J. Taylor is the shortest active NFL player. He's nearly 10 inches shorter than Derrick Henry, the tallest and heaviest back in the league (6'3″).
RELATED: How Josh Jacobs Went From Zero-Star Recruit To Top NFL Running Back
Average Height of an NFL Wide Receiver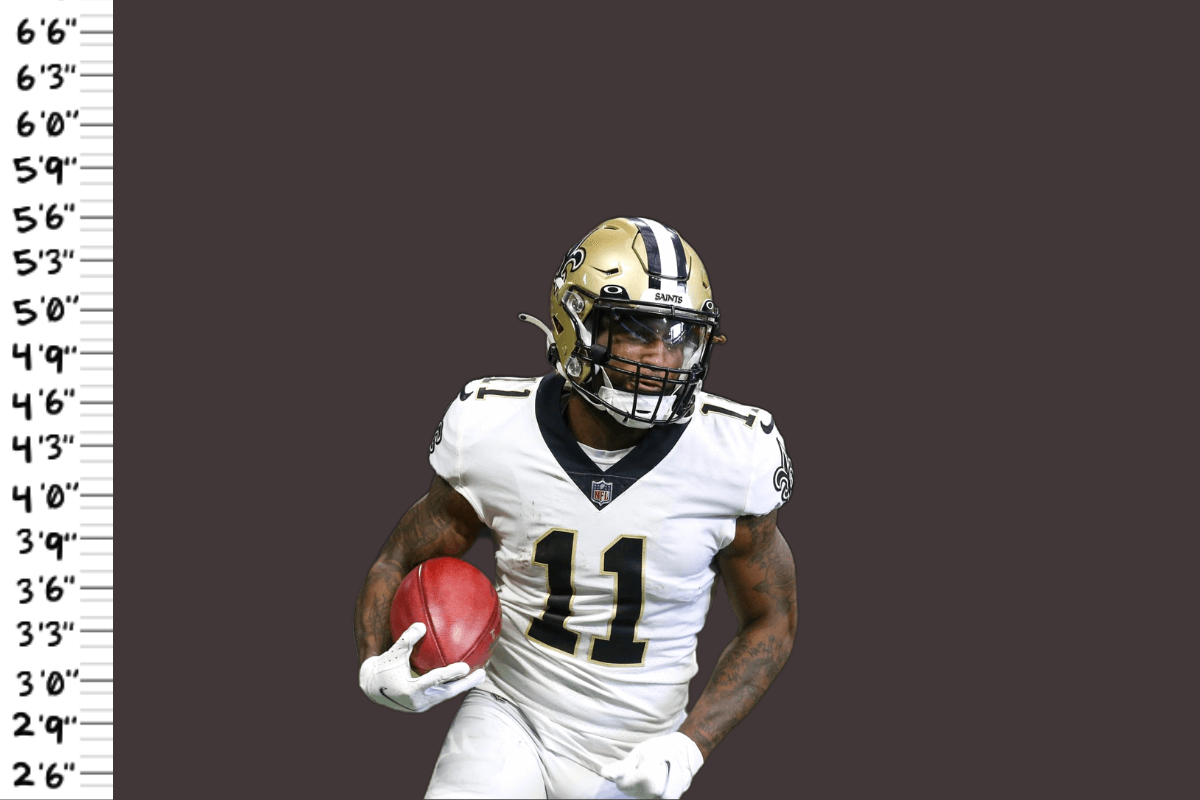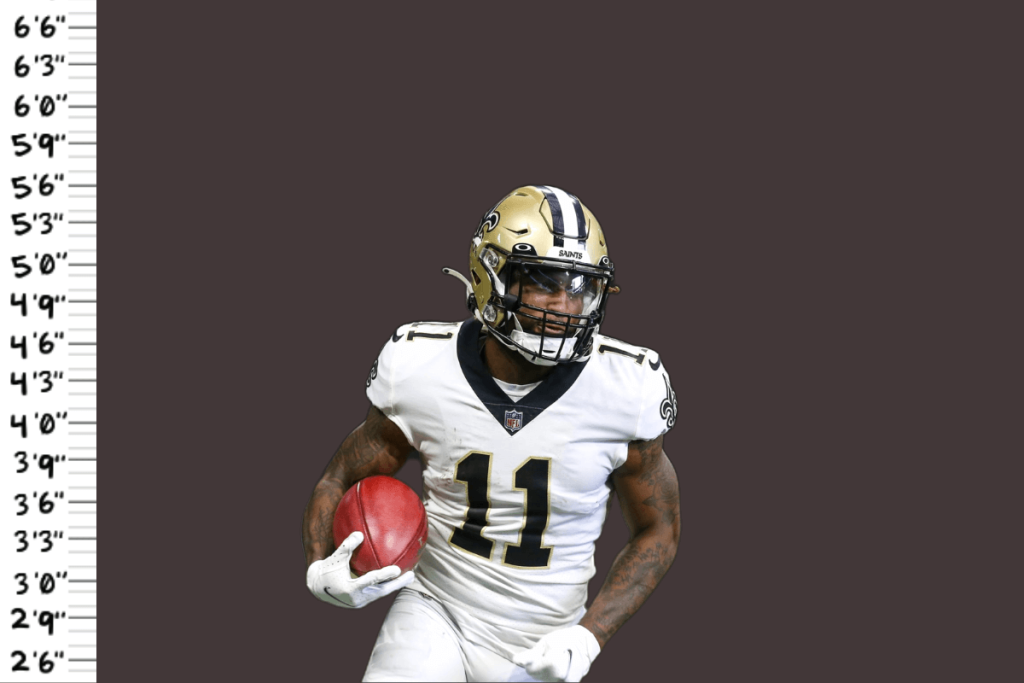 The average height of an NFL wide receiver is 6 feet 1.88 inches (187.66 centimeters) for the 2022-23 season.
There is a full 12-inch difference between the shortest and tallest wideout in the league – 5'6″ Deonte Harty and 6'6″ Collin Johnson.
So, are wide receivers getting taller or shorter?
Football Perspective analyzed the data and found that the position's average league-wide height has increased steadily since 1990. Prior to that, the NFL experienced a decade-long trend of wide receivers getting smaller each year.
As the game evolves, it will be interesting to see where the height of receivers goes from here.
Average Height of an NFL Tight End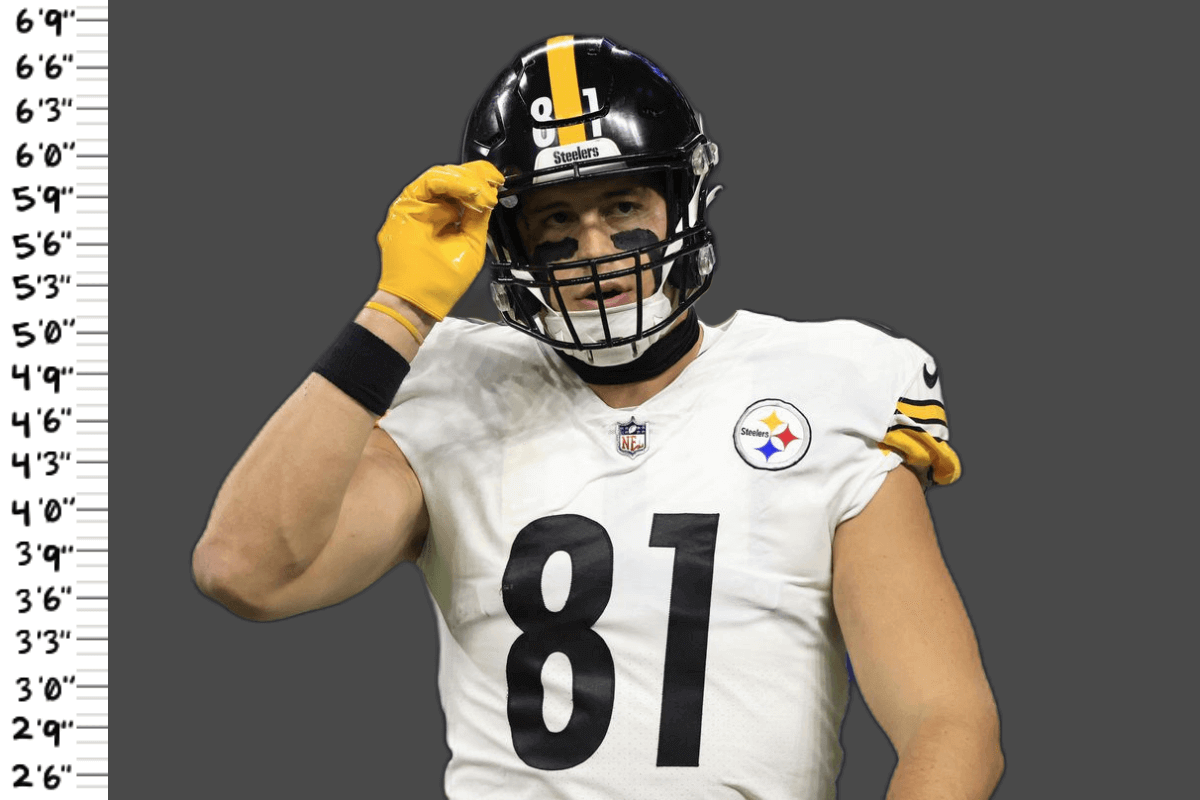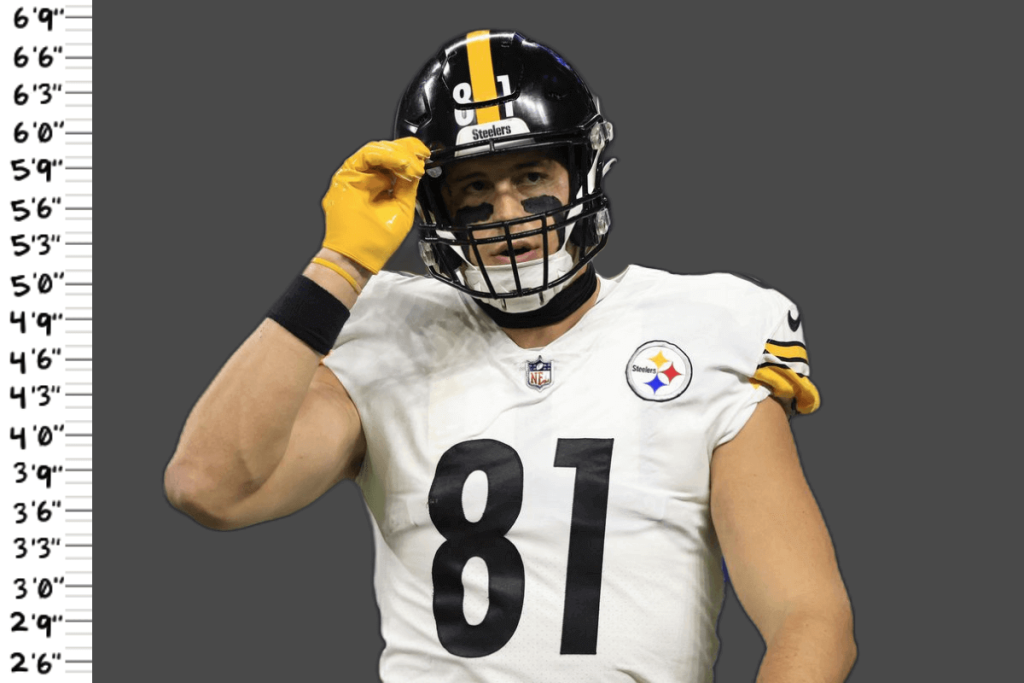 The average NFL tight end stands at 6 feet 3.1 inches (190.76 centimeters).
With the position requiring a focus on blocking, route-running, and pass-catching, body types can vary. Athleticism is what counts – which is a reason why so many former basketball players play tight end in the league.
At 6'0″, Connor Heyward is 8 inches shorter than the NFL's tallest tight end, Zach Gentry (6'8″).
Average Height of an NFL Offensive Lineman
The average NFL offensive lineman stands at 6 feet 3.55 inches (191.89 centimeters).
This number encompasses all positions along the offensive line: center, guard, and tackle. In the trenches, offensive linemen need the size and strength to block both powerful pass-rushers and massive defensive tackles.
At 6'1″, undrafted guard Aaron Brewer is the smallest offensive lineman in the league – once a two-star recruit who was told he was "too small" to play the position.
On the other end of the scale is the 6'8″ 380-pound Daniel Faalele. The massive Australian tackle is the tallest and heaviest offensive lineman in the league.
Average Height of an NFL Defensive Lineman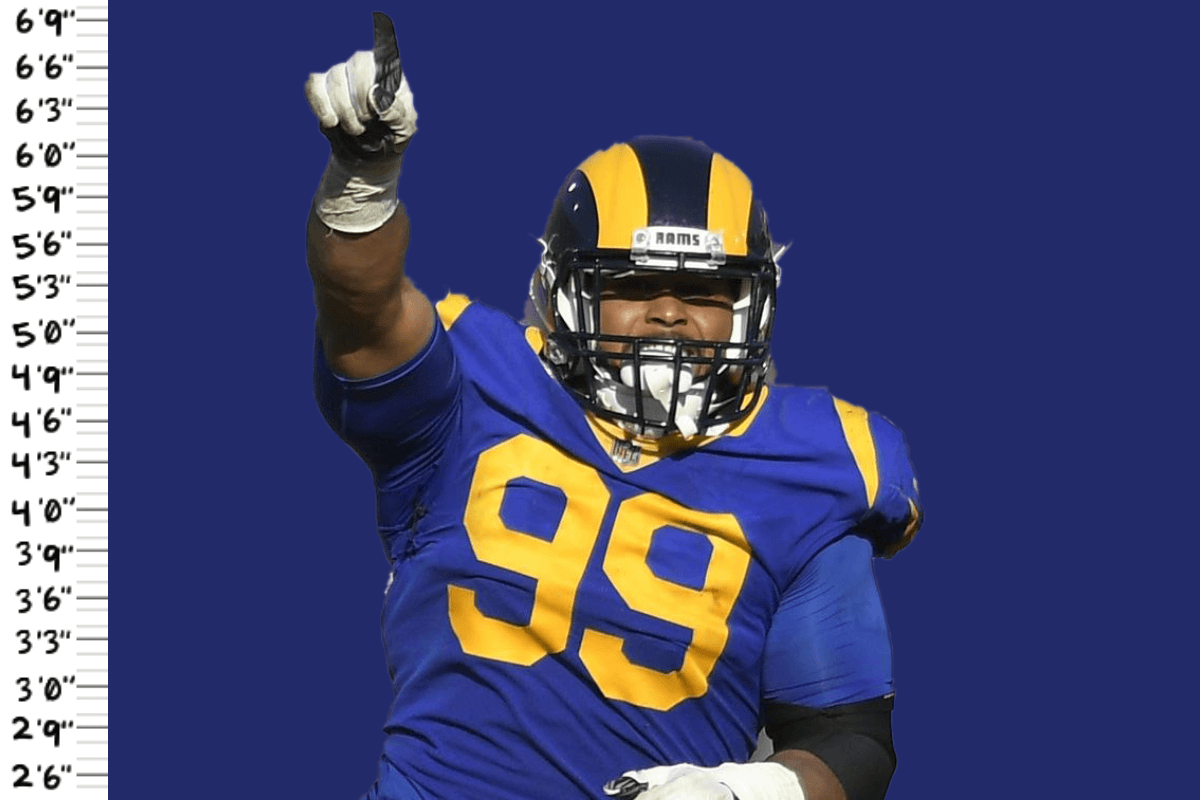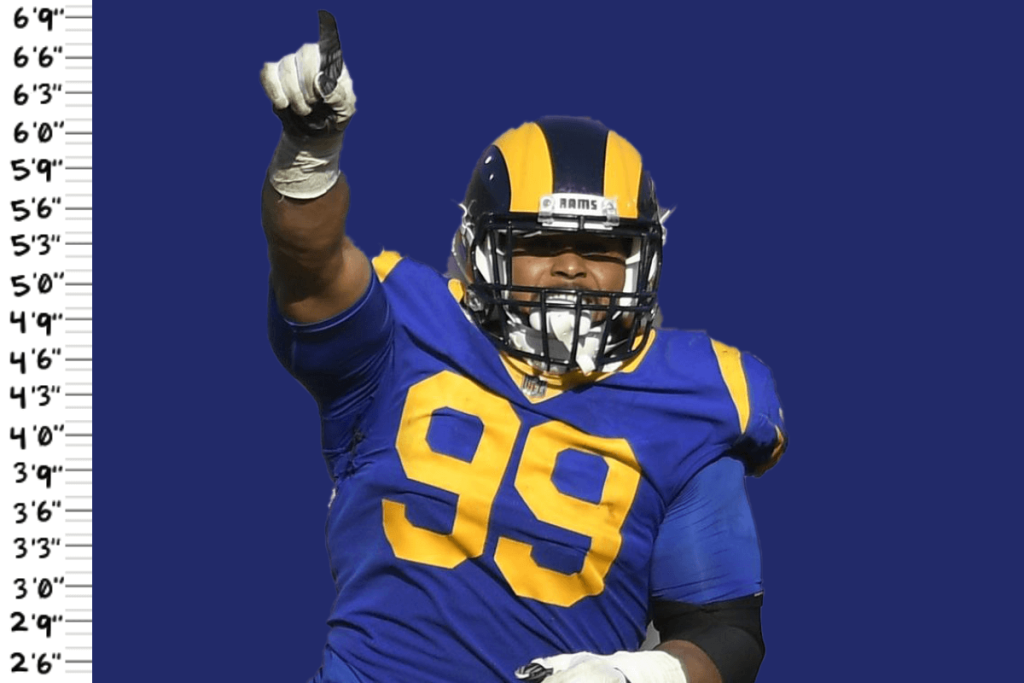 The average height of an NFL defensive lineman is 6 feet 2.93 inches (190.33 centimeters) for the 2022-23 season.
Tasked with powering past the NFL's largest athletes, defensive linemen don't necessarily need to be tall to be productive.
Take Aaron Donald, for example. The 3-time Defensive Player of the Year is considered among the best defensive tackles in the game today and stands at only 6'1″.
There is a 9-inch disparity between the shortest and tallest defensive linemen in the league. Poona Ford is just 5'11" while Calais Campbell stands at 6'8″.
Average Height of an NFL Linebacker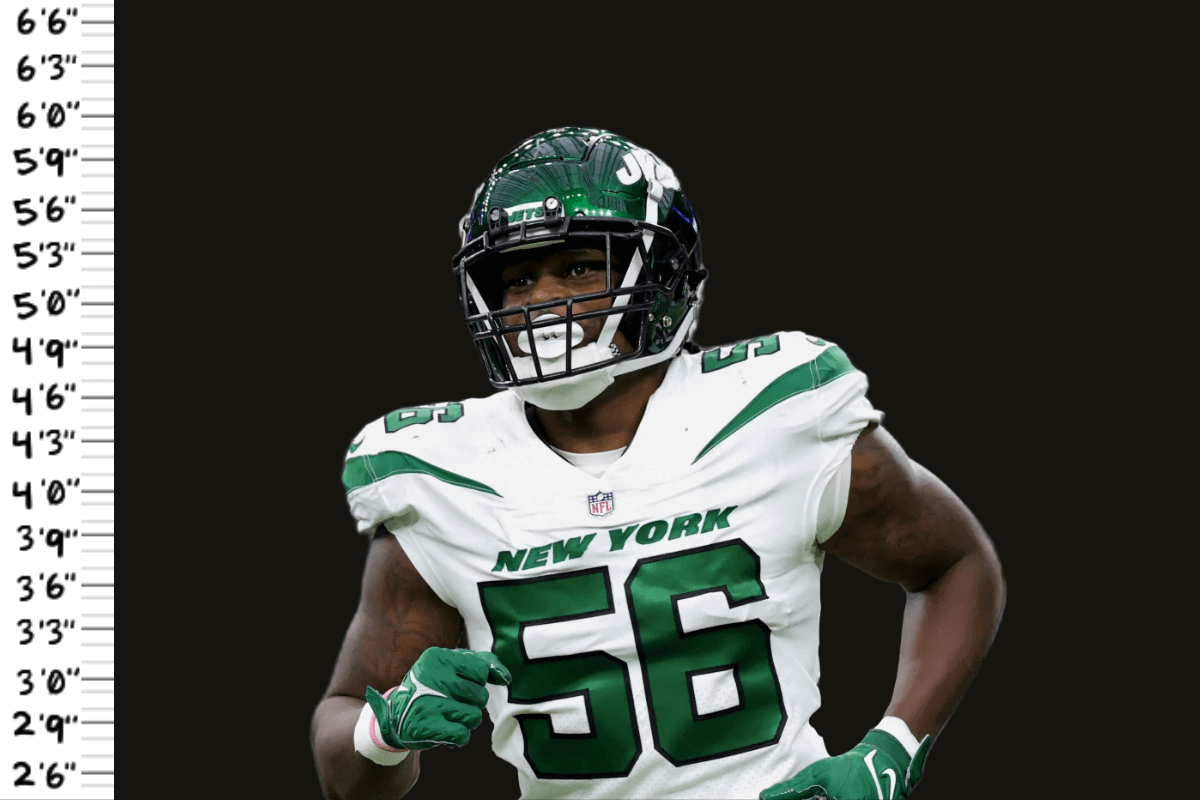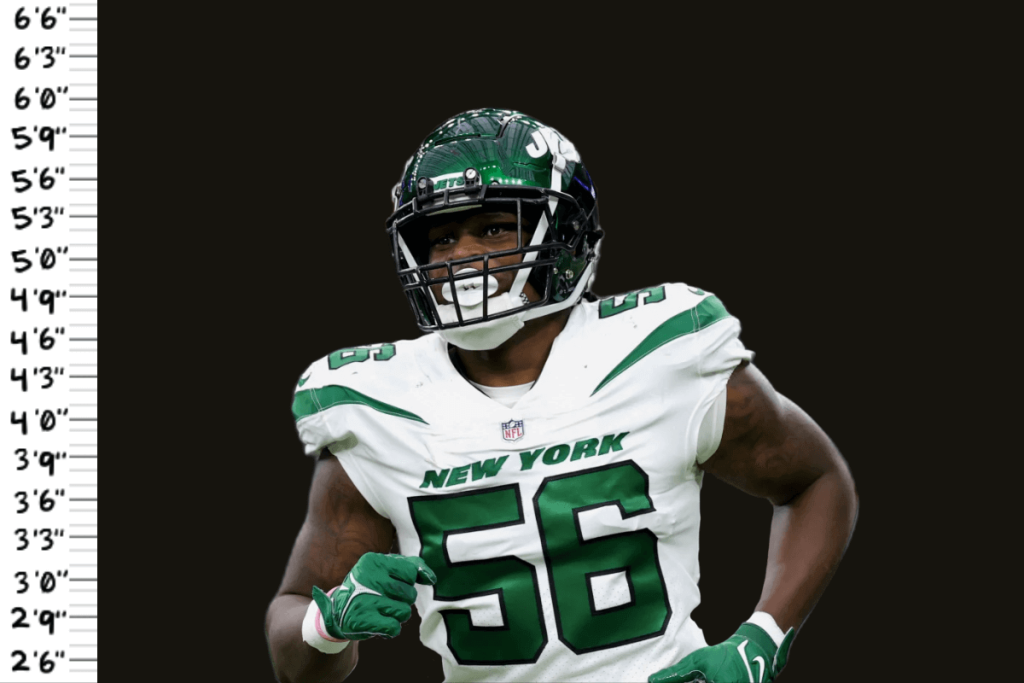 The average NFL linebacker stands at 6 feet 2.62 inches (189.53 centimeters).
"Linebacker" can mean a lot of different things in today's NFL. You have pure run-stopping guys, athletic pass-rushers, and faster players who drop back in coverage – or a combination of all three.
5'11" Quincy Williams is among the smallest linebackers in the league, while 6'7″ OLB Anthony Nelson lands among the tallest.
RELATED: From 5'9″ Division 3 Linebacker To The Pro Football Hall Of Fame: The Sam Mills Story
Average Height of an NFL Defensive Back
The average height of an NFL defensive back is 6 feet 1.24 inches (186.03 centimeters) for the 2022-23 season.
Defensive backs are tasked with covering and stopping players at the "skill positions" – in other words, the shiftiest and fastest players on the field.
For that reason, these guys can be on the smaller side. There are 174 defensive backs listed under 6 feet tall.
5'8″ cornerback Marcus Jones is 8 inches smaller than Tariq Woolen, who is among the tallest DBs in the league at 6'4″.
Average Height of NFL Special Teamers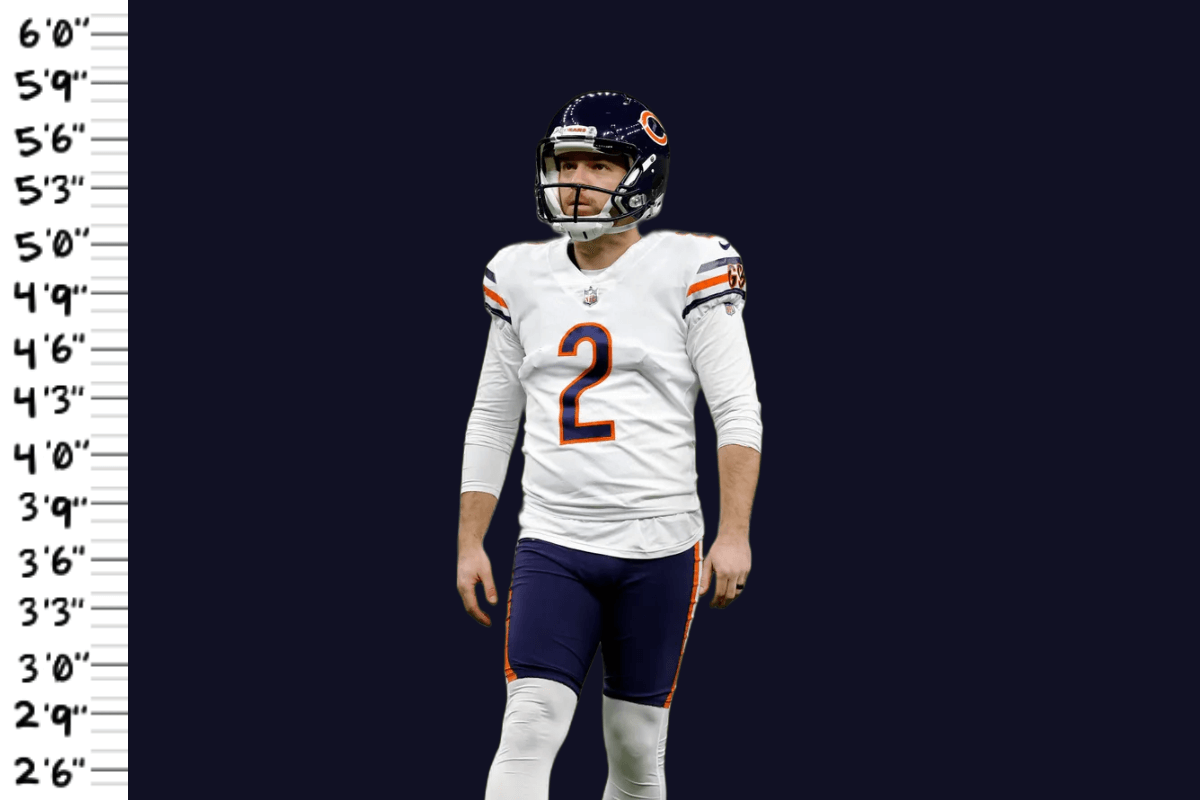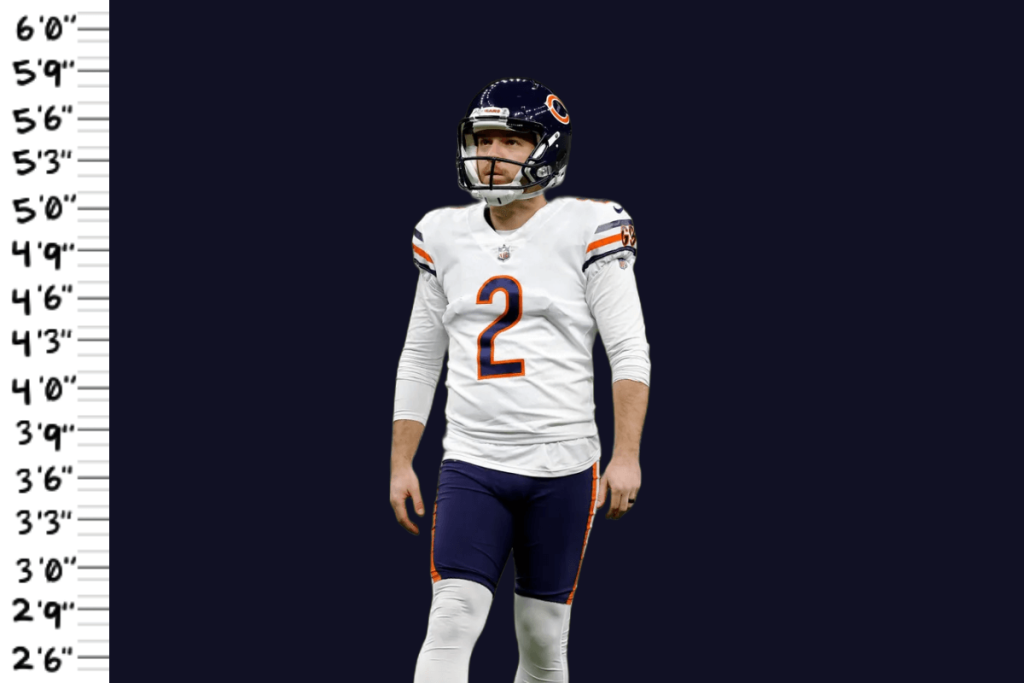 We grouped special teamers into three buckets: long-snappers, kickers, and punters. Sure, there are return specialists, gunners, jammers, and more, but those players are typically listed under their primary position group.
The average height of an NFL long-snapper is 6 feet 2.03 inches (188.04 centimeters)
The average height of an NFL kicker is 6 feet 1.47 inches (186.6 centimeters)
The average height of an NFL punter is 6 feet 2.4 inches (188.96 centimeters)
At 5'8″, kicker Cairo Santos is the shortest pure special teams player in the NFL. At 6'6″, punter J.K. Scott is the tallest.
What About Undersized Football Players?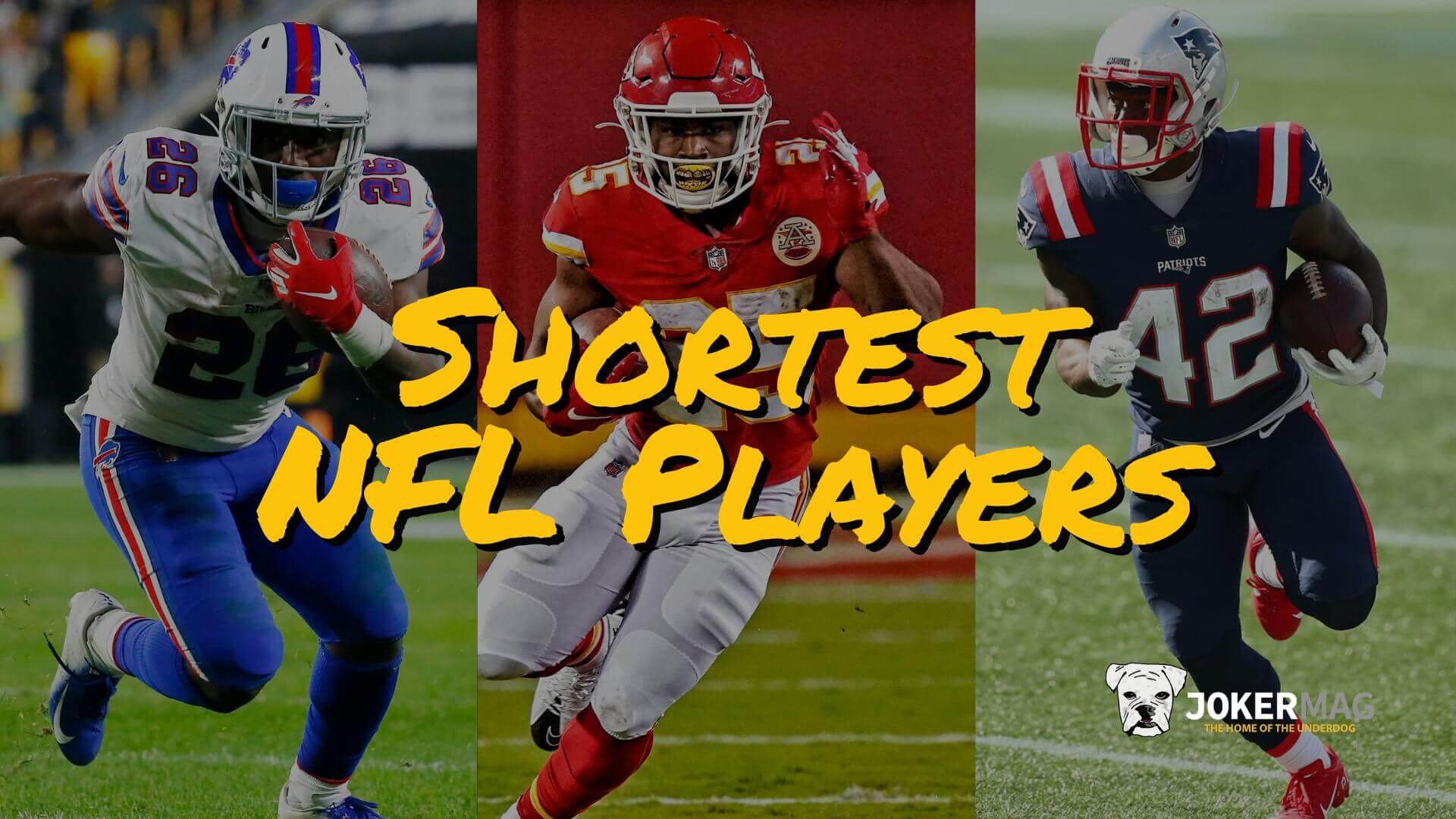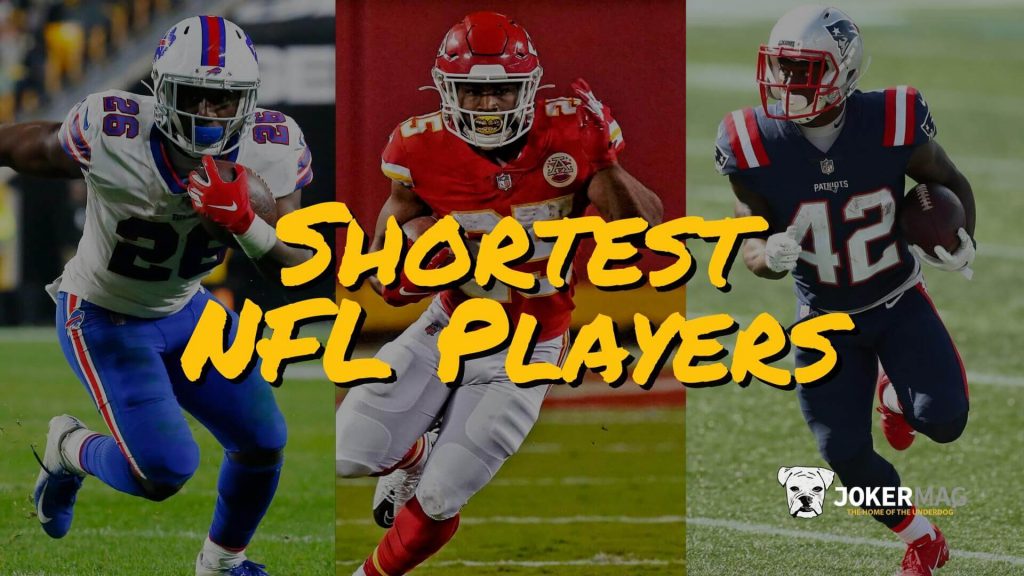 If you're a young football player reading this list, it can be easy to get discouraged. But these numbers don't paint the whole picture.
In fact, there are plenty of smaller guys who succeeded at the NFL level.
Take Boston Scott, for example. He got cut from his middle school football team and walked on at Louisiana Tech. At 5-foot-6, he's scored 17 touchdowns through his first five NFL seasons.
Hungry for more? Check out our list of more than 40 of the shortest NFL players of all time. There are plenty of underdog stories that will show you what's possible.
Yes, height can help. But your heart is what counts the most.
RELATED: Inspirational Football Quotes to Help You Level Up Your Game
Love underdog stories? Join our free Underdog Newsletter for a fresh take on the unsung heroes and overlooked stories in sports.