Drafted with the 88th pick in 2013, Nick Foles went from near retirement to winning Super Bowl MVP. He's the quintessential underdog – going from backup QB to carrying an underdog squad to championship glory.
Foles has made magic during his time in the NFL. His leadership ability is second-to-none. Teams play better when he's under center.
The humble quarterback has spoken at length about his approach to adversity and how he overcame his own failures.
After the Eagles' Super Bowl run, Foles published a book called Believe It: My Journey of Success, Failure, and Overcoming the Odds – excerpts from which you'll find below.
Here is our collection of the best Nick Foles quotes of all time.
The Best Quotes from Nick Foles
1.) "When you measure your worth based on what other people say about you or on what you can achieve, it's hard to understand who you really are." – Nick Foles
2.) "If something's going on in your life and you're struggling – embrace it because you're growing." – Nick Foles
3.) "Failure is a part of life. That's a part of building character and growing." – Nick Foles"
4.) "I can't do something unless my heart's in it." – Nick Foles
5.) "I knew that to make more growth, I had to go back and face that fear and face my failures." – Nick Foles
6.) "I feel like athletes, we try to be perfect. And we're not. We fail just like anyone else, we have issues like everyone else." – Nick Foles
7.) "Don't be afraid to fail." – Nick Foles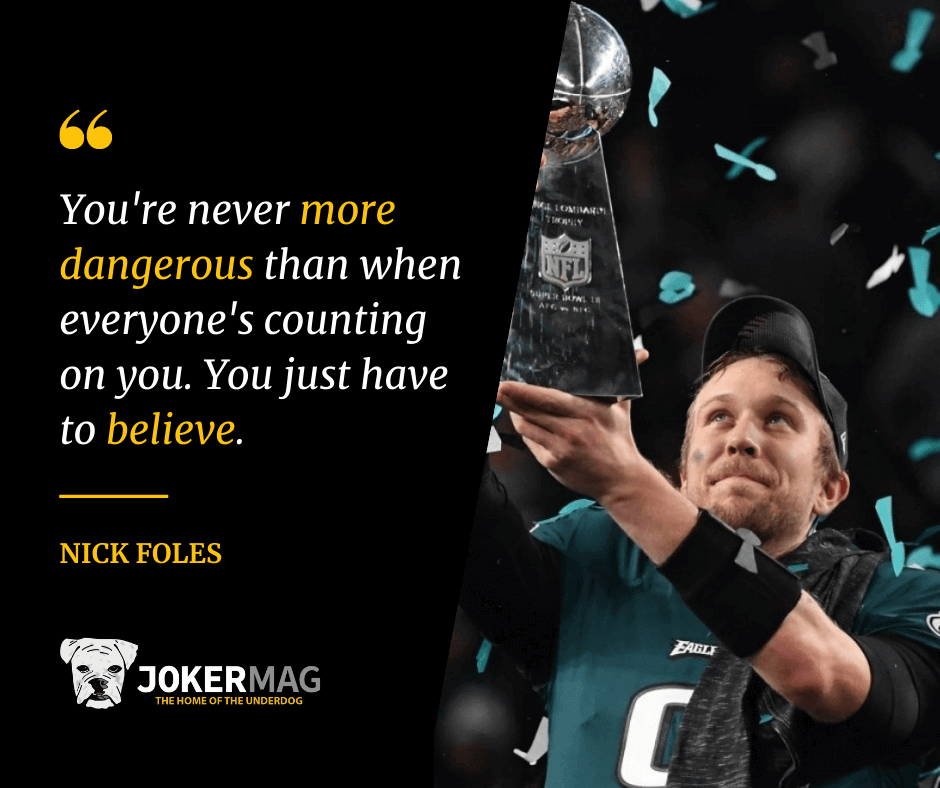 8.) "You're never more dangerous than when everyone's counting on you. You just have to believe." – Nick Foles
9.) "The true measure of success is to make sure everything I do — the way I act, the way I treat others, the way I deal with disappointment and setbacks — reflects and glorifies God." – Nick Foles
10.) "I didn't switch my mindset. I wasn't worrying about the scoreboard, I wasn't worrying about the time. I was just playing ball." – Nick Foles
11.) "If you put it on a pedestal, you start forgetting to do the little things. The preparation. The practice." – Nick Foles
12.) "I think we all have fears that we face. And to overcome them and attack them – that allows us to grow." – Nick Foles
13.) "The big thing that helped me was knowing that I didn't have to be Superman. I have amazing teammates, amazing coaches around me." – Nick Foles
14.) "Without failure, who would you be? I wouldn't be up here if I hadn't fallen thousands of times and made mistakes." – Nick Foles
15.) "It's much more than a trophy. It's the journey and the people you go through it with." – Nick Foles
16.) "Keep fighting and don't give up." – Nick Foles
17.) "I've been overlooked, praised, questioned, lauded, labeled, celebrated, and derided—sometimes all in the span of a single week. That's life in the NFL." – Nick Foles
18.) "The journey hasn't always been easy, and I've made a lot of mistakes and missteps along the way. But looking back, I can honestly say that I wouldn't change a thing." – Nick Foles
Is there a Nick Foles quote we missed? Let us know on Twitter.
More quote compilations you might like: