The NFL is home to the best football players on the planet. We can all agree on that. But for some, it wasn't always that way. In fact, there are quite a few NFL players who were completely overlooked coming out of high school.
Players who refused to let someone else's opinion dictate their future. Guys who overcame the doubters and achieved their lifelong dream of playing football at the highest level.
Below is a list of current NFL players who were 2-star recruits (or worse) coming out of high school.
Table of Contents
Josh Jacobs, RB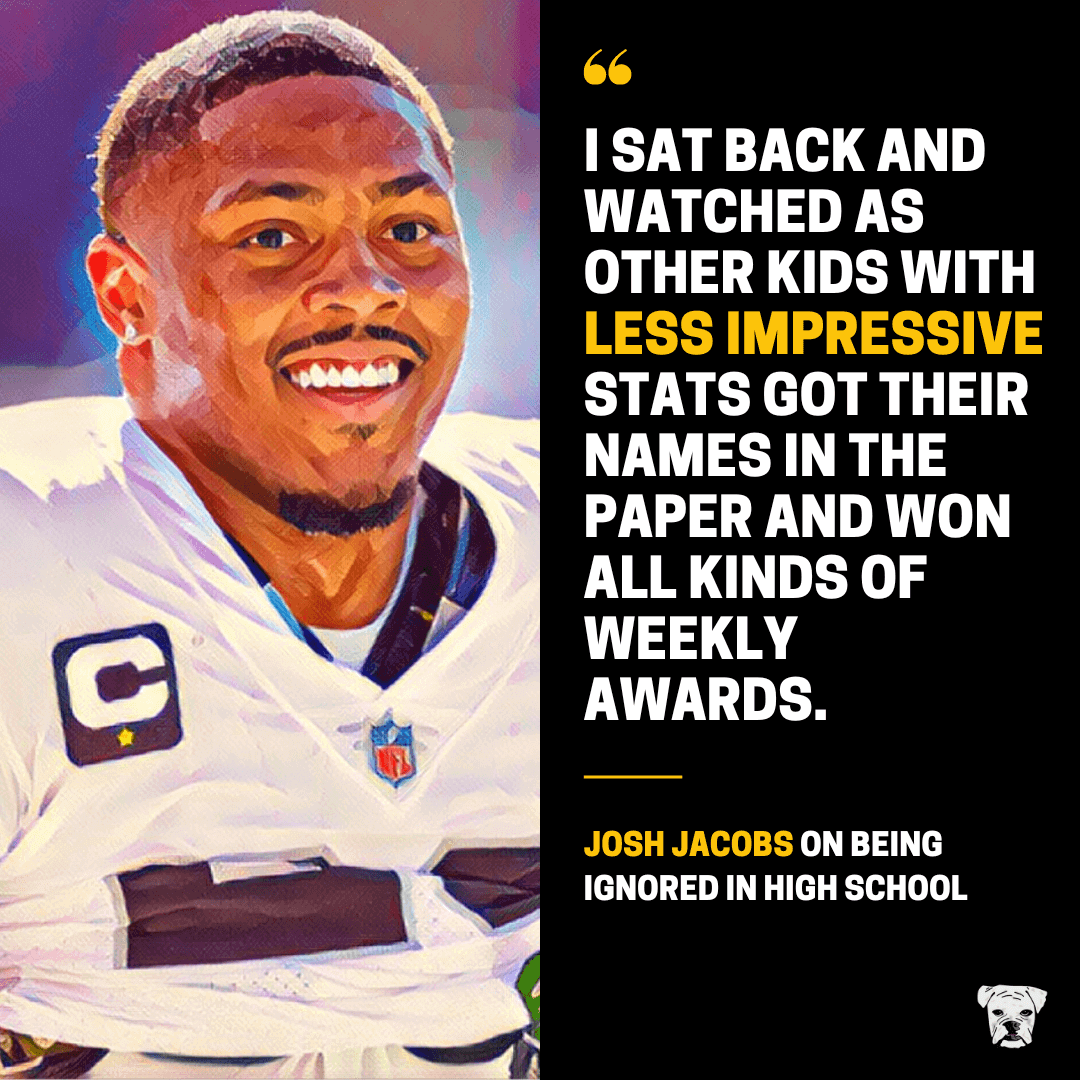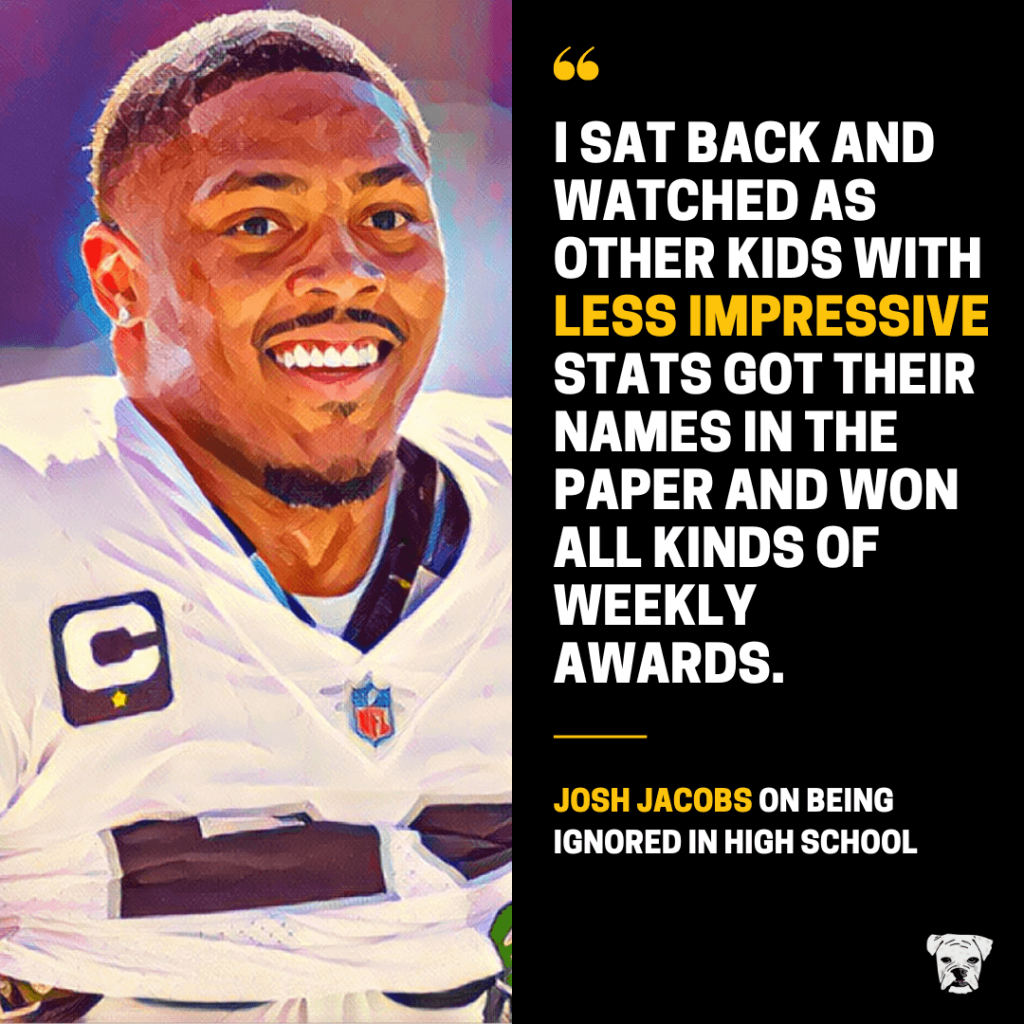 Josh Jacobs' high school stats were so gaudy that local newspapers wouldn't even print them. They thought his coach was lying.
For most of his high school career, he had:
No local coverage
No social media presence
Zero stars on every recruiting website.
It wasn't until the middle of his senior year that a random man in Texas called his father. And the rest is history.
Khalil Mack, OLB
Back in 2009, no one would've expected Khalil Mack to one day receive a 99 overall rating in Madden. In fact, back in college, he wore the number 46 as a reminder of what people thought of him (his NCAA Football rating was 46 out of 99).
Today, Khalil Mack is the most terrifying pass rusher in the NFL. In 2018, the Chicago Bears made him the highest-paid defender in league history. Do you think he's worth it?
David Johnson, RB
Unranked out high school, David Johnson only had two D1 offers. Ultimately, he committed to Northern Iowa. After redshirting in 2010, Johnson spent the next four years setting new school records for career rushing touchdowns and all-purpose yards.
The seventh running back selected in the 2015 NFL Draft, David Johnson is known as one of the top all-purpose backs in the league today.
Shaquil Barrett, DE
At a co-ed boarding school near Omaha, Barrett didn't become a full-time starter until the end of his junior year. Shifting from offense to defense, he posted serious numbers in his senior season.
Nowhere on the national recruiting radar, Barrett originally attended the University of Nebraska Omaha, which dropped football from their athletic program shortly thereafter. So he transferred to Colorado State, where he amassed 18 sacks across three seasons, winning the Mountain West Conference Defensive Player of the Year Award his senior year.
Still, Barrett went undrafted in 2014 before signing with the Denver Broncos. He spent four seasons there as a rotational player before finding a home with the Tampa Bay Buccaneers – where he's proving the doubters wrong.
Darious Williams, CB
Darious Williams was an unranked prospect who climbed from football obscurity to the biggest stage in the sport.
Williams was under-recruited out of high school and graduated with zero stars and zero football scholarship offers. He ultimately found a spot at D3 Marietta College in the Ohio Athletic Conference.
After a long road of ups and downs, Williams landed in the NFL as an undrafted free agent – first with the Baltimore Ravens and then latching on with the Los Angeles Rams. He's now LA's starting cornerback opposite All-Pro Jalen Ramsey.
LEARN MORE: Darious Williams: From D3 Football to Super Bowl Starter
Jimmy Garoppolo, QB
Jimmy G originally played running back in junior high. That is until one day his coaches got a look at his arm. Even still, he didn't start at QB for Rolling Meadows (Ill.) until his junior season.
Back then, who would've thought he'd end up a second-round pick of perhaps the greatest dynasty in NFL history? And, even further, the starting quarterback of a legitimate Super Bowl contender.
Aqib Talib, CB
Ranked 1,461st in the nation as a recruit, Aqib Talib had an uphill battle to prove himself. Despite lettering in three sports, and being named his high school's Defensive Back of the Year, he wasn't recruited by any top-tier college programs.
Talib ultimately decided on Kansas, where he displayed his versatility and world-class athleticism. As a team captain in his junior season, he helped lead the Jayhawks to a 12-1 record and an Orange Bowl victory.
Today, he's a 5-time Pro Bowler and Super Bowl Champion.
Hunter Renfrow, WR
At 5'10" and 155 lbs, Hunter Renfrow surely didn't have the look to play college football at a top school. That's why only four schools in the country offered him a scholarship – Appalachian State, Gardner-Webb, Presbyterian, and Wofford.
But Renfrow passed up on each of those offers to walk-on at Clemson, betting on himself. During his redshirt season he worked his butt off and gained 20 pounds.
Back then, no one outside of him and his family ever would have believed he'd be selected in the NFL Draft. But here he is.
Tarik Cohen, RB
At first glance, if you saw Tarik Cohen on the street you'd never guess he's a professional football player. His diminutive stature was always a point of concern for coaches.
But, as Henry Bushnell wrote in an epic feature on Cohen for Yahoo Sports, all he ever needed was a chance.
Back when he was blasting out emails to college coaches and never hearing back, his chances at the NFL seemed like a far-away dream. Today, when he suits up for the Chicago Bears, that dream is now a reality.
Carson Wentz, QB
Carson Wentz wasn't even a blip on the national recruiting radar coming out of high school. Despite an incredible growth spurt – from 5'8″, 125 pounds to 6'3″ his junior year – he did not play quarterback until his senior year.
According to Chris Johnson of Sports Illustrated, most of Wentz's scholarship offers came after his senior season. And a majority of them were from "Missouri Valley teams and a bunch of FCS teams."
At NDSU, he came in as the backup quarterback. In those days, few would have guessed he'd end up the #2 overall selection, and starting signal-caller for the Indianapolis Colts.
T.Y. Hilton, WR
The Colts' 4-time Pro Bowler was just a 2-star recruit coming out of Miami Springs High School. Listed at 5'10" and 160 pounds, Hilton didn't command much attention from college scouts – ranked as the 1,930th wide receiver in the nation.
He ultimately committed to FIU where he set new school records for career receptions, receiving yards, and receiving touchdowns.
Cooper Kupp, WR
After his final high school game, Cooper Kupp left the field without a single college offer.
Reflecting on those times, Kupp told ESPN, "There's no feeling like that. I believed that I could play at the next level, but there is that voice in the back of your head saying, 'Well, right now no one else thinks that you can.' You know? But it didn't change my idea."
He eventually did get an offer to Eastern Washington, where he convinced the janitorial staff to let him into the facilities in February – before anyone else was even thinking about football – to study film and catch tennis balls from a machine.
That hard work and self-belief paid off, as Kupp quickly transformed into one of the – if not the best – slot receivers in the NFL.
J.J. Watt, DE
Rated as a 2-star recruit by both Scout.com and Rivals.com, J.J. Watt didn't come close to ranking among the top defensive ends in the country. After committing to Central Michigan as a tight end, he wasn't happy with his role.
Instead of following his coaches' advice and moving to offensive tackle, Watt left his starting spot behind to walk on at Wisconsin.
After redshirting in 2008, we all know what happened next. The pass-rusher's illustrious accomplishments include three NFL Defensive Player of the Year awards, five first-team All-Pro appearances, and the Walter Payton Man of the Year award.
Josh Allen, OLB
Per our own Dom Fierro's pre-draft piece on the Jags' star pass-rusher, "Allen's career began at a small high school in Alabama where he played wide receiver and linebacker before moving to New Jersey prior to his senior year of high school."
He barely cracked the top-100 at his position and was the 2,121st ranked recruit in the nation. In the 2015 recruiting class, he was no more than a dart throw.
But, like many others on this list, all Allen needed was a chance. At Kentucky, he transformed himself into a 6'5″, 260-pound beast and eventual seventh overall pick in the NFL Draft.
Jason Kelce, C
In high school, Kelce split time between running back and linebacker before walking on at Cincinnati as a fullback. After redshirting his first year, he packed on 40 pounds in an effort to shift up to the offensive line.
Still considered small for his position, he spent the majority of his college career at left guard before moving to center his senior year. The Philadelphia Eagles saw enough there to select him in the sixth round of the 2011 NFL Draft.
Two Pro Bowl appearances and a Lombardi Trophy later, Kelce continues to prove that size is no issue.
Clay Matthews, OLB
Despite an NFL bloodline, Matthews – just 6-foot-1, 165-pounds as a high school senior – was unranked as a recruit and walked on at USC.
"I thought I could come in here, day one, and be the guy," he told the Los Angeles Times. "Maybe I was crazy to have that mindset, but obviously that's better than saying you can't."
Over the years, Matthews worked his way up the ranks – from special teams ace to hybrid pass-rusher – and molded himself into a top prospect. The Green Bay Packers made him their first-round pick in 2009, and he's been a disruptive force for opposing QBs ever since.
Bobby Wagner, LB
Despite a decorated high school career, Wagner was considered a two-star recruit by Rivals.com. His only offer came from Utah State, which he gladly accepted. In his four years there, he put his head down and went to work – emerging on the other side as a second-round pick of the Seattle Seahawks.
"I wasn't highly recruited. But I didn't have to say anything," he said in 2015. "I didn't have to draw attention to myself. I just went to Utah State and played. Now I'm here."
Every player on this list refused to let outside opinions define them. Instead, each used the doubt as fuel to propel them toward their dreams.
That's the definition of the underdog mentality.