Football is a game of strength.  But at the sport's highest level, athleticism comes in all shapes and sizes.
Since the early days of the league, there have been players who defied the odds. These are the shortest NFL players – now and throughout football history.
Table of Contents
Who Was The Shortest NFL Player Ever?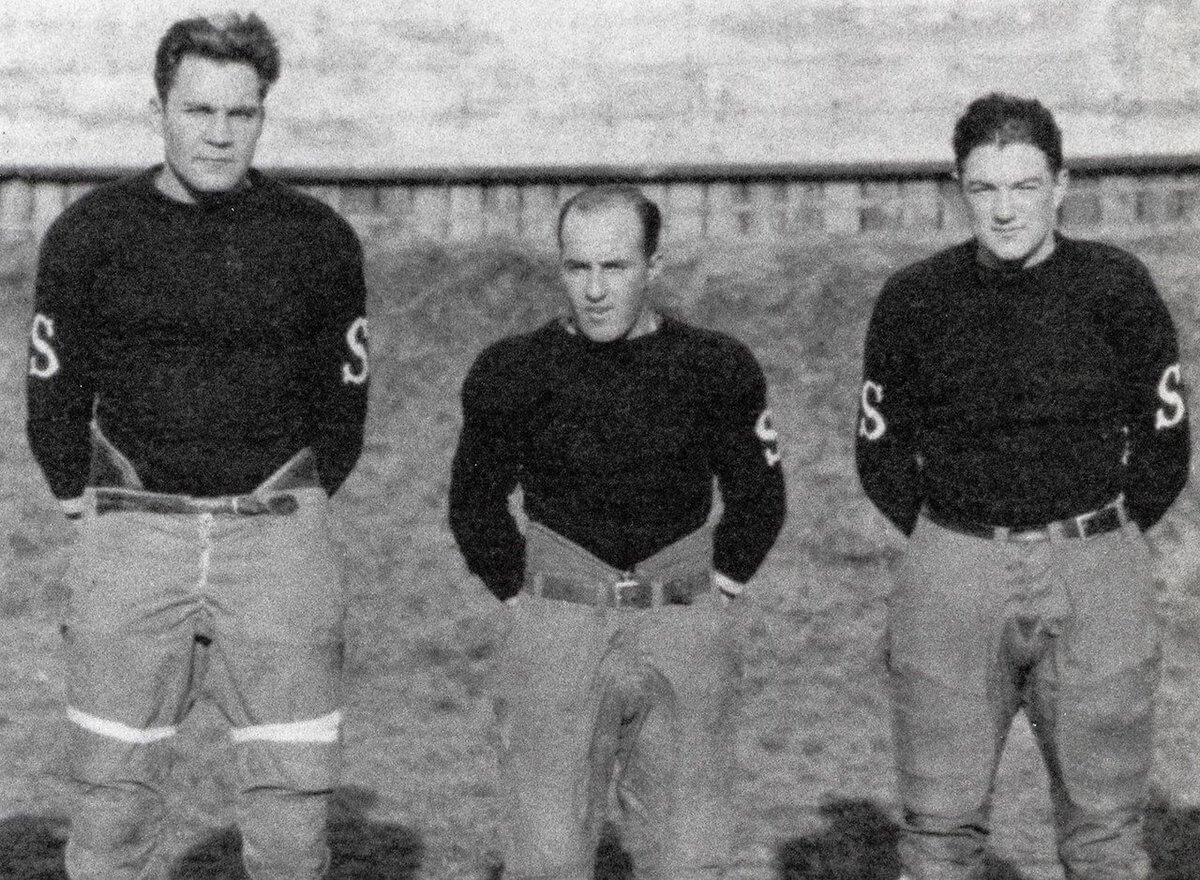 At 5'1" and 119 pounds, Jack Shapiro was the shortest and smallest NFL player of all-time.  Shapiro played just one game in the National Football League – way back in 1929 – for the Staten Island Stapletons.
Born in 1907 to a family of Russian immigrants, Shapiro grew up extremely undersized.  His father vehemently opposed his son playing football, so Jack forged his signature to play.  Weighing just 85 pounds, the scrappy back was a three-year starter in high school – eventually going on to play in college and the pros.
"When I get to heaven I'll tell my father what I did and I know he will forgive me," Shapiro recalled in a 1999 interview with The Coffin Corner.
Who Is The Shortest Active NFL Player?
Listed at 5 feet 5 1⁄4 inches, J.J. Taylor is the shortest active NFL player.  The speedy return specialist has been showcasing his superhuman athleticism since high school – when he was named Mr. Football as the best offensive player in California.
After battling back from a season-ending ankle injury his freshman year at Arizona, Taylor posted stellar numbers across his next three college seasons.  He then chose to forgo his final year of eligibility to enter the 2020 NFL Draft.
Ultimately, Taylor went undrafted, later signing with the New England Patriots.
Who Is the Shortest NFL Quarterback Right Now?
At 5 feet 10 1⁄8 inches, Kyler Murray is the shortest quarterback in the NFL.  A two-sport athlete, he had the option to play Major League Baseball but ultimately chose football instead.
In addition to being the shortest quarterback ever selected in the first round, Murray is also the first player to ever be drafted in the first round of both the MLB Draft and NFL Draft.

The young QB has a bright future. He already won Offensive Rookie of the Year to go along with a Pro Bowl selection in his second NFL season.
Shortest Active NFL Players
J.J. Taylor – 5 feet 5 1⁄4 inches

After spending time on the practice squad, J.J. Taylor has carved out a spot as a punt returner.
"As a runner, this son-of-a-gun," said New England's running back coach, Ivan Fears, "I'll tell you what: He's gonna cause some people some problems."
Deonte Harris – ​​5 feet 6 3⁄8 inches
Despite a spectacular high school career, no Division 1 programs offered Deonte Harris a full scholarship.  He wasn't big enough to play. Or so they thought.
After setting records at Division II Assumption College, Deonte Harris entered the NFL as a 5'6" 170-pound undrafted free agent.  Needless to say, the Baltimore-born receiver had a lot to prove when he signed with the Saints.
"Coming in, I wanted to be the best player I could be," he told the team's website in 2020.
So far, Harris has done just that – earning a first-team All-Pro nod as a rookie, and currently emerging as a dynamic deep threat in Sean Payton's offense.
Jaret Patterson – 5 feet 6 1⁄2 inches
Jaret Patterson was a 2-star recruit out of high school, and fought his way to earning a chance in the NFL.  Since pee-wee football, he has heard doubters at every level.
"There were always guys who were better than me, faster than me, bigger than me," Patterson told ESPN ahead of the 2021 NFL Draft. "I just used that as fuel, even throughout high school, not being recruited as heavily as I thought I should."
The criticism fueled Patterson to three record-shattering seasons at Buffalo – including a 409 yard, eight touchdown performance against Kent State in 2020 – before landing with the Washington Football Team in the NFL.
Tarik Cohen – 5 feet 6 1⁄2 inches
The 5'6" running back is known as "The Human Joystick" among Chicago Bears fans.  But he wasn't always so highly regarded.
Back in high school, Tarik Cohen emailed countless college coaches without any response.  The evaluators who did show up all said the same thing: "He's too small."
His Twitter bio says it all: "OVERlooked…..UNDERrated."
North Carolina A&T was the only D1 program to offer him a scholarship – the only school who believed in him.  And he certainly proved them right – rushing for 5,619 yards in 4 seasons before the Bears picked him in the 4th round of the 2017 NFL Draft.
Boston Scott – 5 feet 6 3⁄4 inches
As an undersized kid, Boston Scott was cut from his middle school football team.  Although he won statewide honors in high school, Scott didn't receive much recruiting attention – so he walked on at Lousiana Tech.
There, he posted better and better numbers, improving each season.  While not enough to get him an invite to the NFL Combine, it caught the attention of the New Orleans Saints who selected him 201st overall in 2018.
Now a part of the Philadelphia Eagles' running back rotation, Scott has packed a punch with every opportunity.
Rondale Moore – 5 feet 7 inches
Unlike others on this list, Rondale Moore was a four-star recruit coming out of high school.  The 5'7" 180-pound Indiana native made a splash at Purdue – tallying 313 all-purpose yards in his very first college game.
Moore was regarded as one of the best all-purpose players in college football – earning a long list of prestigious honors.  The Arizona Cardinals selected him 49th overall in 2021, and the speedy receiver has already showcased dynamic playmaking abilities in the Kyler Murray-led, high-octane offense.
Clyde Edwards-Helaire – 5 feet 7 1⁄4 inches
As a diminutive 8th grader, Clyde Edwards-Helaire was the starting running back for the 9th-grade team.  A soft-spoken kid, he exploded onto the scene in high school – taking his first kick return back for a 60-yard touchdown.
A three-star recruit, Edwards-Helaire chose LSU for the next step of his football career.  He shook off defenders on a massive stage during the Tigers' National Championship run and captured the attention of NFL fans everywhere.
As the starting running back for the Kansas City Chiefs, Edwards-Helaire is showing other small athletes what's possible.
RELATED: The 12 Best Comebacks in Sports History
Want More Underdog Stories?
Get a bite-sized rundown of the best underdog stories in sports – handpicked from across the web & delivered to your inbox every Tuesday.
Join 2,055+ Weekly Readers