Football is a game of strength. But at the sport's highest level, athleticism comes in all shapes and sizes.
Since the early days of the league, there have been players who defied the odds. These are the shortest NFL players – now and throughout football history.
Something to note: while other sources may report different height metrics, our list is based on official pre-draft measurables from the NFL Scouting Combine.
Who Was The Shortest NFL Player Ever?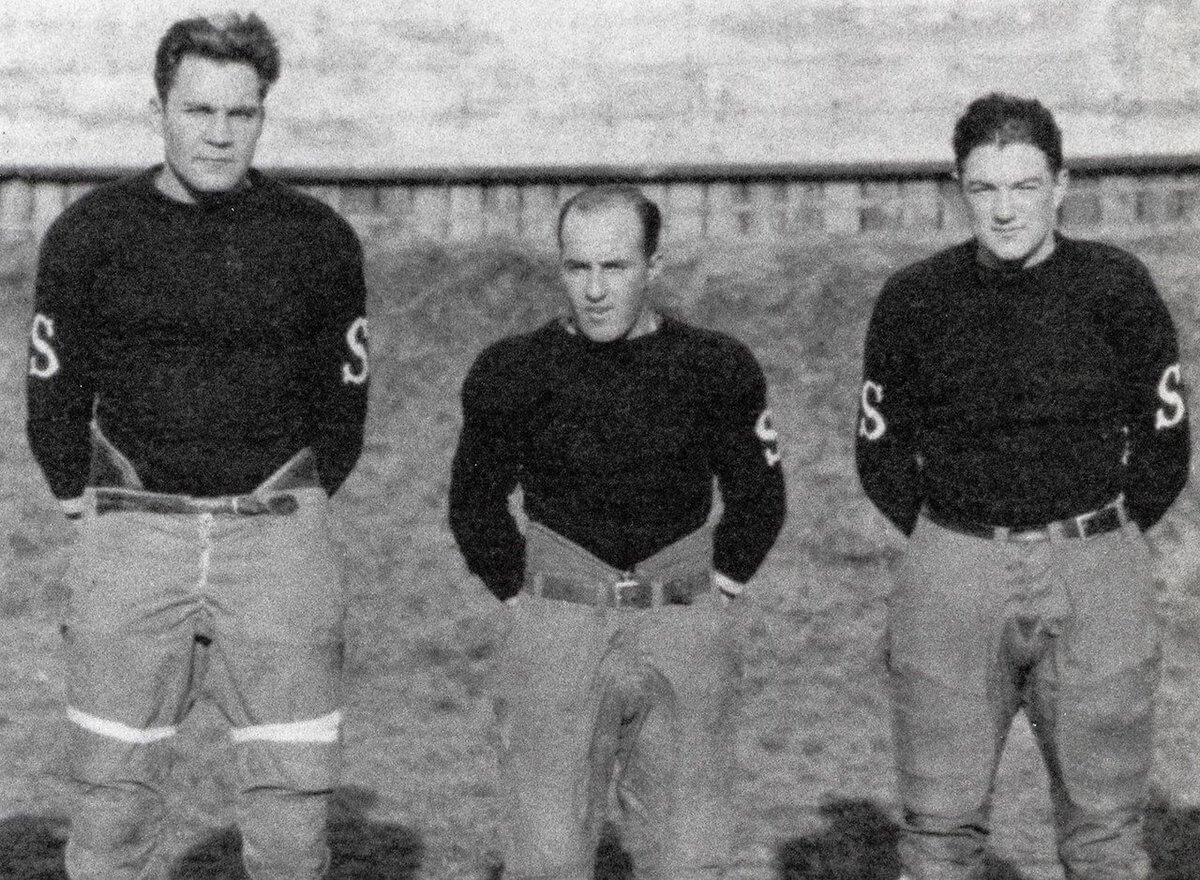 At 5'1" and 119 pounds, Jack Shapiro was the shortest and smallest NFL player of all time. Shapiro played just one game in the National Football League – way back in 1929 – for the Staten Island Stapletons.
Born in 1907 to a family of Russian immigrants, Shapiro grew up extremely undersized. His father vehemently opposed his son playing football, so Jack forged his dad's signature to play. Weighing just 85 pounds, the scrappy back was a three-year starter in high school – eventually going on to play in college and the pros.
"When I get to heaven," Shapiro recalled in a 1999 interview with The Coffin Corner. "I'll tell my father what I did and I know he will forgive me."
Who Is The Shortest Active NFL Player?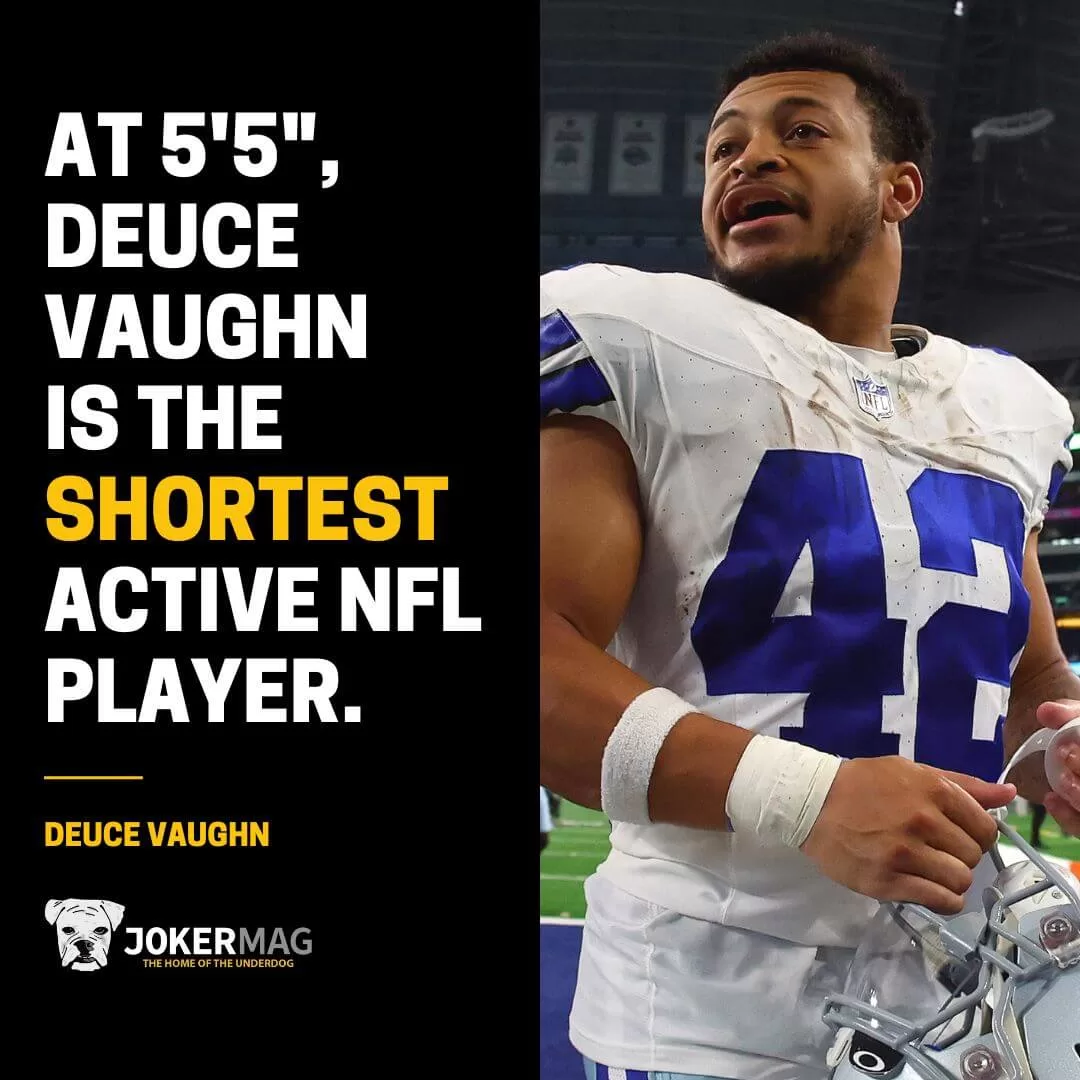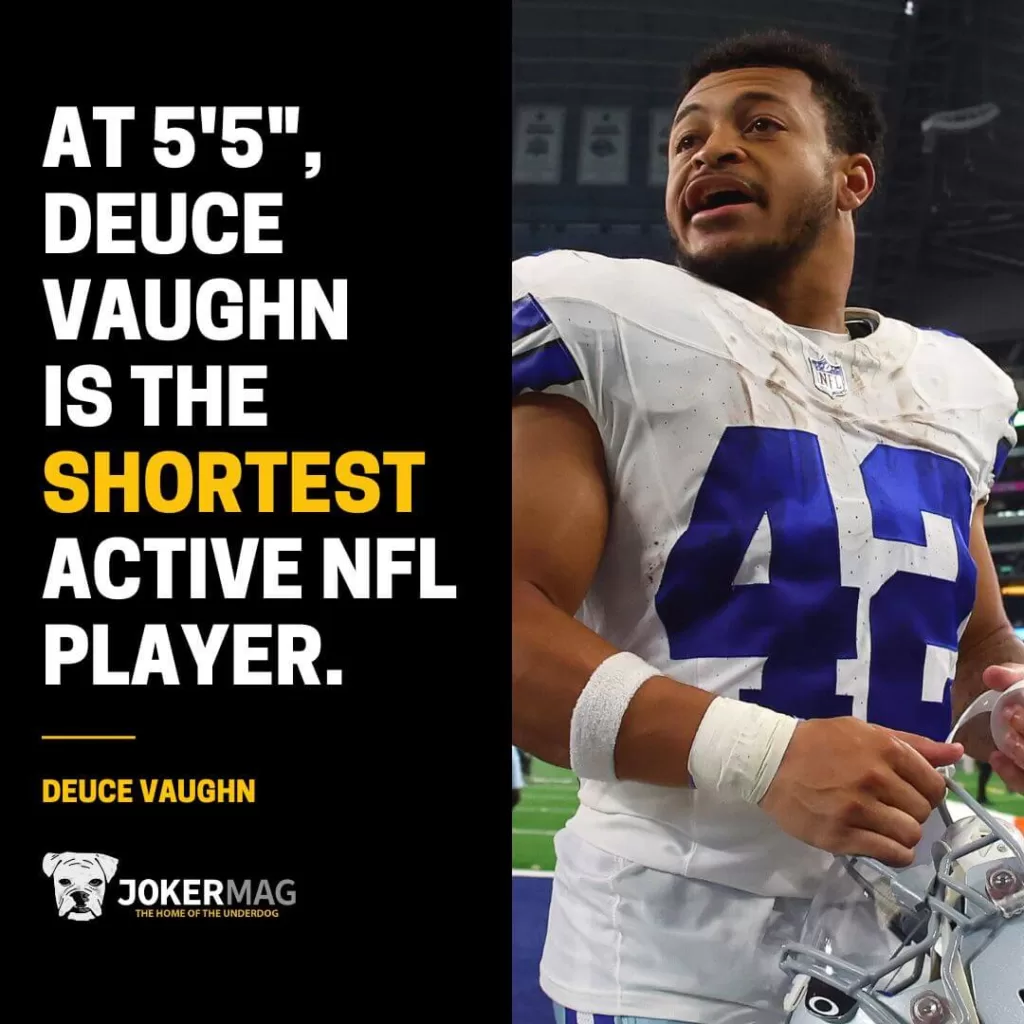 Listed at 5 feet 5 inches, Deuce Vaughn is the shortest active NFL player. At Cedar Ridge High School in Round Rock, Texas, Vaughn ran track and played football.
After breaking the school's single-season rushing record as a senior, he accepted a scholarship to join the Kansas State Wildcats. Despite his small stature, Vaughn was a force to be reckoned with, taking home Big 12 Freshman of the Year honors in 2020.
The 5'5″ back totaled 4,854 yards from scrimmage in three seasons before the Dallas Cowboys selected him in the 6th round (212th overall) in 2023 – becoming the shortest player ever drafted since the NFL began tracking measurements in 2003.
Who Is the Shortest NFL Quarterback Right Now?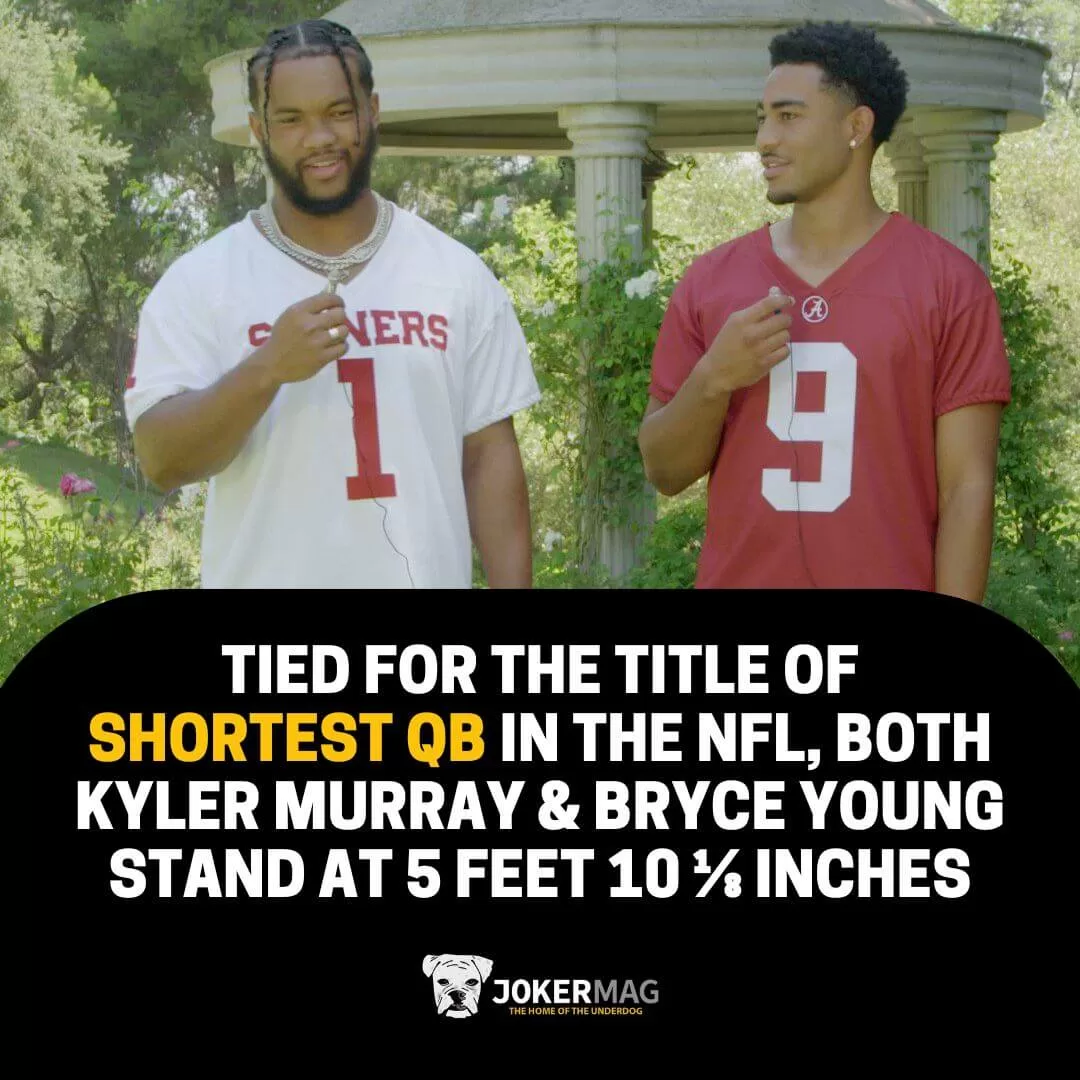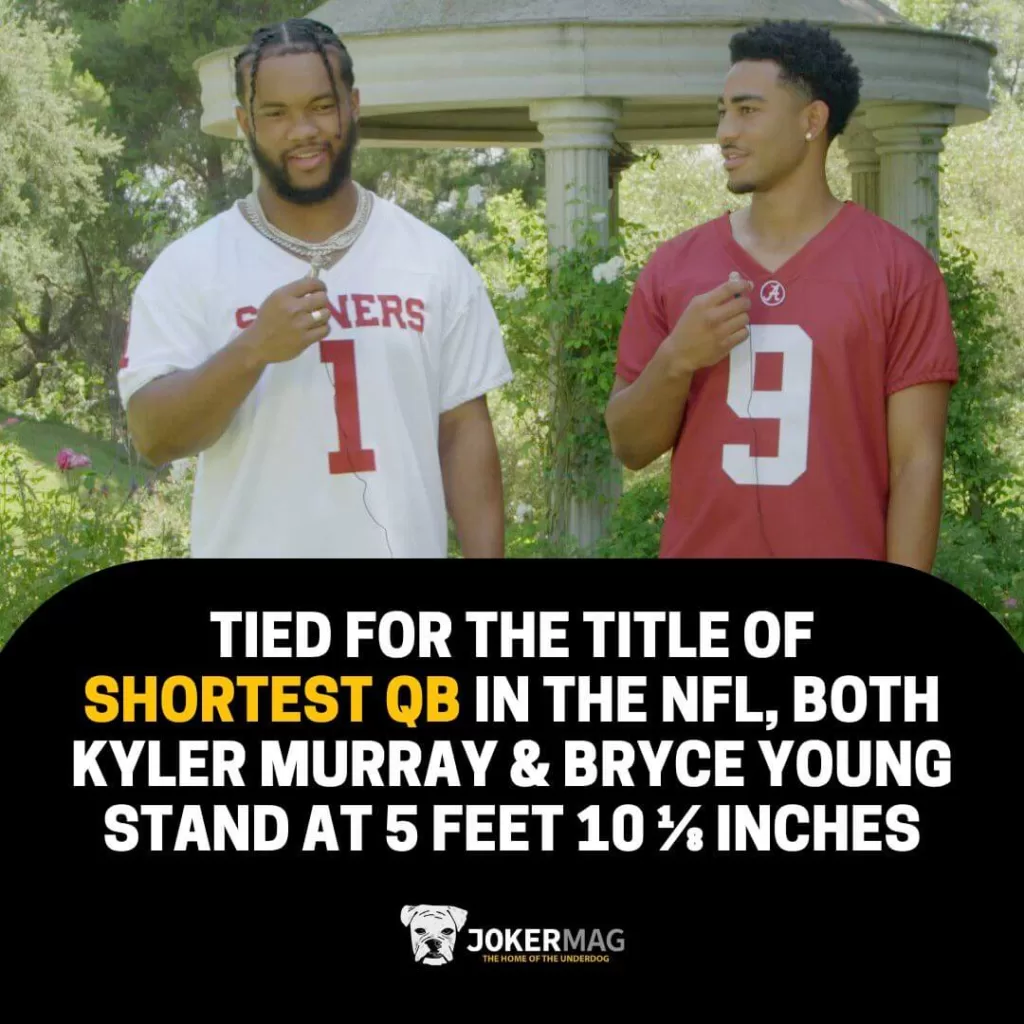 Both listed at 5 feet 10 1⁄8 inches, Kyler Murray and Bryce Young are tied for the title of shortest quarterback in the NFL.
Both undersized QBs were Heisman Trophy winners in college, and both were selected with the first overall pick in their respective drafts – Murray in 2019 and Young in 2023.
The pair of signal-callers are a testament that talent and hard work matter more than size. They are both more than 4 inches shorter than the average NFL quarterback.
A two-sport athlete, Murray had the option to play Major League Baseball but ultimately chose football instead.
In addition to being the shortest quarterback ever selected in the first round, Murray is also the first player ever to be drafted in the first round of both the MLB Draft and NFL Draft.
Bryce Young, on the other hand, was a five-star recruit ranked the nation's top quarterback prospect heading into college. The Philadelphia-born passer spent three years at Alabama before the Carolina Panthers made him the new face of their franchise.
Shortest Active NFL Players
Deuce Vaughn – 5 feet 5 inches
While many college scouts had trouble looking past his size, Deuce Vaughn received a total of six college scholarship offers.
"They would say, 'He is just so small,'" said his high school coach, Sam Robinson. "We would say, 'All he will do for you is score touchdowns.' They didn't see it that way. That really ticked me off."
He landed at K-State, where he followed in the footsteps of Wildcat legend Darren Sproles. The 5'5″ Vaughn finished his college career with his name in the school record books.
Deuce now looks to continue that success on the NFL gridiron.
J.J. Taylor, RB – 5 feet 5 1⁄4 inches
J.J. Taylor is a speedy return specialist who showcased his superhuman athleticism in high school, being named Mr. Football as the best offensive player in California.
After battling back from a season-ending ankle injury his freshman year at Arizona, he posted stellar numbers across his next three college seasons. Taylor then chose to forgo his final year of eligibility to enter the 2020 NFL Draft.
Ultimately, he went undrafted, later signing with the New England Patriots.
After spending time on the practice squad, J.J. Taylor carved out a spot as a punt returner.
"As a runner, this son-of-a-gun," said New England's running back coach, Ivan Fears, "I'll tell you what: He's gonna cause some people some problems."
Jakeem Grant, WR/RS – 5 feet 5 7⁄8 inches
As a three-star prospect out of Mesquite, Texas, Jakeem Grant held offers from various major Division I programs. He chose Texas Tech, where he broke Michael Crabtree's school record for career yardage.
He allegedly clocked a hand-timed 4.10-second 40-yard dash at his Pro Day – which allegedly beat Bo Jackson's record. That flash prompted the Dolphins to select him in the sixth round of the 2016 NFL Draft.
Grant has made his mark as a return specialist – being named to the All-Pro team twice and named to the Pro Bowl in 2021. However, he's battled injuries along the way, most recently suffering a ruptured patellar tendon which sidelined him for the entire 2023 NFL season.
Deonte Harty, WR/RS – ​​5 feet 6 3⁄8 inches
Despite a spectacular high school career, no Division 1 programs offered Deonte Harty (formerly known as Deonte Harris) a full scholarship. He wasn't big enough to play.
Or so they thought.
After setting records at Division II Assumption College, Deonte Harty entered the NFL as a 5'6" 170-pound undrafted free agent. Needless to say, the Baltimore-born receiver had a lot to prove when he signed with the Saints.
"Coming in, I wanted to be the best player I could be," he told the team's website in 2020.
So far, Harty has done just that – earning a first-team All-Pro nod as a rookie, and emerging as a dynamic deep threat on offense.
Tarik Cohen, RB – 5 feet 6 1⁄2 inches
Tarik Cohen played high school football in a rural North Carolina town of 344 people. The 5'6″ running back emailed hundreds of college coaches, but most were ignored.
"Too small," they said.
But he knew that all he needed was one yes.
And it came from an assistant coach at North Carolina A&T – the only Division I program to offer him a scholarship.
Fast forward 4 years, Cohen breaks the MEAC's all-time rushing record & sets a new school record for total TDs.
After the Bears took him in the 4th round in 2017, his ascension continued.
Fans called him "The Human Joystick", as he shook off opposing defenders on his way to piling up 2,676 yards from scrimmage in his first 4 NFL seasons.
But it all came crashing down in 2020.
In a game against the Falcons, Cohen tore his ACL, MCL, and fractured his tibial plateau.
Then, after a nearly 2-year rehab process, he tore his Achilles.
More than 1,000 days passed since Cohen played in an NFL game.
But he never quit. And now, he's worked his way back to return to the field again.
According to reports, Cohen joined the Carolina Panthers' practice squad at the start of the 2023-24 NFL season. A huge step in an incredible comeback story.
Jaret Patterson, RB – 5 feet 6 1⁄2 inches
Jaret Patterson was a 2-star recruit out of high school and fought his way to earning a chance in the NFL. Since pee-wee football, he's heard doubters at every level.
"There were always guys who were better than me, faster than me, bigger than me," Patterson told ESPN ahead of the 2021 NFL Draft. "I just used that as fuel, even throughout high school, not being recruited as heavily as I thought I should."
The criticism fueled Patterson to three record-shattering seasons at Buffalo – including a 409-yard, eight-touchdown performance against Kent State in 2020 – before landing with the Washington Commanders.
Boston Scott, RB – 5 feet 6 3⁄4 inches
As an undersized kid, Boston Scott got cut from his middle school football team. Although he won statewide honors in high school, Scott didn't receive recruiting attention – so he walked on at Lousiana Tech.
There, he posted better and better numbers, improving each season. While not enough to earn an invite to the NFL Combine, it caught the attention of the New Orleans Saints who selected him 201st overall in 2018.
Now a part of the Philadelphia Eagles' running back rotation, Scott has packed a punch with every opportunity.
Rondale Moore, WR – 5 feet 7 inches
Unlike others on this list, Rondale Moore was a four-star recruit coming out of high school. The 5'7" 180-pound Indiana native made a splash at Purdue – tallying 313 all-purpose yards in his very first college game.
Moore was regarded as one of the best all-purpose players in college football – earning a long list of prestigious honors. The Arizona Cardinals selected him 49th overall in 2021, and the speedy receiver has already showcased dynamic playmaking abilities in the Kyler Murray-led, high-octane offense.
RELATED: The 12 Best Comebacks in Sports History
Devin Singletary, RB – 5 feet 7 inches
Devin Singletary declared for the draft in 2019, finishing his college career as FAU's all-time leading rusher. And while his height was a concern, the back remained confident in his ability.
"Never mind about your 40 time," he told the South Florida Sun-Sentinel. "My tape speaks for itself."
Drafted in the third round (74th overall), Singletary's skillset instantly translated to the NFL level. His message for younger players? "If you can play football, you can play football."
Clyde Edwards-Helaire, RB – 5 feet 7 1⁄4 inches
As a diminutive 8th grader, Clyde Edwards-Helaire was the starting running back for the 9th-grade team. A soft-spoken kid, he exploded onto the scene in high school – taking his first kick return back for a 60-yard touchdown.
A three-star recruit, Edwards-Helaire chose LSU for the next step of his football career. He shook off defenders on a massive stage during the Tigers' National Championship run and captured the attention of NFL fans everywhere.
Now playing at football's highest level, Edwards-Helaire is showing other undersized athletes what's possible.
More short NFL players:
5'7″ Greg Dortch – WR
5'7″ Tyler Snead – WR
5'7″ Caleb Shudak – K
5'8″ Keaton Mitchell – RB
5'8″ Anthony McFarland Jr. – RB
5'8″ Marcus Jones – DB
5'8″ Myles Bryant – DB
5'8″ Demario Douglas – WR
5'8″ Devon Achane – RB
5'8″ Tre Tucker – WR
5'8″ Lamarcus Joyner – CB
5'8″ Michael Carter – CB
5'8″ Phillip Lindsay – RB
5'8″ Mekhi Sargent – RB
5'8″ Trayveon Williams – RB
5'8″ Trent Taylor – WR
5'8″ Britain Covey – WR/RS
5'8″ Jaylen Warren – RB
5'8″ Tyler Badie – RB
5'8″ Jerrion Ealy – RB
5'8″ Austin Walter – RB
5'8″ Amik Robertson – CB
5'8″ DeAndre Carter – WR
5'8″ Wan'Dale Robinson – WR
5'8″ Deven Thompkins – WR
5'8″ Jaelon Darden – WR
5'8″ Olamide Zaccheaus – WR
5'8″ Cameron Batson – WR
5'8″ De'Montre Tuggle – RB
5'8″ Cairo Santos – K
5'8″ Kalif Raymond – WR
5'8″ Darrell Henderson – RB
5'8″ Brandon Powell – WR
5'8″ Victor Bolden – WR
5'8″ JaMycal Hasty – RB
5'8″ Penny Hart – WR
5'8″ Darwin Thompson – WR
5'8″ Ar'Darius Washington – S
5'9″ Randy Bullock – K
5'9″ Jack Jones – DB
5'9″ Isaiah McKenzie – WR/RS
5'9″ Damiere Byrd – WR
More from this series: