It was Yoda in The Empire Strikes Back who said, "Size matters not," and if you follow the NHL with some regularity you know that it's a big man's league.
But players who are short in stature or just plain small have had substantial success in the National Hockey League despite their height.

These are the shortest NHL players – now and throughout hockey history.
Table of Contents
Who Was The Shortest NHL Player Ever?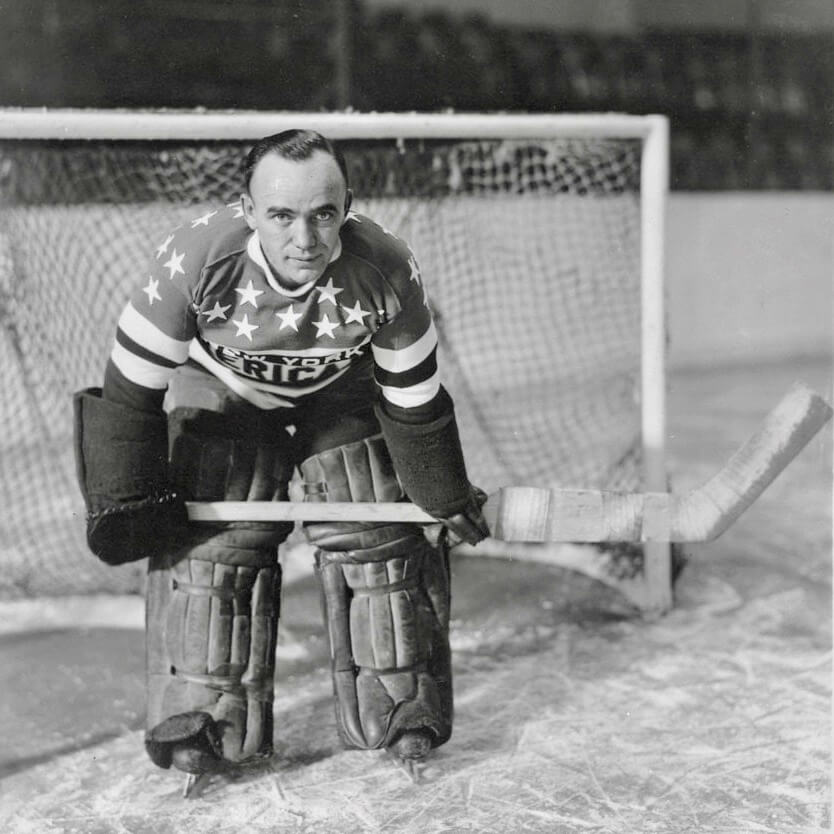 At 5'3″ and 135 pounds, Roy "Shrimp" Worters was the shortest player to ever play in the NHL. The diminutive goalie played 13 NHL seasons for the Montreal Canadiens, New York Americans, and Pittsburgh Pirates.
His wildly successful career included a Hart Trophy, Vezina Trophy, and Second-Team All-Star selections in 1932 and 1934.
Size was no issue for the man known as "Shrimp", as he was the first goalie to record back-to-back shutouts and followed that up by signing an $8,500 per season contract – an unparalleled amount for a goalie at the time.
His staggering list of accolades netted him a nod to the Hockey Hall of Fame in 1969. Unfortunately, Worters died of throat cancer in 1957 so he was not able to see his induction, with is truly tragic in every sense of the word.
Worters was a pioneer in the NHL because of his size and also for paving the way for future undersized players. He had stopped 70 of 73 shots, setting a then-NHL record with Pittsburgh.
Shortest Active NHL Players
Cole Caufield, RW – 5'7″ 174lbs
At 5'7″ and 174 pounds, Cole Caufield is the smallest active NHL player. The 15th overall pick in the 2019 draft, the winger made his debut in the shortened 2020-21 season and helped spark the Canadien's run to the Stanley Cup Finals.
Caufield's family pedigree shows promise that he can overcome his diminutive stature to have a prosperous career. His brother and father both played college hockey, and his grandfather was a 2011 inductee into the Wisconsin Hockey Hall of Fame.
Caufield finished his rookie year with 23 goals, tied for second in rookie goal-scoring. He's quickly become a fan favorite in Montreal.
Kailer Yamamoto, RW – 5'8″ 153lbs
Weighing in at a mere 153 pounds, Kailer Yamamoto is the lightest player in the NHL. But the 5'8″ winger shouldn't be underestimated.
"He's relentless," said his former coach Dave Tippet. "He doesn't give up on anything."
Yamamoto has silenced any early criticism with his play on the ice, improving in every season of his young NHL career.
Cam Atkinson, RW – 5'8″ 176lbs
Atkinson was mentored by another small but skilled forward, the 5'8″ Hall of Famer Martin St. Louis.
The winger was told at every level that he was not big enough to be a difference-maker in the NHL. He fell all the way to the sixth round of the 2008 NHL Draft, eventually picked 157th overall by the Columbus Blue Jackets.
Since then, he's defied the odds – sticking around for more than 700 NHL games. Atkinson's best season came in 2018-19, where he put up 41 goals and 28 assists for 69 points.
Alex DeBrincat, RW – 5'8″ 178lbs
Debrincat was drafted 39th overall in the 2016 draft and put up 52 points in his rookie season. He was even better in his second year, cracking the 40-goal plateau.
He surprised a lot of NHL pundits and Chicago fans who thought he would not be a serious player due to his height.
"You hear it and read it, but it comes with the territory," DeBrincat told NHL.com in 2017.
"People doubt you, but you have to brush it off. Hopefully, they say that before they've seen me play too much. I don't think about it and don't really even use it as motivation, because the style I play is what I've always played."
Mats Zuccarello, RW – 5'8″ 181lbs
Zuccarello signed with the New York Rangers in 2010 as a free agent but was sent to their AHL affiliate to adjust to the North American game after playing in Sweden and his home country of Norway.
Despite this stature, he showed enough skill, grit, and determination to help the NHL club in their run to the Stanley Cup Finals in 2014.
After a short stint with the Dallas Stars in the 2019 playoffs, he's patrolled the Minnesota Wild's forward lines with the same tenacity. He's now considered one of the greatest Norwegian players to ever play in the NHL.
More short NHL players:
Tyler Johnson, C – 5'8″ 185lbs
Johnny Gaudreau, LW – 5'9″ 165lbs
Jared Spurgeon, D – 5'9″ 166lbs
Blake Lizotte, C – 5'9″ 170lbs
Yanni Gourde, C – 5'9″ 174lbs
Brad Marchand, LW – 5'9″ 176lbs
Joe Snively, C – 5'9″ 176lbs
Jacob Bryson, D – 5'9″ 176lbs
Nick Blankenburg, D – 5'9″ 177lbs
Conor Sheary, LW – 5'9″ 179lbs
Sheldon Dries, C – 5'9″ 180lbs
Denis Malgin, C – 5'9″ 182lbs
Marco Rossi, C – 5'9″ 182lbs
Nicholas Robertson, LW – 5'9″ 183lbs
Jonathan Marchessault, C – 5'9″ 183lbs
Nils Hoglander, LW – 5'9″ 185lbs
Brendan Gallagher, RW – 5'9″ 186lbs
Ryan Lomberg, LW – 5'9″ 187lbs
Victor Mete, D – 5'9″ 187lbs
Nathan Walker, LW – 5'9″ 187lbs
Justin Danforth, RW – 5'9″ 190lbs
Colin Blackwell, C – 5'9″ 190lbs
Torey Krug, D – 5'9″ 194lbs
Like underdog stories? Join our free Underdog Newsletter to keep up with the best sports stories that you won't see on ESPN.
Check out more stories in this series: