Josh Jacobs was a National Champion at the University of Alabama. He was a first-round pick and now lands among the best running backs in the NFL.
Someone asked me recently: "Can a guy like that really be considered an underdog?"
The answer is yes. And I'll tell you why.
Josh Jacobs grew up on the north side of Tulsa, Oklahoma. When he was in fourth grade, his parents split up. So Josh went to live with his father, Marty.
Times were tough.
Marty Jacobs had just moved out of his apartment, but couldn't yet move into his new place. So they did what they could – sleeping on the couches of family members and, later, his father's Chevy Suburban.
"I would shower in the locker rooms after football practice," Jacobs wrote in The Players' Tribune. "Then my pops would pick me up and drive around to look for a spot on the side of the road to park for the night."
The neighborhoods weren't the best, so Josh's father kept a gun on him at all times.
"If he ever slept, I didn't see it. Every time I woke up — whether it was morning or the middle of the night — he was awake. Watching out. Protecting me."
After two weeks of sleeping in a car, the new apartment was ready. Shortly after, Marty won custody of Josh's three brothers and sister, who joined them in the new place.
But supporting five children as a single parent wasn't easy – especially after the job market cratered in 2008.
Like many others, Josh's dad lost his job. He could no longer make rent, and they were kicked out of the apartment.
So for the next two years, they lived out of their backpacks as they hopped from motel to motel.
"On good days, we'd find a spot that had a continental breakfast where we could sneak enough fruit and bagels to last us a whole day. On bad days, we would eat rice and beans or ramen noodles."
And when food was in short supply, Josh's dad wouldn't eat. Even when his children offered, he refused.
"I didn't really understand it all at the time — the way we were living, the sacrifices my dad was making…none of it. I just never looked at our life as a struggle. To me, it was just life. It was all I knew."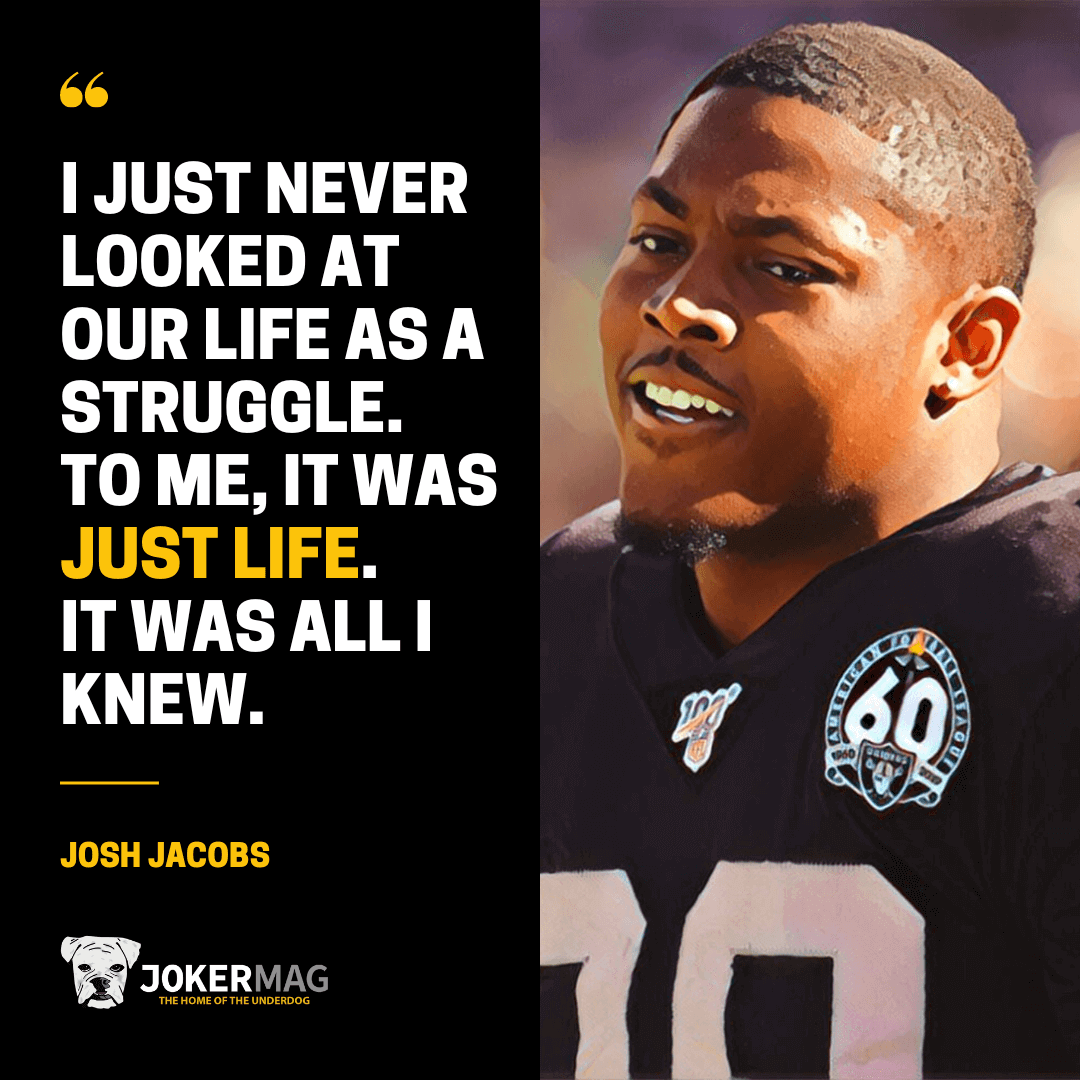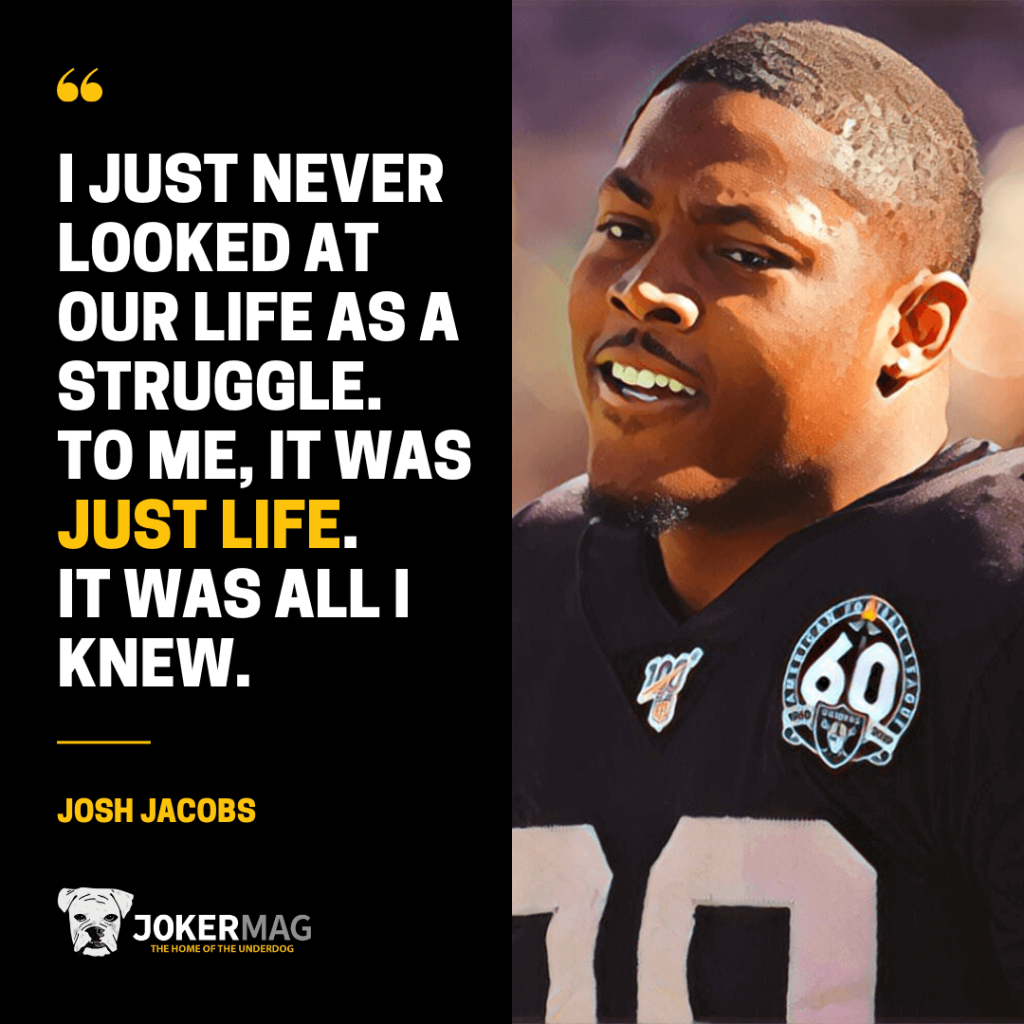 Marty Jacobs worked hard to teach – and show – his children how to overcome adversity.
"Go through life understanding you already have a no. We're looking for a yes," he said to them. "If someone says yes, that's a win. If someone says no, that's not the end of the world. We already have that."
The summer before eighth grade, Josh's father landed a steady job and moved his family into a new house.
They finally had a place to call home. But money was still tight. And the neighborhood was still dangerous.
Josh heard helicopters circling overhead at all hours of the night. Gunshots were as common as Monday morning traffic. And kids his age were dealing drugs.
But Josh never took the easy road. He wanted to make his father proud.
Football was his passion, after all. And he was pretty good at it, too.
But his stat lines were so ridiculous – so outlandishly good – that his local newspaper wouldn't even print them.
Sports reporters didn't believe the numbers. They thought his coach was padding the stats to make his running back look good.
"I sat back and watched as other kids with less impressive stats got their names in the paper and won all kinds of weekly awards."
By the middle of his senior year, Jacobs was averaging 300 rushing yards per game. Yet, he had zero scholarship offers.
For the majority of his high school career, he had:
He was shattering state records, but college coaches had never heard of him.
One day, Josh's head coach called a local reporter to come to a game to see him in person.
More motivated than ever, Jacobs ran for 455 yards and 6 touchdowns on just 22 carries. It was the best game of his high school career.
Even then, zero interest came his way.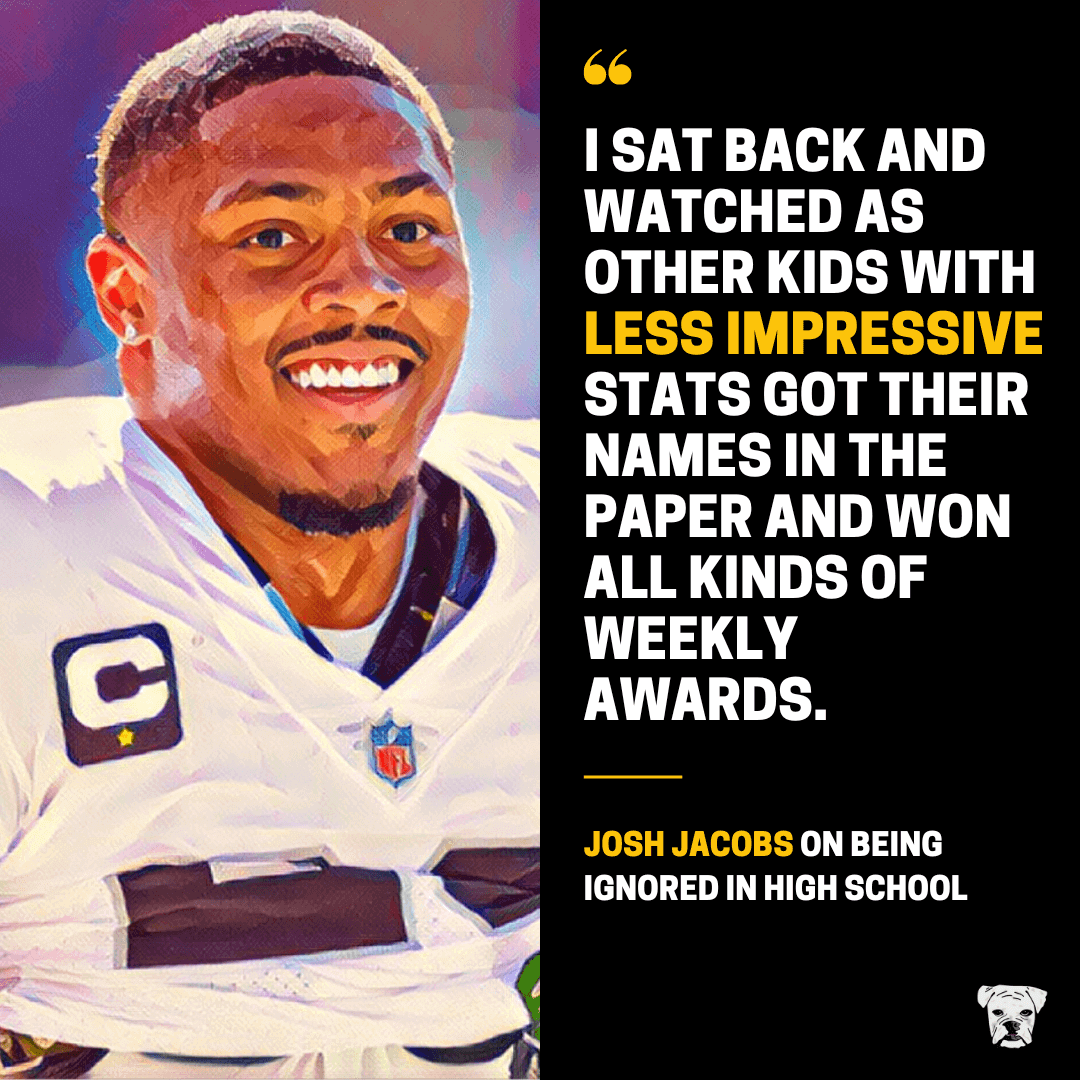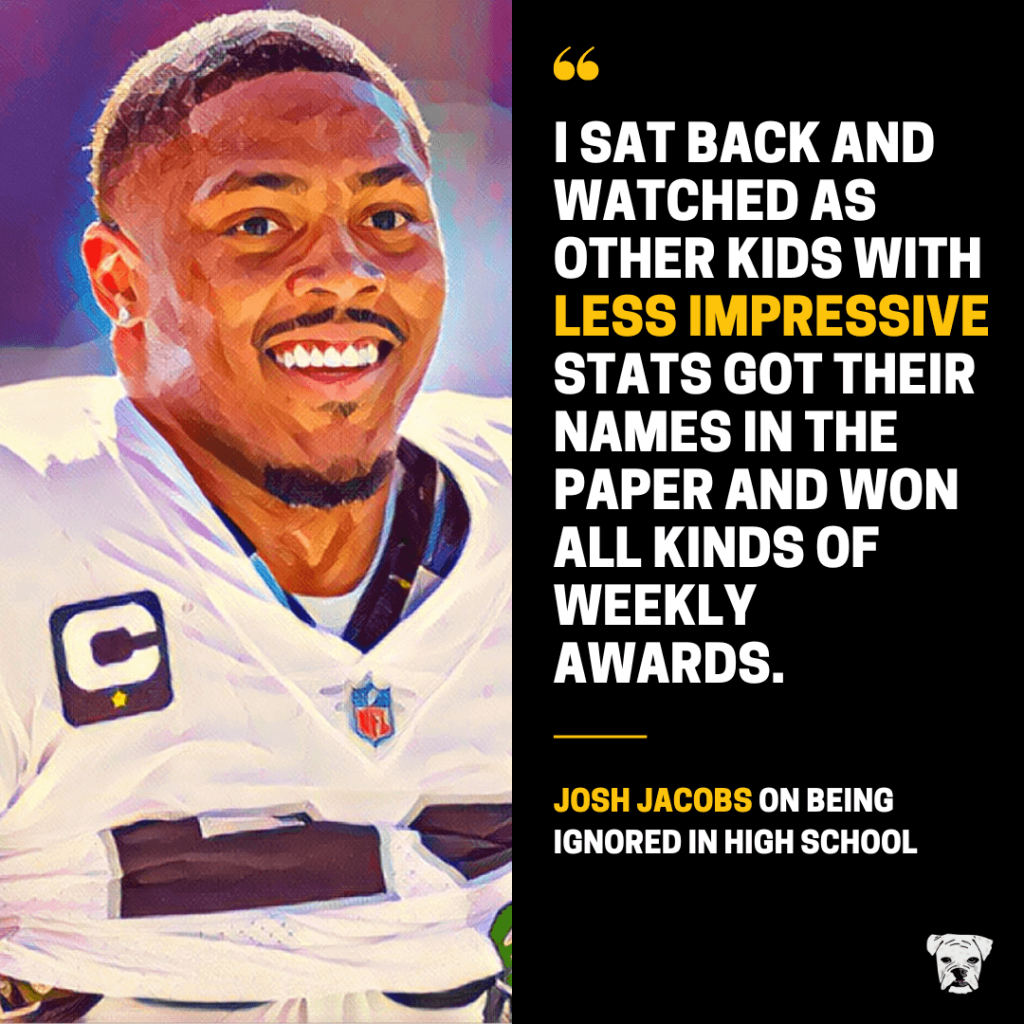 With the clock ticking on his recruiting window, Josh didn't know where else to turn. He couldn't afford to attend showcases, and his high school didn't have a history of high-profile recruits.
That's when Marty Jacobs got a call from a random guy in Texas. He called himself "G. Smith" and said he helped high school players get recruited.
"This is one of the best highlight tapes I've ever seen," he told Marty. "It's like 12 minutes of straight touchdowns…how does he not have any offers?"
Smith helped Josh set up his social media accounts. He told him to post his highlights and said he'd take it from there.
"I don't know what he did…but like a day or two after I started posting my highlights, my phone started ringing off the hook."
And just like that, offers started rolling in.
Soon, word got to running backs coach Burton Burns at Alabama. He offered Josh a scholarship on the spot.
Suddenly, instead of zero, those recruiting websites started showing three stars.
At Alabama, Josh Jacobs joined a college football powerhouse stocked with elite running back talent. After rotating in sparingly as a freshman, he became a mainstay by the end of his sophomore year – where he played through a broken ankle for the better part of the season.
But for most of his time in school, Jacobs kept his upbringing a secret. To him, it was private and he didn't see a reason to discuss it.
Before his senior season with the Crimson Tide, a man in the athletic department convinced Josh to share his story publicly. He said it could help others going through a similar situation.
"That's the thing that sold me about telling the story," Jacobs told The Washington Post.
Ever since, countless fans have thanked him for sharing. It's made an impact on people of all ages who are going through their own struggles in life.
That's the thing about football – and sports in general. With enough determination, anyone can rise to the top.
It doesn't matter who you are or where you came from.
As Josh said in a powerful Kia ad, "Be tougher than the world around you…Push yourself to be someone."
"And I promise, someday, you will be."
More underdog stories you might like:
Tired of the same old sports news? Join our Underdog Newsletter and go beyond the headlines to discover the unsung heroes and overlooked stories in sports.