What do you think of when you hear underdog story? In any realm of life, an underdog story can be for many reasons, but we most often think that these stories arise from individuals being slighted in life, or not getting a fair shake because of some perceived deficiency compared to others.
So much of an underdog story contains a rise from the ashes or from obscurity into the light.
Other times we hear of an individual who was at the pinnacle of his or her life and life comes crashing down for a multitude of reasons, leaving said person in a state of shock over how quickly their circumstances changed.
That's where Eric Berry comes into the fold.
He was set to become the next Sean Taylor, a hard-hitting strong safety with great instincts and a natural feel for the game. And with the Chiefs, he was almost immortal when he stepped onto the field.
But even those athletes we perceive as superhuman can fall. The question is, in the midst of life unraveling, do they have the fortitude and indomitable will to come back even stronger than before?
Berry needed to answer that question for himself on the fateful day of December 8th, 2014.
The Fifth Dimension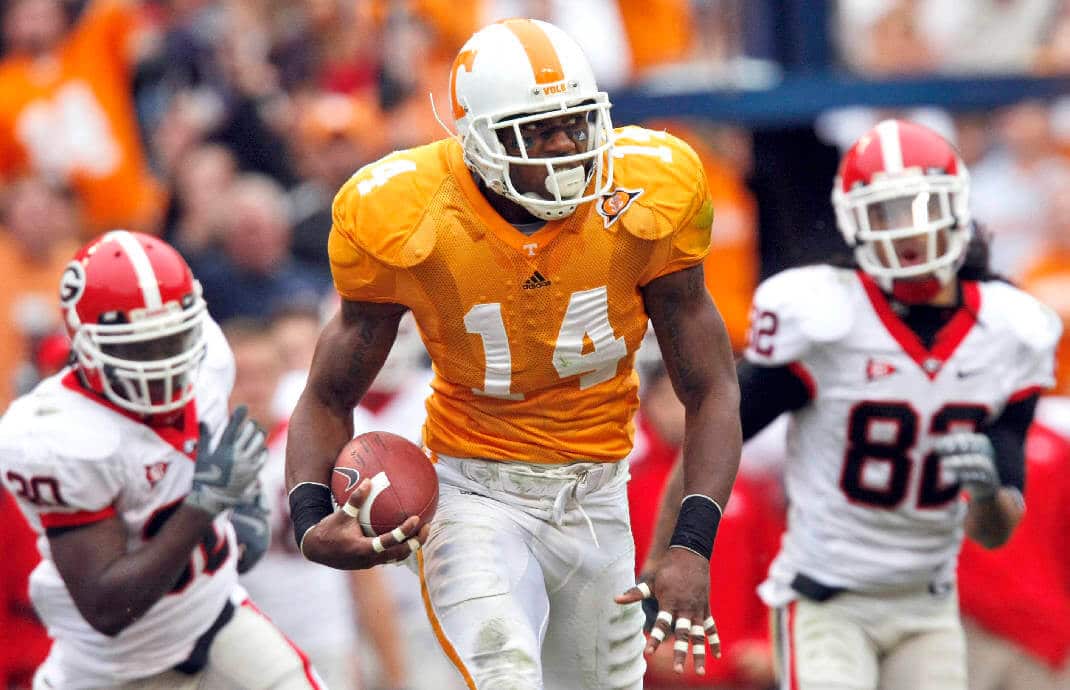 A standout football player and track star in Georgia, Berry possessed the whole package athletically. He starred at The University of Tennessee, where he rose up NFL Draft boards as one of the best players in Volunteer history.
In fact, he won the Jim Thorpe Award his junior year as the most outstanding defensive back in the country. What stood out most though was when, as a sophomore, the team voted him in as a captain.
Rarely do you see an underclassman receive such a distinction. But Berry's hard work and dedication to his teammates proved he was mature beyond his years. This leadership carried him to new heights, especially when he entered the NFL.
The Kansas City Chiefs drafted Berry with the fifth pick in the 2010 NFL Draft, the highest a defensive back had been drafted since none other than Sean Taylor, Berry's idol.
While many NFL analysts were in awe of Berry's football skills and IQ, Berry's draft profile described him as a player that "has the leadership qualities to mold into a future team captain."
He embraced that role in college, and early on his NFL career he proved that his leadership would make him a transcendent player. The quintessential role model in professional sports.
For this reason, in his rookie season, the Chiefs named him a team captain. No surprise there.
In his first season, Berry thrived, accumulating 77 total tackles, two sacks, nine passes defensed, and four interceptions. Playing every single defensive snap, he helped the Chiefs defense go from 30th in in the NFL in 2009 to 14th in 2010.
Berry's leadership and self-accountability resonated with his teammates, pushing them to play their best. Shockingly, Berry became the first Chiefs rookie to make the Pro Bowl since Derrick Thomas in 1989.
He stood head and shoulders above other rookies. His potential was endless.
A Rocky Road
The 2011 home opener, unbeknownst to Berry, would signal the start of his long, trying journey through hardship. Third play of the season: torn ACL.
With his season over, he'd have to work assiduously to get back to his rookie form in 2012.
But that was no problem.
Berry dominated in 2012 like the injury never happened and, by the end of 2013, Pro Football Focus ranked him as the league's second-best safety. His dominance on the field continued without interruption. He was the next Sean Taylor.
Yet Berry was unaware that the greatest challenge of his young life was about to hit him head-on.
In 2014, he was at it again, racing around the field. Making tackles and pushing his teammates to new heights. In a Chiefs loss on November 20th, 2014, however, something felt off.
He felt tightness in his chest. Next thing he knew, a doctor was uttering the three words no one wants to hear – "You have cancer".
Lymphoma.
The news was devastating not only for Berry's teammates but the entire sports world. How can you not root for a guy like Berry? He has all the talent in the world, yet is so humble and respectful of the game and his opponents.
Like in football, Berry had a new opponent that he'd fight tirelessly to defeat. This was greater than football and Berry had the world behind him because of his character and how he conducts himself. This universal respect goes back to his Tennessee days as an underclassman captain.
Hodgkin's lymphoma was highly treatable for Berry, so the battle began in chemotherapy.
An Unshakable Spirit
One of the most fascinating statistics I have ever read about Berry was that it took him nine months to return from his ACL injury in 2011. But from his lymphoma diagnosis on December 8th, 2014 to being cancer-free only took him seven months.
The man defeated cancer faster than it takes a ligament to repair. Incredible.
It's the ultimate testament to Berry's indefatigable spirit and outlook on life. For Berry, "taking it one day at a time," allowed him to set little goals to ultimately reach the big one — being cancer-free.
Just eight months after his diagnosis, Berry returned to the football field for Kansas City's minicamp in July of 2015. Back in his sanctuary. A truly touching moment for anyone to see.
That small moment back on the field shows us an individual with one of the greatest comeback stories of all-time. Not just in sports, but in life.
Fast forward to opening night in 2017. Berry had been back on the field for two years since his diagnosis. He'd already made seven tackles on the night. Then suddenly something popped in his foot.
Torn Achilles. Out for the season.
Yet another setback for Berry. But he already won the ultimate battle. So this Achilles, like the ACL tear, was nothing to him.
Berry has had a limited role this season due to injuries, but look for #29 out there in Arrowhead on Sunday against the Patriots in the AFC Championship. While winning a Super Bowl would be the ultimate achievement for Berry in his athletic career, he is just blessed to be back playing the game he loves.
Sure, the Chiefs may lose Sunday, a devastating result to a magical season. But Berry has lost before, and he's risen up from defeat time and time again. He knows what it's like to be on top. And he knows what it's like to climb from the depths of rock bottom.
While his superb statistical career would make a common fan reject the notion that Berry is an underdog, that person would be missing the point. Berry has overcome so much to be healthy and fly around the field again like the second coming of Sean Taylor.
He has the heart of a champion and he will not let any obstacle deter him from doing what he loves.
You may not root for the Chiefs on Sunday. But you should root for Eric Berry and everything he stands for. We need more people like him, not as a player, but more importantly as a person.
To Berry, "can't" is just a word.
Want More Underdog Stories?
Get a bite-sized rundown of the best underdog stories in sports – handpicked from across the web & delivered to your inbox every Tuesday.
Join 2,055+ Weekly Readers