These inspirational football quotes will prepare you for the next time you step on the gridiron.
It's a punishing contact sport requiring strength – both physical and mental – to succeed. From pee-wee football to the NFL, any player will tell you there's always more to learn.
Luckily, these inspiring quotes are packed with insights from athletes and coaches that will help you navigate the ups and downs of the season.
Table of Contents
Inspirational Football Quotes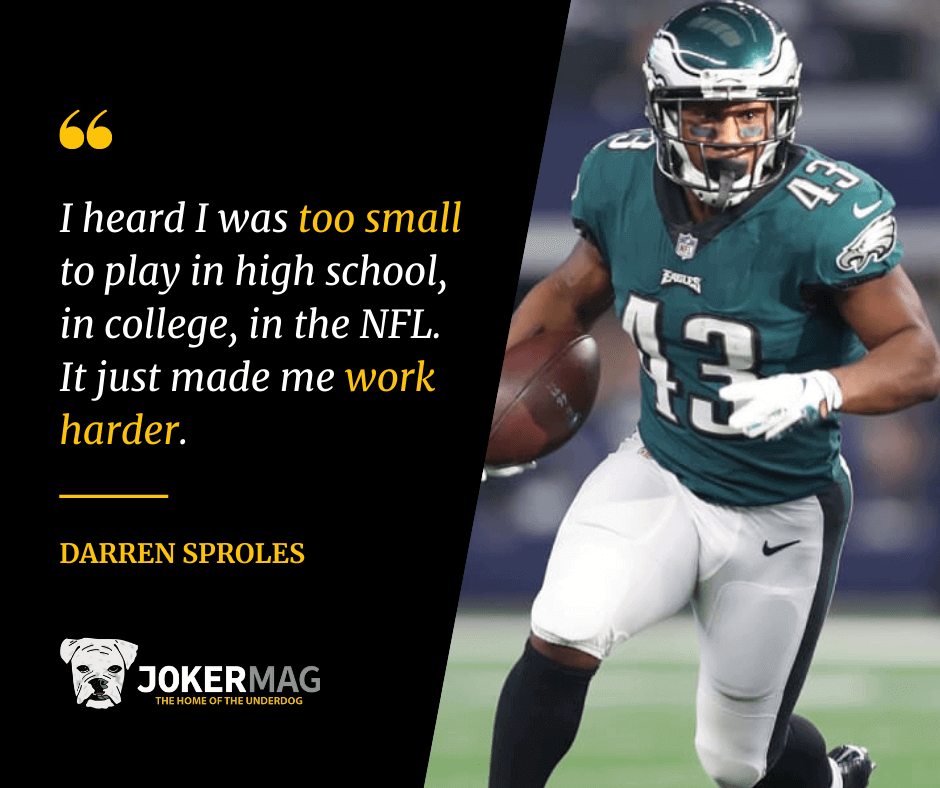 1.) "I heard I was too small to play in high school, in college, in the NFL. It just made me work harder." – Darren Sproles
2.) "If you work hard and you play well, all those critics quiet themselves pretty quickly." – Peyton Manning
3.) "Success doesn't come from pie-in-the-sky thinking. It's the result of consciously doing something each day that will add to your overall excellence." – Nick Saban
4.) "Winning isn't getting ahead of others. It's getting ahead of yourself." – Roger Staubach
5.) "The hardest thing to do is work hard when no one is watching." – Ray Lewis
6.) "Do you want to know what my favorite part of the game is? The opportunity to play." – Mike Singletary
7.) "Stay hungry, remain humble, and get better today." – Pete Carroll
​8.) "When you're good at something, you'll tell everyone. When you're great at something, they'll tell you." – Walter Payton
9.) "I want to thank my haters. I want to thank the people that told me through other people that I wouldn't be where I am today…My haters became by elevators, they helped me out so thank you." – Brian Dawkins
10.) "When people told me I wasn't going to make it, I listened to the one person who told me I was: me." – Shannon Sharpe
11.) "If you do the bare minimum, expect bare minimum results. You want to be great, work to be great." – J.J. Watt
12.) "Never get too high, never get too low. Take it day by day, and just continue to learn." – Jalen Hurts
13.) "It doesn't matter what people say about me. I weather the storm." – Terrell Owens
14.) "How great a life is this? To get to knock guys' heads off for 60 minutes and not get thrown in jail?" – Brian Urlacher
15.) "I am going to outwork everybody because no one was going to give me anything." – Dawson Knox
Football Quotes About Life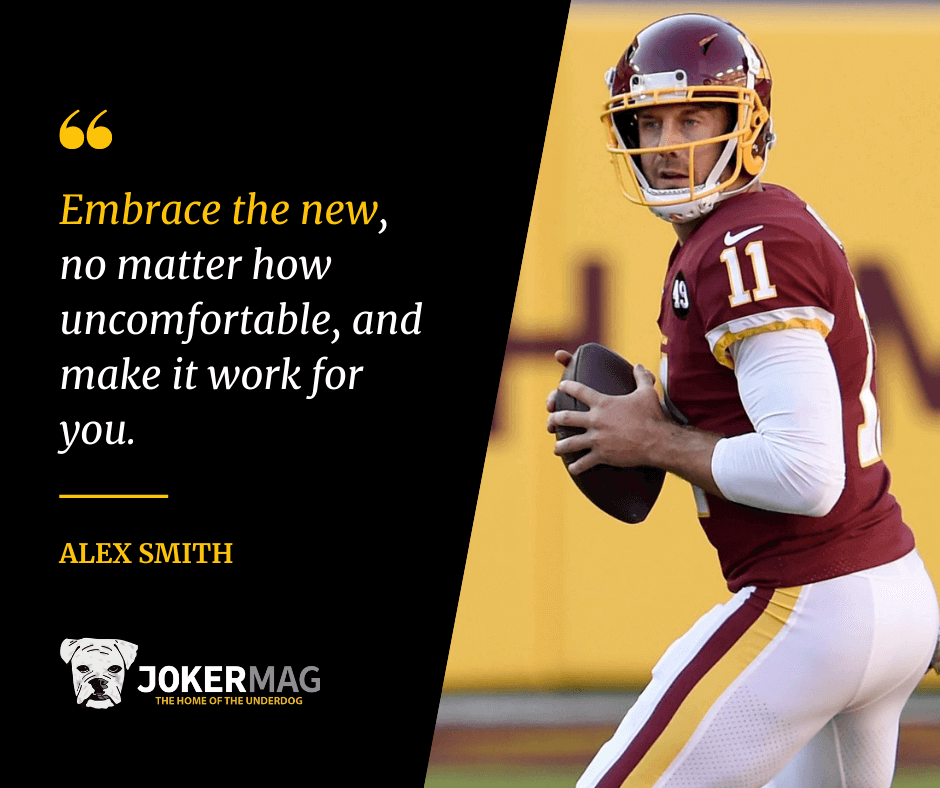 16.) "Embrace the new, no matter how uncomfortable, and make it work for you." – Alex Smith
17.) "Football is like life. It requires perseverance, self-denial, hard work, sacrifice, dedication, and respect for authority." – Vince Lombardi
18.) "Respect is not given, it's earned." – Brian Dawkins
19.) "Never die easy. Why run out of bounds and die easy? Make that linebacker pay. It carries into all facets of your life." – Walter Payton
20.) "Success isn't measured by money or power or social rank. Success is measured by your discipline and inner peace." – Mike Ditka
21.) "To the young: work, work, work, and then work some more." – Ed Reed
22.) "Respecting people is an important part of life, whether it's the person doing janitorial work or the person above you. It doesn't matter who you are: I'm going to respect you." – Andy Reid
23.) "I always want to be the first person to know how bad I am, and the last person to know how good I am. And as long as I can live by that, I will continue to strive to be better." – Sam Mills
24.) "Winners, I am convinced, imagine their dreams first. They want it with all their heart and expect it to come true. There is, I believe, no other way to live." – Joe Montana
25.) "Every day is an opportunity disguised as a challenge." – Tiki Barber
26.) "Trust that you can get back up and not give in. Ever." – Patrick Willis
27.) "Everything about the game is hard and tests your will. It compels every man who puts on a uniform to not only do their best but to be their best." – John Lynch
28.) "Life is ten percent what happens to you and ninety percent how you respond to it." – Lou Holtz
RELATED: The Most Inspiring Basketball Quotes Ever
Teamwork Quotes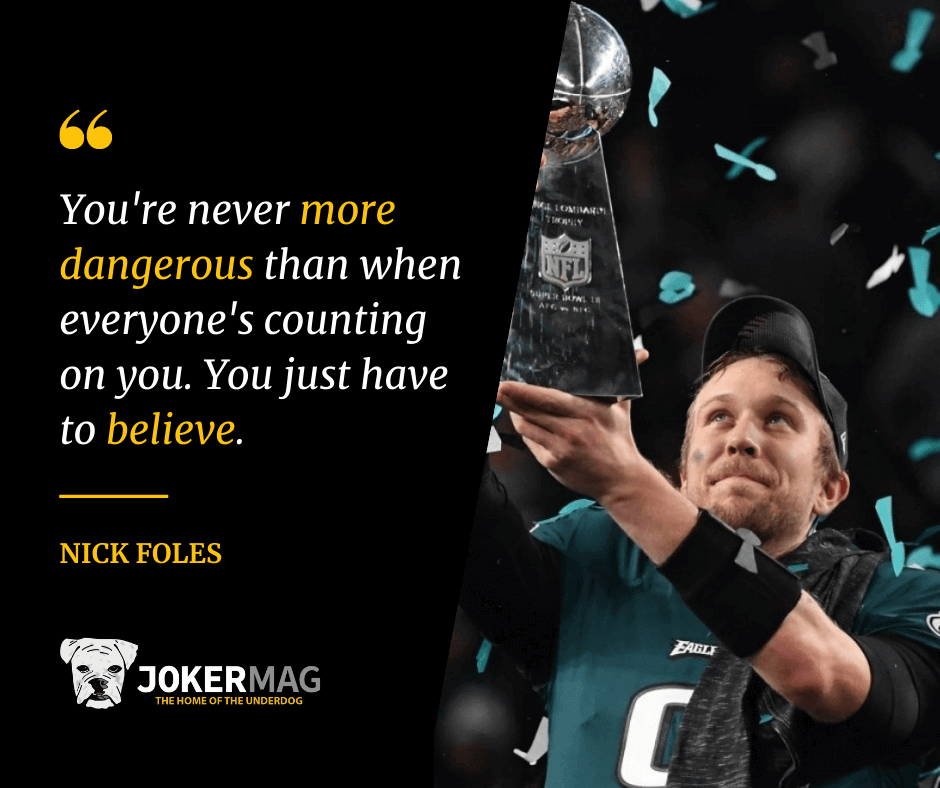 29.) "You're never more dangerous than when everyone's counting on you. You just have to believe." – Nick Foles
30.) "You can't win together if you don't work together." – Nick Saban
31.) "No one has ever drowned in sweat." – Lou Holtz
32.) "To me, football is so much about mental toughness, it's digging deep, it's doing whatever you need to do to help a team win and that comes in a lot of shapes and forms." – Tom Brady
33.) "On a team, it's not the strength of the individual players, but it is the strength of the unit and how they all function together." – Bill Belichick
34.) "Whenever you go on the field, you need to rule as a unit." – Aaron Donald
35.) "It's the name on the front of the jersey that matters most, not the one on the back." – Joe Paterno
36.) "Teammates are there for each other even after the noise of the crowd is gone." – Jim Brown
Short Football Quotes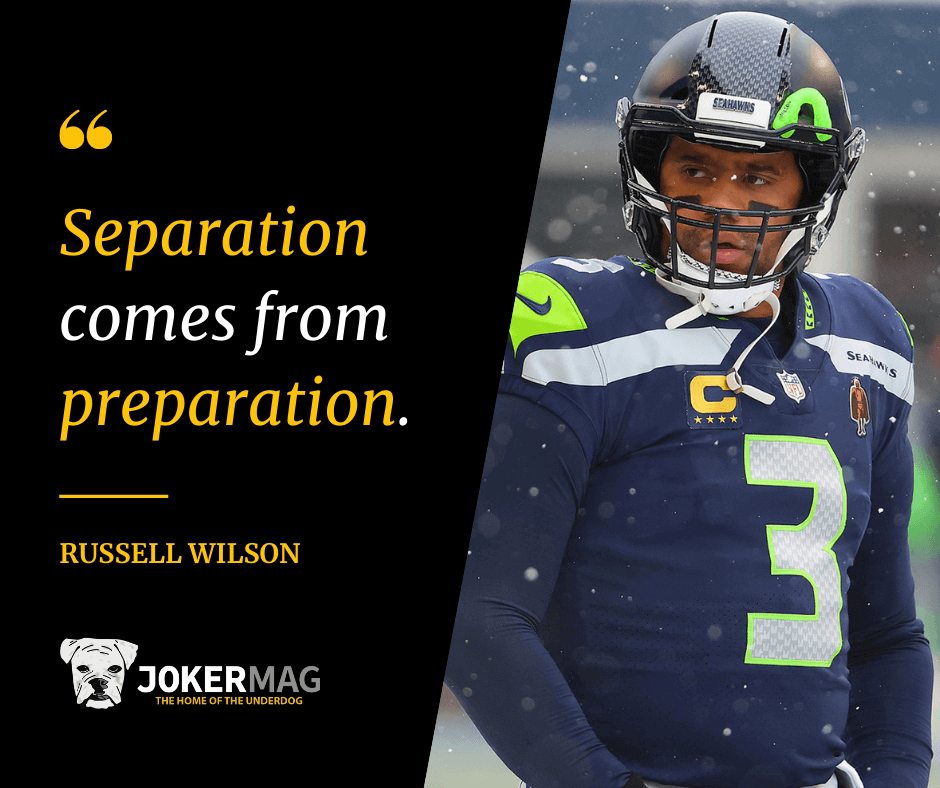 37.) "Separation comes from preparation." – Russell Wilson
38.) "When you don't give up, you cannot fail." – Adrian Peterson
39.) "Heart can't be measured!" – Boston Scott
40.) "When you win, nothing hurts." – Joe Namath
41.) "I can honestly tell you that I would play this game for free." – Troy Polamalu
42.) "Football is a game of controlled anger. It is a game of retribution. It's about will." – Brian Dawkins
43.) "Effort will never be questioned." – Jalen Hurts
44.) "You cannot make progress with excuses." – Cam Newton
45.) "Nobody who ever gave his best regretted it." – George Halas
46.) "Every experience, good or bad, you have to learn from." – Patrick Mahomes
47.) "When you lose, talk little. When you win, talk less." – Tom Brady
48.) "A winner never stops trying." – Tom Landry
49.) "Good things come to those who work!" – Greg Dortch
50.) "Don't hope someone gives you an opportunity. Create one for yourself." – Shannon Sharpe
What's your favorite inspirational football quote or saying? Let us know on Twitter @JokerMagHQ!