Making it to the NFL means you're one of the best football players in the world. Sure, there are other professional football leagues – like the XFL, USFL, and more – but the NFL is the home of the most talented football players on the planet.
While most NFL players come from Division 1 NCCA football programs, there's been a handful who've defied the odds.
At Joker Mag, we've already covered incredible stories such as the best 7th-round picks of all time and the best rookie seasons in NFL history. Now, it's time to look at players from smaller programs who reached the top of the sport.
Here's a breakdown of Division 3 football players who made it to the NFL – now and throughout history.
Table of Contents
Active NFL Players Who Played D3 Football
Darious Williams – CB, Marietta College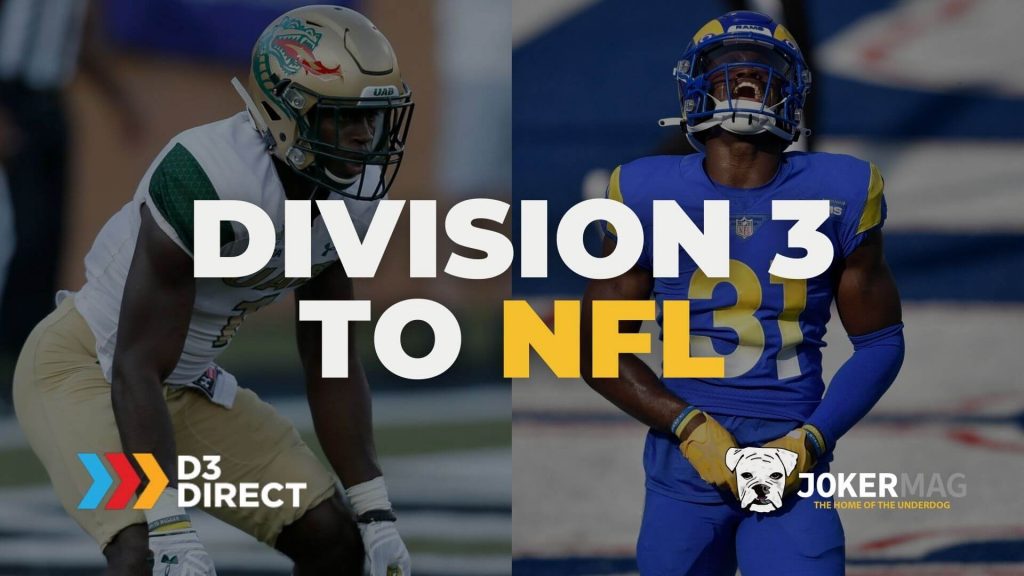 Darious Williams was a multisport athlete in high school. But when he graduated he knew he wanted to pursue football.
Despite his athletic prowess, Williams was unranked as a recruit and did not receive a single offer from a D1 program.
But he didn't let this deter him, instead taking an offer from Marietta College, a Division III school in Ohio. Williams' career there was short-lived, but he was able to build a bit of a resume to find an opportunity to play for a larger program.
His time as a D3 student-athlete proved worthwhile and Williams secured a walk-on spot at UAB, and eventually landed a scholarship.
After an illustrious career at UAB, Williams went undrafted in the 2018 NFL Draft.
Still, Williams continued to put in the work, fighting for a shot to play cornerback in the NFL for the Rams. He ended up starting in the Super Bowl, getting a ring, and signing a $39 million contract in free agency.
Dan Arnold – TE, UW-Platteville
Dan Arnold grew up in North Dakota, standing just 5'8″ entering high school. After graduation, he attended D3 University of Wisconsin-Platteville.
Arnold sat on the bench for the majority of his first two years, working hard in the weight room and learning the playbook. Then, in 2015, he burst onto the scene with 48 catches for 921 yards. He followed that up with a 65-catch 1,176-yard, and 16-touchdown season.
Arnold went undrafted in 2017 but signed with the Saints after the draft. Arnold made his debut in Week 5 of 2018 and made his first catch in Week 7 of the same season.
The 6'6″ pass-catcher has molded himself into one of the better young tight ends in the NFL.
Ben Bartch – OL, St. Johns
Ben Bartch went to a small D3 school called St. John's in Minnesota, and he became the first player drafted from his alma mater since 1974.
Bartch started his collegiate career playing tight end but ended up moving to left tackle in his junior season. He became a consensus First-Team All-American in D3 football, and his work on the field led to a Senior Bowl invitation.
In the 2020 NFL Draft, Bartch was drafted in the fourth round by the Jacksonville Jaguars and he has become a starter on the offensive line.
Nicholas Morrow – LB, Greenville University
Nicholas Morrow played four years at Greenville University, a private college in Illinois with just 872 students.
He played in 34 games during his four-year tenure and became the first Greenville football player to ever win an All-American award.
The linebacker went undrafted in 2017 and later signed with the Raiders. Morrow earned a job and spent five seasons with the team, accumulating 254 tackles, 20 tackles for loss, and 4 sacks in 62 career games.
In 2022, Morrow signed a one-year $3 million contract with the Chicago Bears.
RELATED: 43 Most Inspirational Football Quotes of All-Time
Jake Kumerow – WR, UW-Whitewater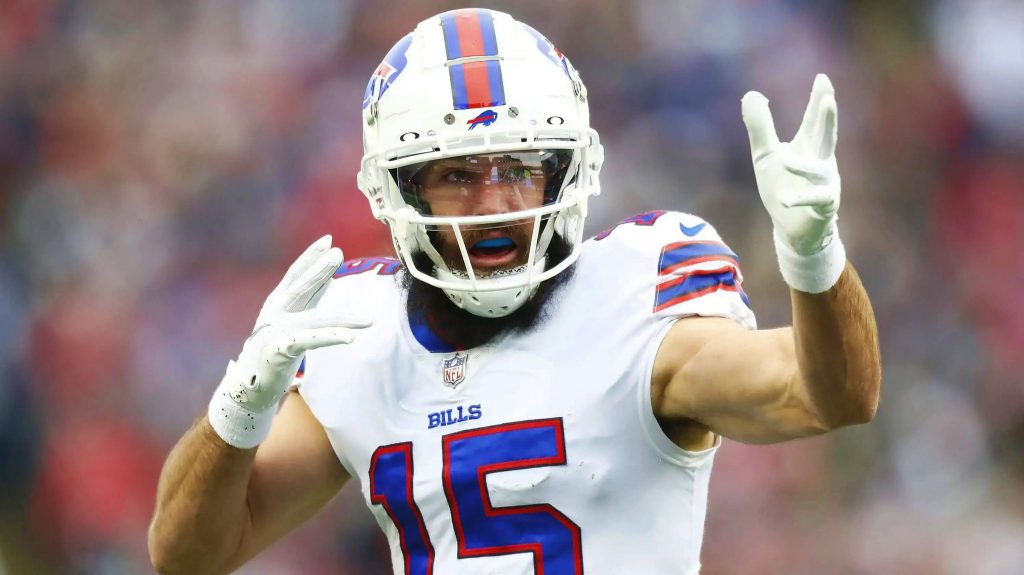 Kumerow walked on at Division 1 Illinois, but barely saw the field (3 catches for 15 yards). In search of a better opportunity, he transferred to D3 Wisconsin-Whitewater.
The 6'4″ receiver made a name for himself with the Warhawks, landing him a free agent deal with the Bengals after the 2015 Draft.
The son of a former NFL linebacker – and cousin of the Bosa brothers – the long-haired wideout has bounced around the league for a handful of seasons.
Former NFL Players Who Played at the Divison 3 Level
Sam Mills – LB, Montclair State College
At 5'9″, Sam Mills was told he was too small to make it to the next level. But he kept pounding – and made it happen.
While a standout dual-sport athlete in high school, Sam Mills wasn't sought after by college scouts. Instead, he became a Division III All-American at Montclair State (New Jersey).
He entered the NFL as an undrafted free agent but got cut at the end of the preseason. The CFL didn't want him either, so he took his talents to the upstart USFL with the Philadelphia Stars.
After leading his team to back-to-back championships, he returned to the NFL with the New Orleans Saints. Mills' 12-year NFL career included 5 Pro Bowls, 181 games, and more than 1,300 tackles.
His mantra, "Keep Pounding", is the embodiment of his career. And the saying lives on as the official slogan of the Carolina Panthers.
Today, Mills is enshrined in both the College and Pro Football Hall of Fame.
READ MORE: How Sam Mills Went From 5'9″ Division 3 LB to NFL Legend
Ali Marpet – G, Hobart and William Smith Colleges
Only one Hobart football player was drafted before Marpet – Fred King way back in 1937.
Marpet became a D3 All-American First-Team player and was selected in the second round of the 2015 NFL Draft by the Buccaneers – the highest any D3 player has ever been drafted.
Marpet played his entire career for the Tampa Bay Buccaneers, earning selections to the 2015 All-Rookie team and the Pro Bowl in 2021. He was an instrumental piece to the Buc's offensive line and played a key part in their Super Bowl run in 2021.
Marpet decided to hang up the cleats after the 2021 season.
London Fletcher – LB, John Carroll University
In college, London Fletcher won the Division III National Linebacker of the Year award for his play at John Carroll University.
Fletcher went undrafted but signed with the Rams for $158,000 in 1998. The 5'10" linebacker went on the become the Rams' leading tackler in 1999 and won himself a Super Bowl ring alongside Kurt Warner in 2000.
Fletcher ended his NFL career with 2,039 tackles, 39 sacks, 19 forced fumbles, and 23 interceptions in 256 games played. He was a four-time Pro-Bowler and he never missed an NFL game.
Ken Anderson – QB, Augustana College
Anderson was a two-sport athlete in high school, excelling at both football and basketball. He ultimately shined brighter playing football for Division III Augustana College and become a top pro prospect.
Anderson was drafted in the 3rd round of the 1971 NFL draft by the Cincinnati Bengals. He played 16 seasons there and he won the NFL's MVP award in 1981.
During his career, Anderson led the NFL in passer rating four times, completion percentage three times, and passing yards twice. He brought the Bengals to the Super Bowl, but they were unable to take home a ring.
Anderson finished his career with 32,838 yards and 197 touchdown passes.
Billy "White Shoes" Johnson – KR/WR, Widener University
Known for his kick-returning skills, Billy "White Shoes" Johnson made it to the NFL from a small D3 school in southeastern Pennsylvania. He was drafted in the 15th round of the 1974 NFL Draft by the Houston Oilers.
Johnson was one of the first players to popularize dancing in the end zone after scoring touchdowns. Over his 14-year NFL career, the 5'9″ return specialist scored 25 touchdowns in 143 games played.
He was a three-time Pro Bowler and he was named to the NFL's 1970s and 1980s All-Decade Team, the NFL 75th Anniversary All-Time Team, and the NFL 100th Anniversary All-Time Team.
Johnson was inducted the into Philadelphia Sports Hall of Fame in 2018.
Fred Jackson – RB, Coe College
Coming out of Division III Coe College, Fred Jackson tried out for multiple NFL teams before signing to play indoor football with the Sioux City Bandits.
The small school running back won league MVP by scoring 53 touchdowns in 18 games. He parlayed that success into a contract with the Buffalo Bills – signed by then-GM Marv Levy, a fellow Coe College alum.
Jackson made the most of the opportunity, carving out a productive nine-year NFL career.
Recommended
ProductiveRecruit: The All-in-One College Sports Recruiting Platform
Ready to be a college athlete? Take complete control of your recruiting process and find the perfect fit with ProductiveRecruit – an all-in-one platform that allows you to connect with any college coach in the country.
Pros:
Joker Mag readers get 15% off their first year!

Connect with 80,000+ coaches across 22 sports

Track which coaches are opening your emails
Joker Mag is reader-supported. When you buy through our links, we may earn an affiliate commission at no additional cost to you.
Check out the rest of our small school-to-pro series:
Like underdog stories? Join our Underdog Newsletter to keep up with the unsung heroes and overlooked stories happening in sports.