The NFL Draft has become a must-watch spectacle for all sports fans.
Each year, 262 collegiate athletes see their hard work pay off and dreams come true when the commissioner announces they've been selected to play in the NFL.
However, not all opportunities are created equally.
While a lot of the hype surrounds the top picks, hidden gems and star-caliber talent can fall to the later rounds of the draft. In the seventh and final round, teams can hit big on overlooked players who prove to be late-round steals.
We've already detailed the best undrafted NFL players, so now it's time to look at active and past seventh-round draft picks who made a name for themselves in the National Football League.
Table of Contents
Best 7th Round Picks in NFL History
Bobby Mitchell (84th Overall)
After an illustrious college career at Illinois, Bobby Mitchell fell to the seventh round of the 1958 NFL Draft – ultimately scooped up by the Cleveland Browns.
Despite being a late-round pick, Mitchell came in second place in Rookie of the Year voting in 1958. During his NFL career, Mitchell had an eight-year stretch of recording over 800 receiving yards. He was also a first-team All-Pro and made the Pro Football Hall of Fame in 1983.
Joe Schmidt (86th Overall)
Joe Schmidt was drafted by the Detroit Lions in the 7th round of the 1953 NFL Draft after an All-American season at linebacker for the University of Pittsburgh.
He went on to make the Pro Bowl 10 times and earn eight All-Pro honors. Schmidt won two Super Bowls with the Lions, made the 1950s All-decade Team, and was inducted into the Hall of Fame in 1973.
Shannon Sharpe (192nd Overall)
Shannon Sharpe came into the NFL from the oldest public HBCU in Georgia, Savannah State University. In no time at all, Sharpe proved that he was a late-round steal. His production also compelled NFL scouts to dig deeper into HBCU prospects.
In his 14-year playing career, Sharpe was an eight-time Pro-Bowler, a four-time All-Pro, and won three Super Bowls. Sharpe is a member of the 1990s All-Decade Team and was elected to the Pro Football Hall of Fame in 2011.
RELATED: The Best Underdog Stories in NFL History
Marques Colston (252nd Overall)
As a college prospect from Hofstra – a small school on Long Island – Colston was not rated highly by many pro football scouts. However, in his rookie season, Colston finished second in Offensive Rookie of the Year voting with 1,038 receiving yards.
In the end, Colston racked up over 1,000 receiving yards in six of his 10 seasons in the NFL.
Adam Timmerman (230th Overall)
Timmerman was an overlooked prospect from South Dakota State, a small school that flies under the radar of most NFL talent evaluators.
After being selected in the 7th round of the 1995 NFL Draft, Timmerman became a starting guard and two-time Super Bowl champion – winning one with Brett Favre in Green Bay and another with Kurt Warner in St. Louis.
Honorable Mentions:
Julian Edelman (232nd Overall)
Ryan Fitzpatrick (250th Overall)
Donald Driver (213th Overall)
Chris Carson (249th Overall)
Gary Anderson (171st Overall)
Rayfield Wright (182nd Overall)
Best Active NFL Players Drafted in the 7th Round
Kamren Curl (216th Overall)
The Washington Commanders selected defensive back Kamren Curl in the 7th round of the 2020 NFL Draft as the 216th player off the board.
As a college player, Curl was a three-year starter but was overlooked by NFL scouts. In his short career so far, Curl has three interceptions, six tackles for loss, eight QB hits, and 187 tackles. He is due for a large contract extension after the 2023 season and is one of the best seventh-round picks to date.
Jordan Mailata (223rd Overall)
When Jordan Mailata was drafted 223rd overall in the 2018 draft, he was viewed as a long-term project. Mailata was a rugby player in Sydney, Australia with no real American football experience.
Fast forward to 2022 and Mailata has already signed a lucrative $64 million extension keeping him in Philadelphia through 2025. The imposing Aussie has proven to be one of the best late-round steals in recent draft memory.
RELATED: The Most Inspirational Football Quotes of All-Time
Harison Butker (233rd Overall)
Harrison Butker was drafted out of Georgie Tech in the seventh round of the 2017 NFL Draft. Throughout the course of his career, Butker has hit 94% of his extra-point attempts and 90.1% of his field-goal attempts – ranking 2nd in NFL history.
He was the kicker for the Chiefs' Super Bowl team in 2019 and signed a five-year, $20 million extension to keep him in Kansas City through 2024.
Charles Leno Jr. (246th Overall)
After a four-year collegiate career at Boise State, the Bears chose Charles Leno in the seventh round of the 2014 NFL Draft. Leno started his career as a backup, but in 2015 he became the Bears' starting left tackle for the next six seasons.
In 2021 he signed with Washington on the veteran minimum. But after a great season, he earned himself a three-year, $37.5 million contract extension.
Jaylen Watson (243rd Overall)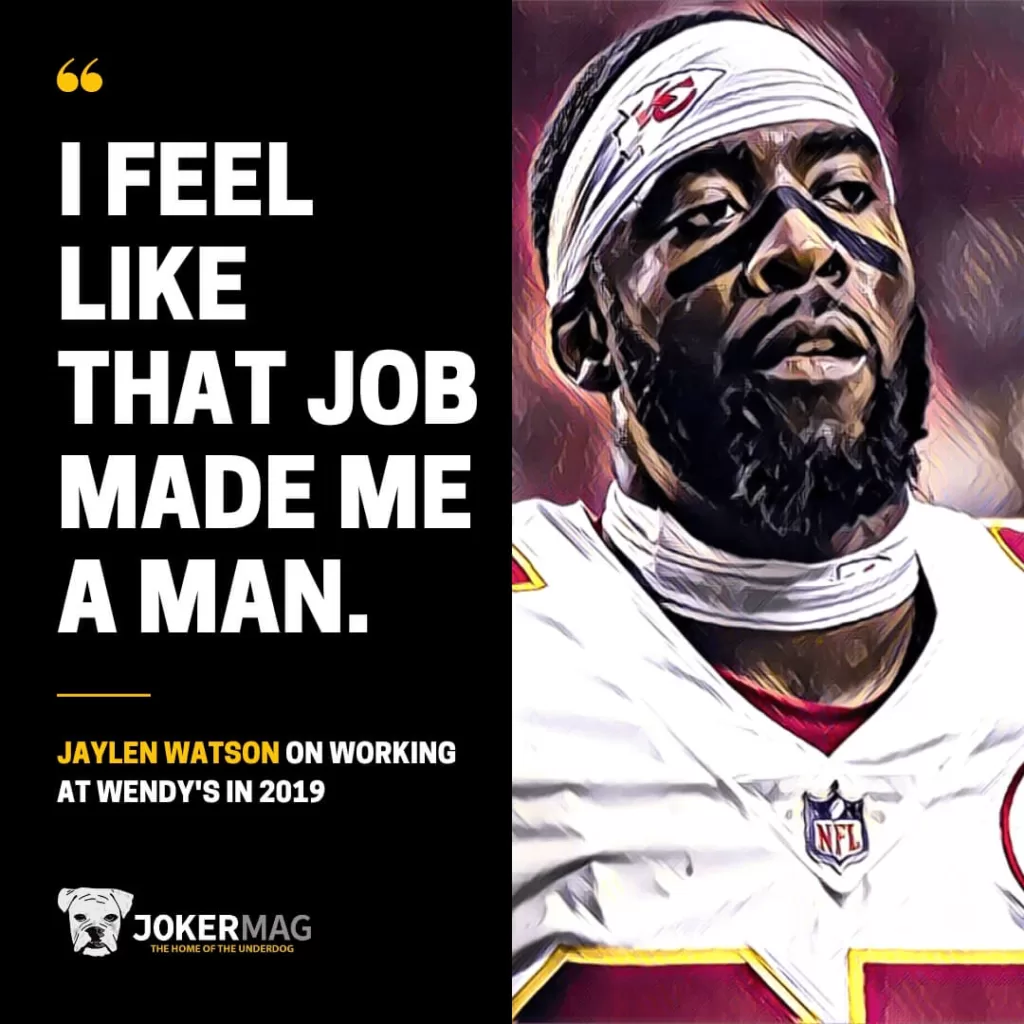 Jaylen Watson hit a snag when he tried transferring from a JUCO school to USC.
So he spent 2019 working the drive-thru at Wendy's.
After transferring to Washington State, he played well enough for the Kansas City Chiefs to take him 243rd overall.
Within a few short years, he went from slingin' burgers to winning the Super Bowl.
Who is the Best Mr. Irrelevant in NFL History?
Ryan Succop (2009)
Ryan Succop is the most successful Mr. Irrelevant in NFL history. As the last pick in the 2009 NFL Draft by Kansas City, Succop bounced around the NFL but found a home in Tampa Bay as the Buccaneers' primary placekicker.
Succop has hit 83% of his field-goal attempts and 96.3% of his extra-point tries. In 2020, he won the Super Bowl with the Buccaneers and was the first Mr. Irrelevant to play in and win the Super Bowl as a starter.