There are over 300 Division III baseball teams in the United States, which means thousands of young ballplayers get the opportunity to play at this prestigious collegiate level each year.
But despite the intense hours, training, and competition that goes into playing D3 baseball, the division can be overlooked by parents and players who don't completely understand it.
So we spoke to college coaches across the nation to clarify the biggest misconceptions about Division 3 baseball.
Table of Contents
How Competitive is D3 Baseball?
Misconception: D3 baseball isn't competitive and is more of a recreational sport.
Truth: "In reality, the student-athletes at D3 are just as competitive as at any other level. Their commitment to excel both on the field and in the classroom, as well as their desire to win is just as strong as all the scholarship levels."
"Most D3 baseball teams have "scholarship type" players on their rosters and the teams that win at a high level have quite a few of them. The level of play is very good and the quality of coaching is outstanding. Just like in any other conference in the country it's a dogfight to win each weekend, and the players are motivated to work and commit to being successful."
– Coach Paul Wyczawski (University of Dubuque – Dubuque, IA)
Misconception: In D3, an average high school player can play at this level.
Truth: "Almost all our players are All-Conference, All-State, etc."
– Coach Robert Babb (Johns Hopkins University – Baltimore, MD)
Misconception: I won't get developed at the D3 level.
Truth: "Just like there are D1 programs that don't develop players, there are D3 programs that aren't good at developing players. With that said, if you do your research you will find some D3 programs that are even better than some D1 programs at developing players."
– Coach Kyle Palmer (Belhaven University – Jackson, MS)
RELATED: The Perfect Gifts for Baseball Coaches
How Good Are Division 3 Ballplayers?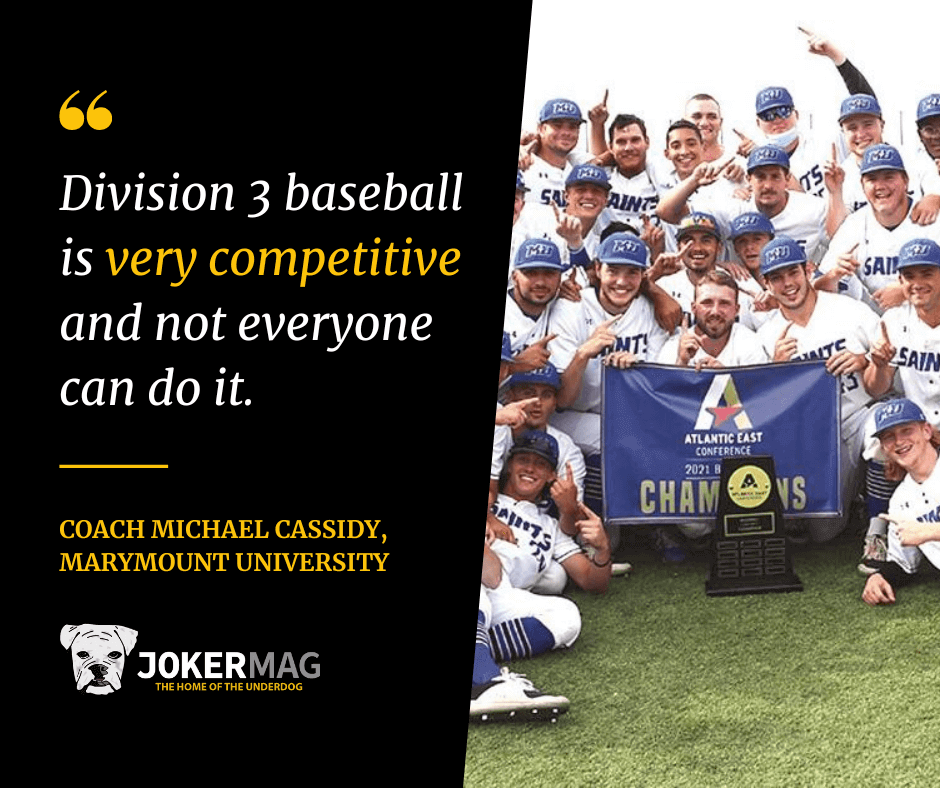 Misconception: Hearing that "he is a D3 guy".
Truth: "Division 3 baseball is very competitive and not everyone can do it. To me, it is an honor to play any level of college sports."
"With all the backup at the Division 1 level, I think you are going to see a lot of guys who went to a Division 1 school out of college, transferring to Division 3 schools over the next couple of years. Division 3 baseball is going to be even better than it is now."
– Coach Michael Cassidy (Marymount University – Arlington, VA)
Misconception: D3 baseball is like a "club" sport because we don't offer [athletic] scholarships.
Truth: "Every team in our league had a pitcher that was at 90 mph or above, some with multiple. A lot of times our talent at D3 falls into the "late bloomer" category but by the time our guys are 21-23 years old, they can compete with other levels. A team in our conference beat a Big Ten team this year!"
– Coach Casey Klunder (Central College – Pella, IA)
Misconception: I can't get drafted out of D3.
Truth: "While the level of exposure might make it harder, in this day and age, if you are good enough to get drafted, MLB teams will find you."
– Coach Kyle Palmer (Belhaven University – Jackson, MS)
RELATED: MLB Players Who Came From D3 Programs
D3 Baseball vs. D1 Baseball
Misconception: Any D1 player would dominate at D3.
Truth: "While there are some D1 players that might do really well at the D3 level, chances are if you aren't a front-line guy at the D1 level, you wouldn't dominate our level."
– Coach Kyle Palmer (Belhaven University – Jackson, MS)
Misconception: A D3 schedule for a player is not as demanding as a D1 school because athletics are not as important.
Truth: "This is definitely false. We as D3 programs care just as much about being as competitive as anyone in any other division and our schedules for players reflect that."
"In a lot of cases, the schedule of a D3 athlete may even be busier since classes are paramount and the majority of D3 athletes are on full academic schedules in both semesters. But if you're in a program like ours with the combination of practices, lifts, individuals/small groups, meetings, leadership development, and study hall, you are going to have a lot on your plate."
"Thankfully we organize around class schedules and make sure guys can get meals in and enough sleep, but it takes a ton of commitment to go through all of this."
– Coach Joe Clancy (University of Valley Forge – Phoenixville, PA)
Misconception: D3 players aren't good enough to play at the higher levels
Truth: "After coaching at both levels my argument is this: The most successful D1 players are multi-tool players. The frontlines guys are usually plus in more than one of the baseball tool categories. The top D3 players usually will only have pluses in 1 or 2 of those categories."
"So we may have a pitcher that has a D1 tool in his FB but probably not his OS. We may have a hitter that can hit for power at the D1 level too but struggles to hit for average. We may have a player that has D1 tool speed but doesn't hit well enough too."
– Coach Kyle Palmer (Belhaven University – Jackson, MS)
RELATED: How Chris Coste Went From D3 Baseball to World Series Champion
Do D3 Schools Offer Scholarships?
Misconception: Parents and prospective student-athletes think D3 universities do not give out scholarships.
Truth: "Although this is technically true, Division 3 schools do give out academic merit. Obviously, it is based on the student-athlete's grades coming out of high school and coaches have no say in how much is given to a prospective student-athlete."
"But it is a way to receive money off your tuition just like they do for athletic scholarships at the D1 and D2 levels. If your grades are good enough, it can be a very substantial amount and makes schools very affordable. That's why I always say at any event I'm doing a recruiting speech: 'One of the most important things is getting good grades in high school because it opens many doors in terms of what schools you can attend.'"
– Coach Kevin Kelley (Roger Williams University – Bristol, RI)
Misconception: D3 teams don't have scholarships so I can't afford to go.
Truth: "While D3 teams cannot give athletic aid, most do offer really good academic aid. It has been my experience that we give more money academically than most of these players receive athletically at other schools."
– Coach Kyle Palmer (Belhaven University – Jackson, MS)
Misconception: D3 schools don't offer scholarships.
Truth: "While it is true that D3 schools don't offer "athletic scholarships", we do offer academic scholarships, grants, and need-based money that can make the cost of playing at a D3 school very affordable."
"As a former D1 assistant coach, I always found it interesting that at Division 1 level, only 27 baseball student-athletes can receive athletic aid (with a roster limit of 35). That means eight players are basically non-scholarship – just like student-athletes at D3 schools. In 2023, the roster limit at D1 looks to be between 35-40, with up to 32 able to receive athletic scholarships."
– Coach Paul Wyczawski (University of Dubuque – Dubuque, IA)
Misconception: D3 schools can't give baseball scholarships so "I'm not interested/can't afford your school".
Truth: "While it is true that NCAA D3 schools cannot offer athletic scholarships, that does not mean that even with a baseball scholarship that D3 schools cannot be more affordable."
"Academic awards and packages at a lot of D3 schools can blow a lot of baseball scholarships out of the water. For example, I originally attended a D2 school, and the way that program divided up scholarships amongst all players, some scholarships got as low as $100-$200 per year. So it is a great thing to call yourself a scholarship player."
"But most likely in baseball, you're not seeing a lot of "full rides" as you do in football or basketball…I ended up at a D3 school and the costs dropped significantly. The school that I currently coach at is another good example of this where it has been recognized by US News as a "best value" school which means that a lot of the time the school can be extremely affordable."
"I have even seen examples where if there is a student with good enough grades or is in high enough need or a combo of the two, the school may even be able to be more affordable than state schools. So overall, baseball scholarships should not dictate a sense of affordability or deter anyone from being interested or celebrating being sought after by a D3 school."
– Coach Joe Clancy (University of Valley Forge – Phoenixville, PA)
Looking to get recruited? Check out ProductiveRecruit for 15% off your first year!
Recommended
ProductiveRecruit: The All-in-One College Sports Recruiting Platform
Ready to be a college athlete? Take complete control of your recruiting process and find the perfect fit with ProductiveRecruit – an all-in-one platform that allows you to connect with any college coach in the country.
Pros:
Joker Mag readers get 15% off their first year!

Connect with 80,000+ coaches across 22 sports

Track which coaches are opening your emails
Joker Mag is reader-supported. When you buy through our links, we may earn an affiliate commission at no additional cost to you.
---
Editor's Note: Thank you to all coaches who contributed their expertise and experience to this piece. If you're a high school ballplayer or parent, we hope it opened your eyes to the tremendous opportunities Division III baseball offers.
If you're new here, join our free Underdog Newsletter where we cover inspiring stories at every level – from D3 to MLB!