Division 2 football programs have produced plenty of NFL talent. You just don't hear about it.
While major media outlets focus on big SEC schools, here at Joker Mag we like to dig deeper. After we covered small school stars from the D3 level, some of our readers requested we tackle D2 next.
According to NCSA, there are over 160 Division II football programs in the country. Here are the players who made it to the top.
Table of Contents
Active NFL Players Who Played D2 Football
Austin Ekeler – RB, Western Colorado
Austin Ekeler is used to being overlooked.
After dominating as a high school senior (2,398 yards and 42 touchdowns), no Division 1 programs showed interest in him.
So the 5'8″ back stayed in his home state, taking his talents to D2 Western Colorado.
After not being invited to the NFL Combine – and 27 running backs being drafted over him – Ekeler latched on with the Chargers as an undrafted free agent.
"Whatever it takes," he told Bleacher Report. "You have to motivate yourself."
Kenny Moore II – CB, Valdosta State
Kenny Moore didn't play organized football until his senior year of high school. Yet he put together a spectacular season, helping Lowndes High School go 9-2 on their way to the playoffs.
The DB continued his football career in his hometown at Valdosta State University. But even college ball wasn't a guarantee.
"I didn't expect to play. I was actually about to go to the Air Force my second semester of college if I did not play my freshman year," Moore told the VSU Spectator. "It was all God. It's just the path he wanted me to take."
Fast forward to June of 2019: Kenny Moore becomes the highest-paid slot corner in the NFL.
His advice for student-athletes today?
"Be a person with a good head on your shoulders. Be a student first. Take care of business. Anything you put your mind to – if it's football or it's not – try your hardest at everything you do."
Deonte Harty – WR/KR, Assumption
As a high school senior, Harty led his team to their first undefeated season in the school's history.
He set nine records at Division 2 Assumption University before signing with the Saints as an undrafted free agent.
At 5'6″, the speedy return specialist is one of the shortest active NFL players.
Matthew Judon – OLB, Grand Valley State
Matthew Judon was a two-star recruit coming out of high school. But despite his impressive physicality, Judon received no attention from Division 1 scouts.
He ended up at Grand Valley State University in Allendale, Michigan.
"I was blessed to be put in that situation," he told the Baltimore Sun. "I thought they had the best fit for me."
After bouncing back from a torn ACL, Judon led all levels of college football with 20 sacks as a senior. Drafted in the 5th round in 2016, he later became the highest-paid defender in New England Patriots history.
Adam Thielen – WR, Minnesota State
Adam Thielen grew up a die-hard Vikings fan.
Following an all-state high school football career, he ended up at Division II Minnesota State Mankato. After redshirting his freshman year, Thielen became the Mavericks' top target in each of his final 3 college seasons.
The 6'2″ receiver earned recognition at the Regional Combine, but still went undrafted.
"Making it to the NFL was pretty unlikely," he wrote in 2017. "I was an unknown wide receiver from a small Division II school."
"So I decided that I would start training, but at the same time, I'd also look around for other jobs in case it didn't work out."
Fortunately, it did work out. And NFL fans are witnesses to yet another small-school alum who overcame the odds.
Tyreek Hill – WR, West Alabama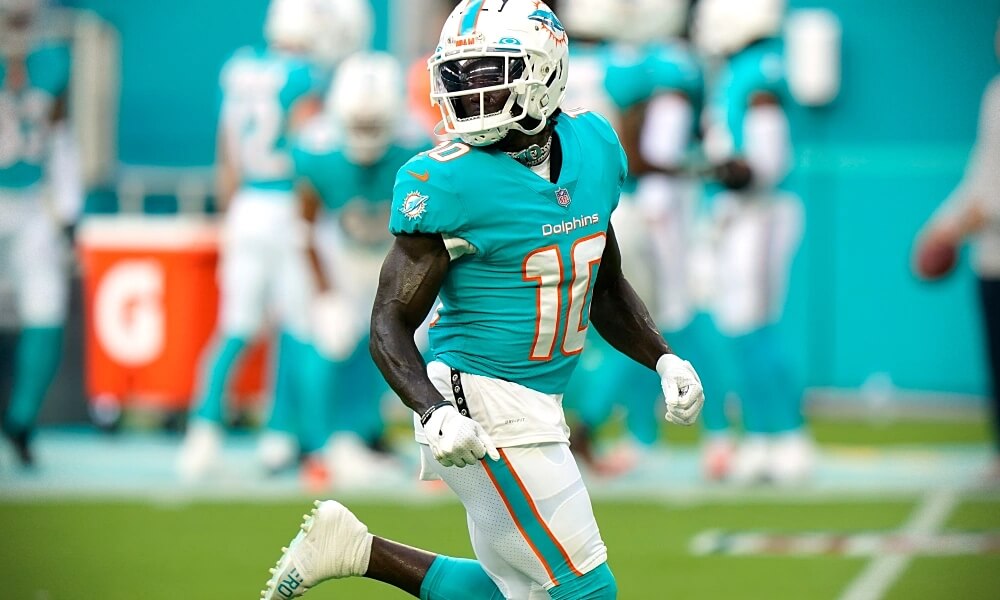 Tyreek Hill got the nickname "Cheetah" for a reason. But before the speedster was blazing past NFL DBs, he was a decorated high school track star.
After graduation, Hill attended three different colleges in four years – spanning the JUCO, Division 1, and Division 2 levels.
At D2 West Alabama, Tyreek showcased his blazing speed as both a running back and wide receiver – prompting the Chiefs to select him with the 165th overall pick in 2016.
More current NFL players who attended D2 colleges:
C.J. Ham – FB, Augustana (SD)
Tyson Bagent – QB, Shepherd University
Joey Fisher – OL, Shepherd University
Ryan Jensen – C, CSU Pueblo
Adam Shaheen – TE, Ashland
Jason Moore – WR, University of Findlay
Malik Taylor – WR, Ferris State
Tavierre Thomas – CB, Ferris State
Caleb Murphy – LB, Ferris State
D'Anthony Bell – S, West Florida
Jared Bernhardt – WR, Ferris State
Craig Reynolds – RB, Kutztown
Matt Feiler – G, Bloomsburg
Dallis Flowers – CB, Pittsburg State
Kader Kohou – CB, Texas A&M-Commerce
Tanner Owen – G, Northwest Missouri State
Sam Roberts – DT, Northwest Missouri State
Sam Webb – CB, Missouri Western
Joshua Williams – CB, Fayetteville State
Dareke Young – WR, Lenoir-Rhyne
Greg Zuerlein – K, Missouri Western
Shane Zylstra – TE, Minnesota State
Alex Cappa – G, Humboldt State
John Cominsky – DE, Charleston (WV)
Kyle Dugger – S, Lenoir-Rhyne
Ashton Dulin – WR, Malone
Jody Fortson – TE, Valdosta State
Morgan Fox – DE, CSU Pueblo
Dennis Gardeck – LB, Sioux Falls
C.J. Goodwin – CB, Cal U (PA)
Erik Harris – S, Cal U (PA)
Gunner Olszewski – WR, Bemidji State
Matthew Orzech – C, Azusa Pacific
Trey Pipkins – OT, Sioux Falls
Chris Reed – G, Minnesota State
Nathan Shepherd – DT, Fort Hays State
Zach Sieler – DT, Ferris State
E.J. Speed – LB, Tarleton State
Grover Stewart – DT, Albany State (GA)
Mike Strachan – WR, Charleston (WV)
Zach Triner – LB, Assumption
Tershawn Wharton – DT, Missouri S&T
Shemar Bridges – WR, Fort Valley
Tanner Hudson – TE, Southern Arkansas
Recommended
ProductiveRecruit: The All-in-One College Sports Recruiting Platform
Ready to be a college athlete? Take complete control of your recruiting process and find the perfect fit with ProductiveRecruit – an all-in-one platform that allows you to connect with any college coach in the country.
Pros:
Joker Mag readers get 15% off their first year!

Connect with 80,000+ coaches across 22 sports

Track which coaches are opening your emails
Joker Mag is reader-supported. When you buy through our links, we may earn an affiliate commission at no additional cost to you.
Former NFL Players Who Played at the Divison 2 Level
Adam Vinatieri – K, South Dakota State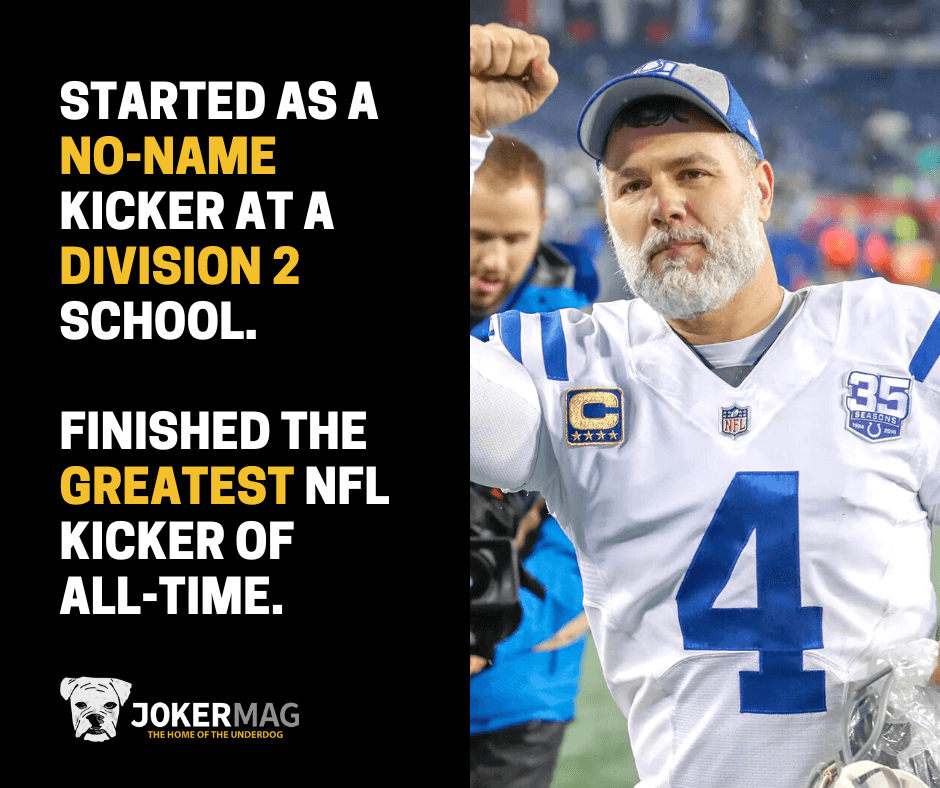 Before becoming the NFL's all-time leading scorer, Adam Vinatieri was a no-name placekicker at Division II South Dakota State.
"If you look in our press guide he doesn't have any of our kicking records," said John Stiegelmeier, who recruited Vinatieri. "He just overcame a ton of stuff to get where he is."
While no one believed the SDSU kicker would even turn pro, Adam Vinatieri believed in himself.
After starting as an undrafted free agent, he overcame all odds to become the greatest NFL kicker of all-time.
Danny Woodhead – RB, Chadron State
A natural-born athlete, Danny Woodhead overcame questions about his size at every level.
The 5'8″ back received the first full athletic scholarship in Chadron State (Nebraska) history. He later won the Harlon Hill Trophy – given to the most valuable player in Division 2 – in back-to-back seasons.
Yet, Danny Woodhead wasn't even invited to the NFL Combine. He latched on with the Jets as a UDFA, but made his mark with Bill Belichick's New England Patriots.
Woodhead finished his NFL career with 4,936 total yards and 32 touchdowns. Not bad for an overlooked, undersized, small-school running back.
Delanie Walker – TE, Central Missouri
After starting at a California community college, Delanie Walker transferred to the University of Central Missouri.
He set multiple receiving records before declaring for the NFL Draft. Walker fell to the 6th round, and proved to be a steal for the San Francisco 49ers.
A three-time Pro Bowler, Delanie Walker racked up 5,888 receiving yards in his NFL career.
Brent Grimes – CB, Shippensburg
In 43 career games at D2 Shippensburg University (Pennsylvania), Brent Grimes was a three-time All-American.
Signed as a rookie free agent, Grimes started in NFL Europa where he helped the Hamburg Sea Devils win the World Bowl trophy.
The Philadelphia-born cornerback went on to become a four-time Pro Bowler over his distinguished 12-year career.
More notable D2 alumni:
Pierre Desir – CB, Lindenwood
John Kuhn – FB, Shippensburg
Janoris Jenkins – CB, North Alabama
Jacoby Jones – WR/KR, Lane
Brandon Williams – DT, Missouri Southern State
Jeff Heath – S, Saginaw Valley State
Greg Toler – CB, St. Pauls
Cedric Thornton – DT, Southern Arkansas
Brandon Carr – CB, Grand Valley State
Todd Herremans – G, Saginaw Valley State
Nate Washington – WR, Tiffin
Tyrell Williams – WR, Western Oregon
Is there a D2 NFL player we missed? Let us know on Twitter.
Check out the rest of our small school to pro series:
Like underdog stories? Join our Underdog Newsletter to keep up with the unsung heroes and overlooked stories happening in sports.