When you think of the NFL's talent pipeline, it's easy to picture big NCAA programs like Alabama, LSU, and Georgia. But smaller school players have made a massive impact at football's highest level.
Boasting 96 football programs, the National Association of Intercollegiate Athletics (NAIA) offers student-athletes more flexibility and fewer restrictions than other athletic organizations.
NAIA coaches can recruit at any time and are not limited by formal timelines. This stretches the window of opportunity for talented but lesser-known players to land there.
While the NAIA has produced Hall of Fame-level talent, major media outlets largely ignore it. But at Joker Mag, these stories are our bread and butter.
Let's dive into the best NFL players who played NAIA football.
Table of Contents
Walter Payton – RB, Jackson State University
That's right. Walter Payton, one of the greatest running backs of all time, started out playing NAIA football.
Despite being one of Mississippi's best high school prospects, Payton received zero offers from SEC schools. So he joined his brother, Eddie, at Jackson State University – which was an NAIA program until 1982.
Walter Payton set the Tigers' all-time record with 65 career rushing touchdowns and earned the nickname "Sweetness" that NFL fans remember all too well.
His accolades include a Super Bowl Championship, the College Football Hall of Fame, and the Pro Football Hall of Fame. But perhaps the best is the Walter Payton NFL Man of the Year award – honoring a player's commitment to philanthropy and community impact.
Jackie Slater – OT, Jackson State University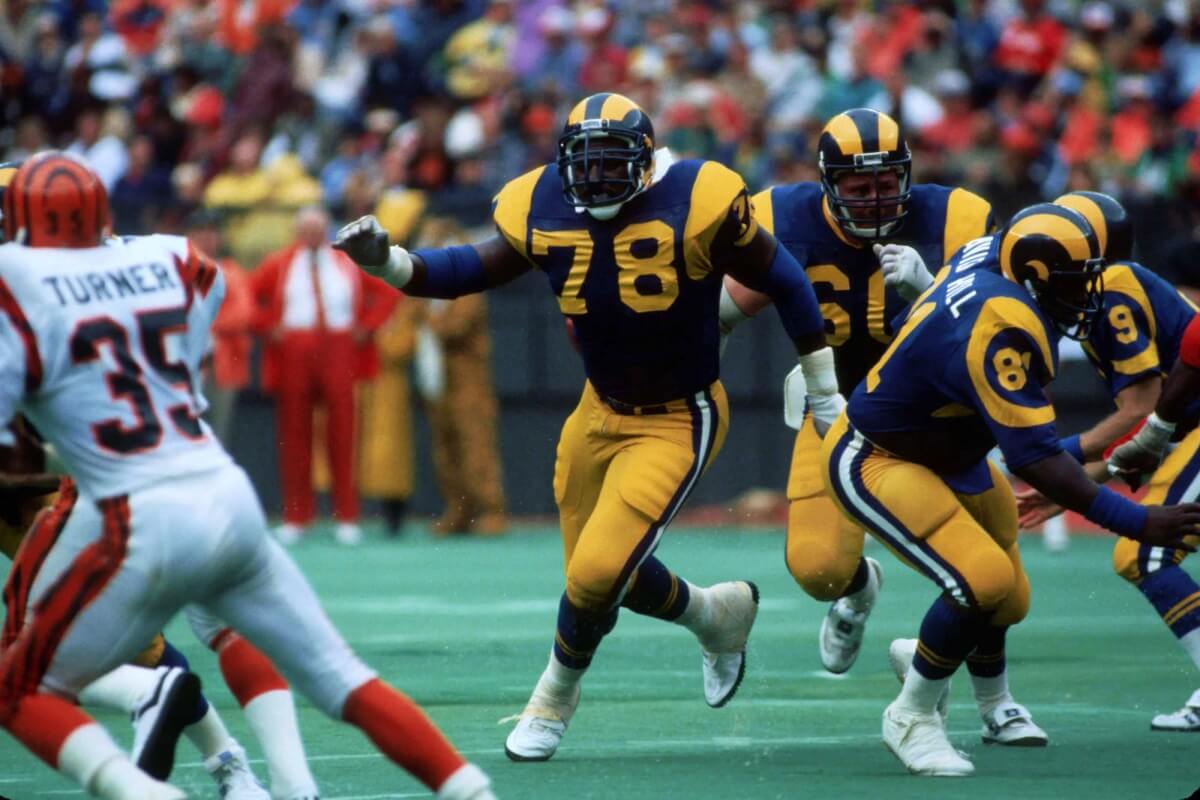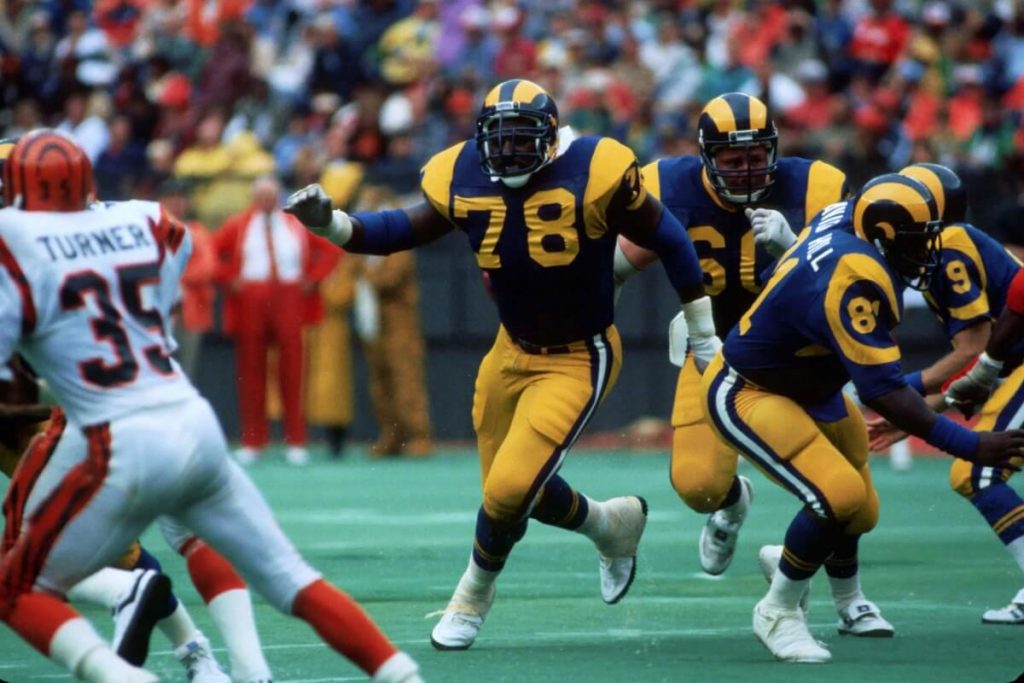 As Walter Payton's teammate, and blocker on the offensive line, Jackie Slater was part of a golden era for NAIA football.
Slater once called blocking for Payton "one of the greatest experiences" of his life. Then, at the NFL level, he blocked for another legend in Eric Dickerson.
He told the Chicago Sun-Times, "When you think about it, I can say, `Hey, I've blocked for the best players, statistics-wise, of all time.'"
Now enshrined alongside his former teammates in the Pro Football Hall of Fame, Jackie's legacy lives on through his son and fellow All-Pro, Matthew Slater.
Damon Harrison – DT, William Penn University
Damon Harrison initially quit football after getting cut twice from his middle school team. Focusing on basketball, he was primarily a shooting guard until his junior year of high school.
"On November 29th, 2005 — I'll never forget the date because it was my birthday — I tore my meniscus in my left knee," Harrison said in 2012. "Between that month until the end of December or early January, I gained like 40 or 50 pounds. So, I was like, 'I might as well go out for football now.'"
Despite the coaching staff's hesitancy, Harrison won team MVP for dominating on both the offensive and defensive lines as a senior.
Since he only played one season of high school football, he slipped through the cracks for college recruiters. His college career was another whirlwind – with stops at both a local JUCO and NAIA William Penn University.
After entering the NFL as an undrafted free agent, Damon "Snacks" Harrison was an All-Pro run-stopper for nine seasons.
Harlon Hill – LE, Florence State Teachers College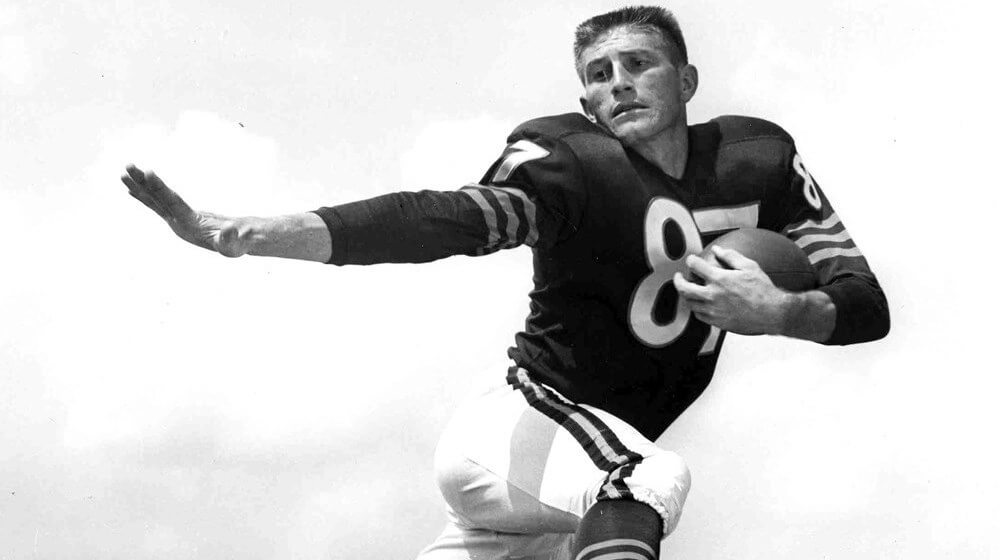 Harlon Hill went to Florence State Teachers College, a school now known as the University of North Alabama. The school had just brought back its football program, after dropping it for a time due to low male enrollment.
The timing worked out perfectly for Hill, who wrote in his book Victory After the Game:
"I was surprised when I found out I was drafted by the Bears. I had no idea I had been `discovered.' I really did not know much about the National Football League. I was walking across campus and Mr. Van Pelt – who is still down there – he came up to me and told me about it. I did not know what to think, but after I found out what it was all about, naturally I was elated."
Harlon Hill won Rookie of the Year in his first season, and NFL MVP the next. Today, the Harlon Hill Trophy is awarded to the best D2 football player in the nation.
Robert Brazile – LB, Jackson State University
Robert Brazile was roommates with Walter Payton during their time together at Jackson State. The 6'4″ 241-pounder switched from tight end to linebacker his sophomore season and never looked back.
He became a consensus All-American for the Tigers, leading the Houston Oilers to take him with the sixth overall pick in 1975.
At the NFL level, Brazile earned the nickname Dr. Doom for his back-breaking hits.
In his Hall of Fame enshrinement speech, Brazile said: "Guys told me they couldn't understand how I hit so hard, but I never stopped smiling…how I would help guys up. It was like I was enjoying it. Well, I did enjoy it. I loved every minute of it."
More notable NAIA alumni who made it to the NFL:
Lem Barney – CB, Jackson State University
Darrell Green – CB, Texas A&I University
Gene Upshaw – OG, Texas A&I University
David Krieg – QB, Milton College
Derrick Ward – RB, Ottawa University
Patrick Crayton – WR, Northwestern Oklahoma State
Tramaine Brock – CB, Belhaven University
Casey FitzSimmons –TE, Carroll College
Christian Okoye – RB, Azusa Pacific University
Wilbur Young – DT, William Penn University
Aldrick Rosas – P, Southern Oregon
Remember, it's not about where you start. It's about how you finish. Future pros have and will continue to come from every level of college football.
If you're a current or prospective NAIA student-athlete, take this quote from Walter Payton to heart:
"A winner is somebody who has given his best effort, who has tried the hardest they possibly can, who has utilized every ounce of energy and strength within them to accomplish something. It doesn't mean that they accomplished it or failed, it means that they've given it their best. That's a winner."
Recommended
ProductiveRecruit: The All-in-One College Sports Recruiting Platform
Ready to be a college athlete? Take complete control of your recruiting process and find the perfect fit with ProductiveRecruit – an all-in-one platform that allows you to connect with any college coach in the country.
Pros:
Joker Mag readers get 15% off their first year!

Connect with 80,000+ coaches across 22 sports

Track which coaches are opening your emails
Joker Mag is reader-supported. When you buy through our links, we may earn an affiliate commission at no additional cost to you.
Check out the rest of our college-to-pro series:
Like underdog stories? Join our Underdog Newsletter to keep up with the unsung heroes and overlooked stories happening in sports.