As an NBA fan, you likely haven't heard much about the National Association of Intercollegiate Athletics (NAIA). And yet, the level has produced top-tier professional talent for decades.
With 230 basketball programs, the NAIA offers student-athletes more flexibility and fewer limitations than other college athletic organizations.
NAIA coaches can recruit anytime and are not hindered by the same restrictions NCAA coaches face. This extends the window of opportunity for talented but lesser-known players to land there.
Most media outlets ignore the great stories that emerge from this level of college basketball. But at Joker Mag, these stories are our bread and butter.
Let's dive into the best NBA players who played NAIA basketball.
Table of Contents
Scottie Pippen – SF, University of Central Arkansas
Scottie Pippen was an underdog since the beginning. Despite leading his high school to the state playoffs, he didn't receive a single scholarship offer.
Then, after failing to make the team as a walk-on at the University of Central Arkansas, he stayed on as the equipment manager.
As a 6'1", 155-pound late bloomer, Pippen didn't start growing until his second year of college. After growing two inches, he finally got his chance to play college basketball.
Over the course of his college career, he experienced a growth spurt and shot up to 6'8″. He transformed into a consensus NAIA All-American in two consecutive seasons, which drew interest from pro scouts.
Pippen was drafted 5th overall in the 1987 NBA Draft, and the rest is history. He became a 7-time All-Star, 6-time NBA champion, and one of the best defenders in the history of the league.
"Everything was a lesson learned and a step forward for me."
Dennis Rodman – PF, Southeastern Oklahoma State University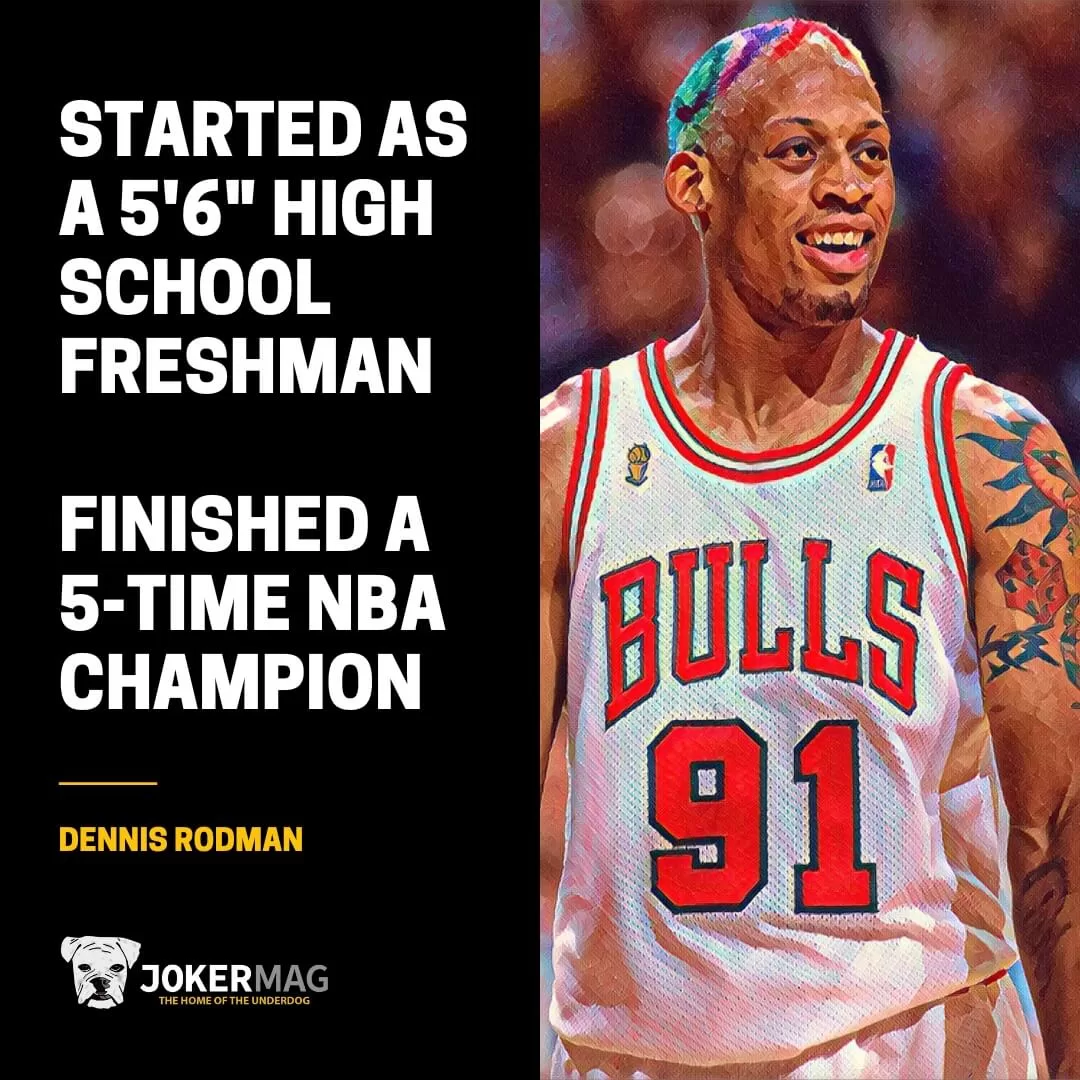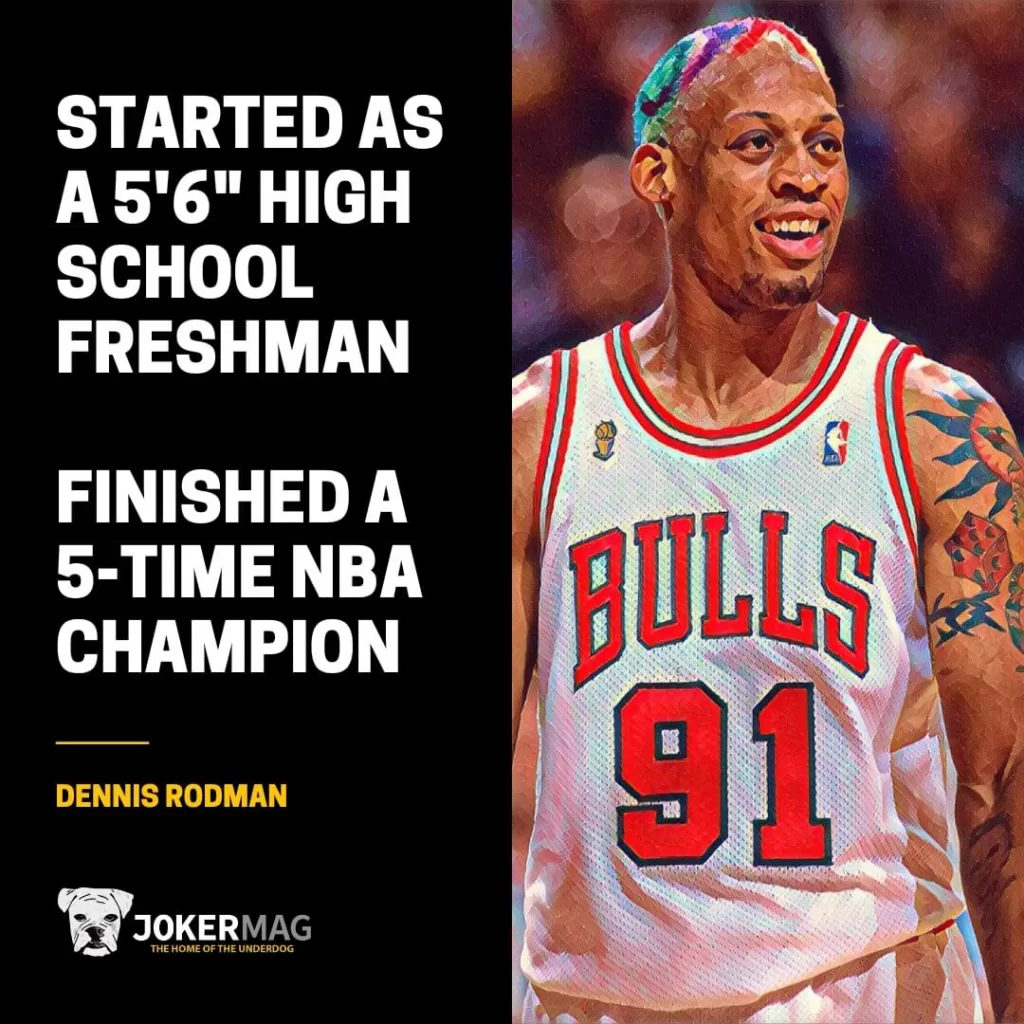 Dennis Rodman has an even better story than his former Bulls teammate.
Standing just 5'6″ as a high school freshman, Rodman was cut from nearly every team he tried out for. He stood only 5'9″ after graduating, and started working as an overnight janitor at an airport.
But then a rapid growth spurt changed his life forever.
Over two years, Rodman went from 5'9″ to 6'8″. According to a 1988 Sports Illustrated piece, he "refused to leave the house because he felt so odd".
Later, a family friend tipped off the head basketball coach of a local community college. He played well (17.6 points per game) but ultimately flunked out after just one semester.
So Rodman transferred to Southeastern Oklahoma State University, an NAIA school. He blossomed there – becoming a three-time NAIA All-American and leading the NAIA in rebounding twice.
Drafted by the Pistons with the 27th overall pick in 1986, Rodman went on to become a 5-time NBA champion and Basketball Hall of Famer.
Jack Sikma – C, Illinois Wesleyan University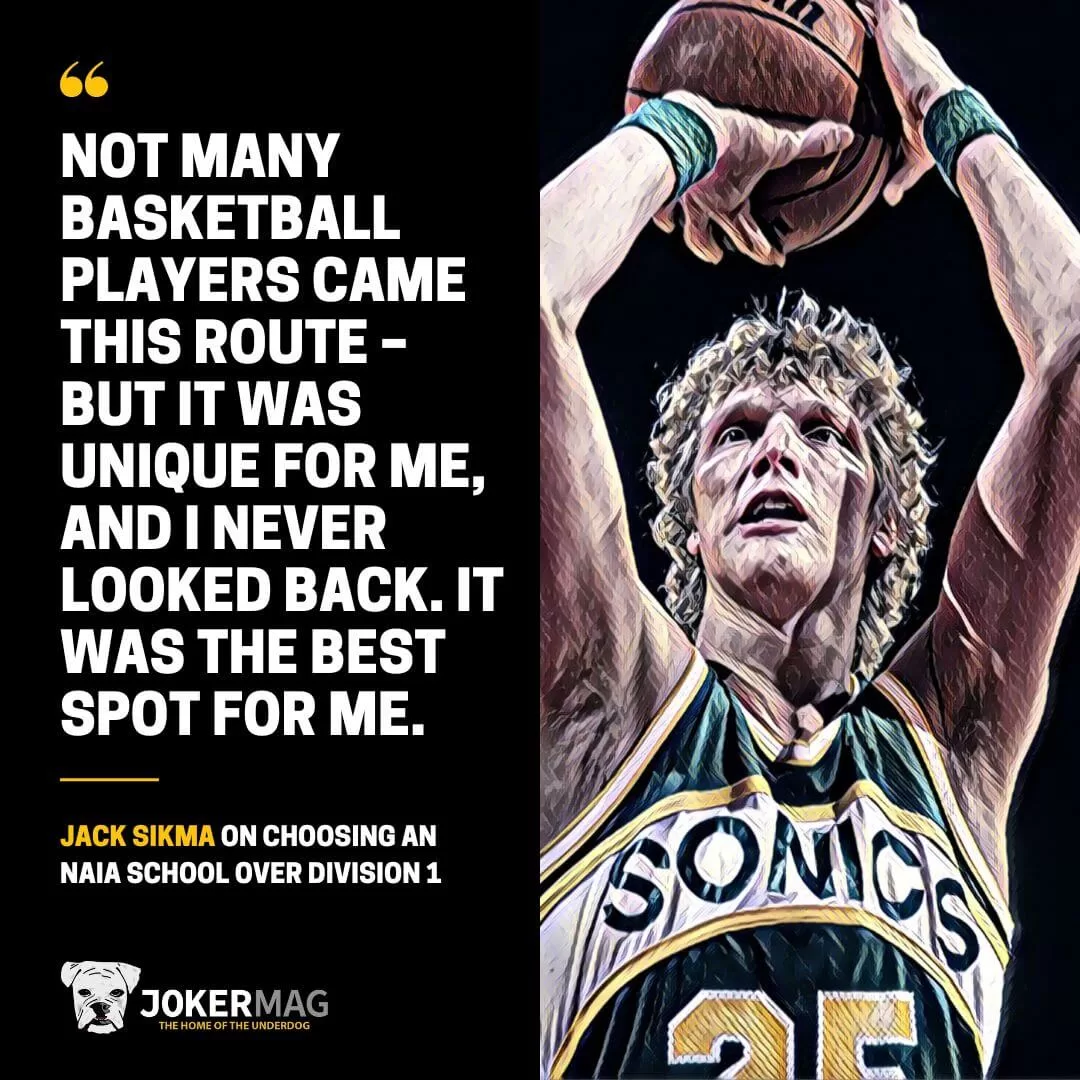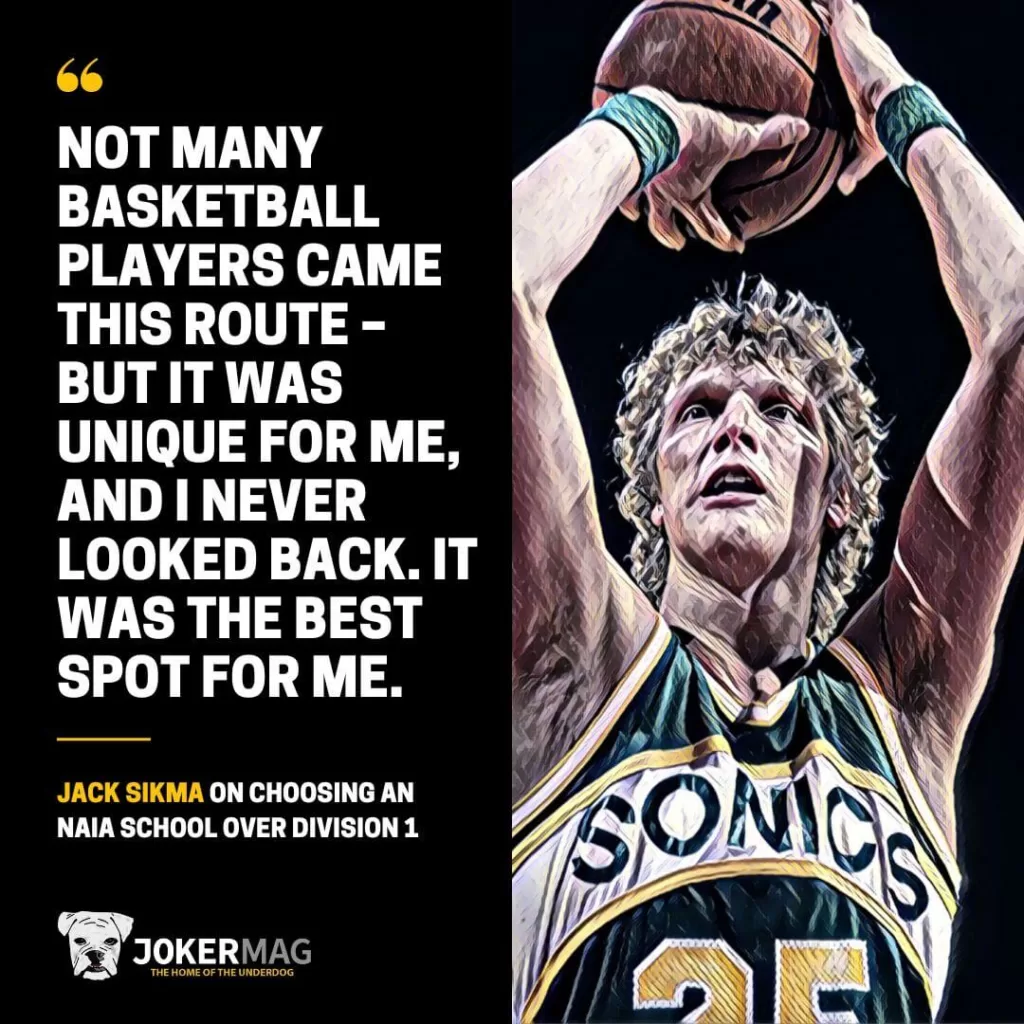 Jack Sikma was a self-described late bloomer. After spending his first three high school seasons as a guard, he sprouted up to 6'10" in his senior year.
By then, Division I recruiters were practically beating down his door. But Sikma opted to attend NAIA Illinois Wesleyan instead, drawn by a close relationship with head coach Dennie Bridges.
"Not many basketball players came this route," Sikma told IWU Magazine in 2015. "But it was unique for me, and I never looked back. It was the best spot for me."
Sikma became a three-time NAIA All-American and led the Titans to three conference championships. After becoming the school's all-time leading scorer and rebounder, he was selected eighth overall by the Seattle SuperSonics in 1977.
A 7-time All-Star and NBA champion, Sikma is one of the greatest examples of the NAIA to NBA path.
RELATED: The Stories Behind The Oldest College Basketball Players of All Time (Men & Women)
Elgin Baylor – SF, College of Idaho
Due to a lack of access to basketball courts and rec facilities, Elgin Baylor didn't start playing basketball until he was 14 years old. But evidently, he was a fast learner as he became a three-time All-City player in high school.
Unfortunately at the time, college coaches didn't recruit black players. And while some schools were willing to make an exception for him, Baylor didn't qualify academically.
So a friend helped him land a football scholarship at the College of Idaho – a tiny NAIA school. But he never played football, and instead made the basketball team without having to try out.
He averaged 31.3 points before transferring to Seattle University, where he led his squad to the Final Four.
Drafted by the Lakers with the first overall pick in the 1958 NBA Draft, Baylor saved the franchise from financial ruin.
"If he had turned me down then, I'd have been out of business," Lakers owner Bob Short told ESPN. "The club would have been bankrupt."
Elgin Baylor ultimately became an 11-time NBA All-Star and Basketball Hall of Famer.
Willis Reed – C, Grambling State University
This Louisiana native stayed in his home state to play for Grambling State University – a historically black college. Reed led his Tigers to three SWAC championships and one NAIA title while amassing 2,280 career points.
The Knicks selected him eighth overall in 1964, and he later led them to two championships – being named Finals MVP both times. Known for his warrior-like toughness, Reed's name became synonymous with playing through injuries.
Today, his number 19 is hanging from the rafters at Madison Square Garden. He's a member of the NAIA Basketball Hall of Fame, the National Collegiate Basketball Hall of Fame, and the Naismith Memorial Basketball Hall of Fame.
Vern Mikkelsen – PF, Hamline University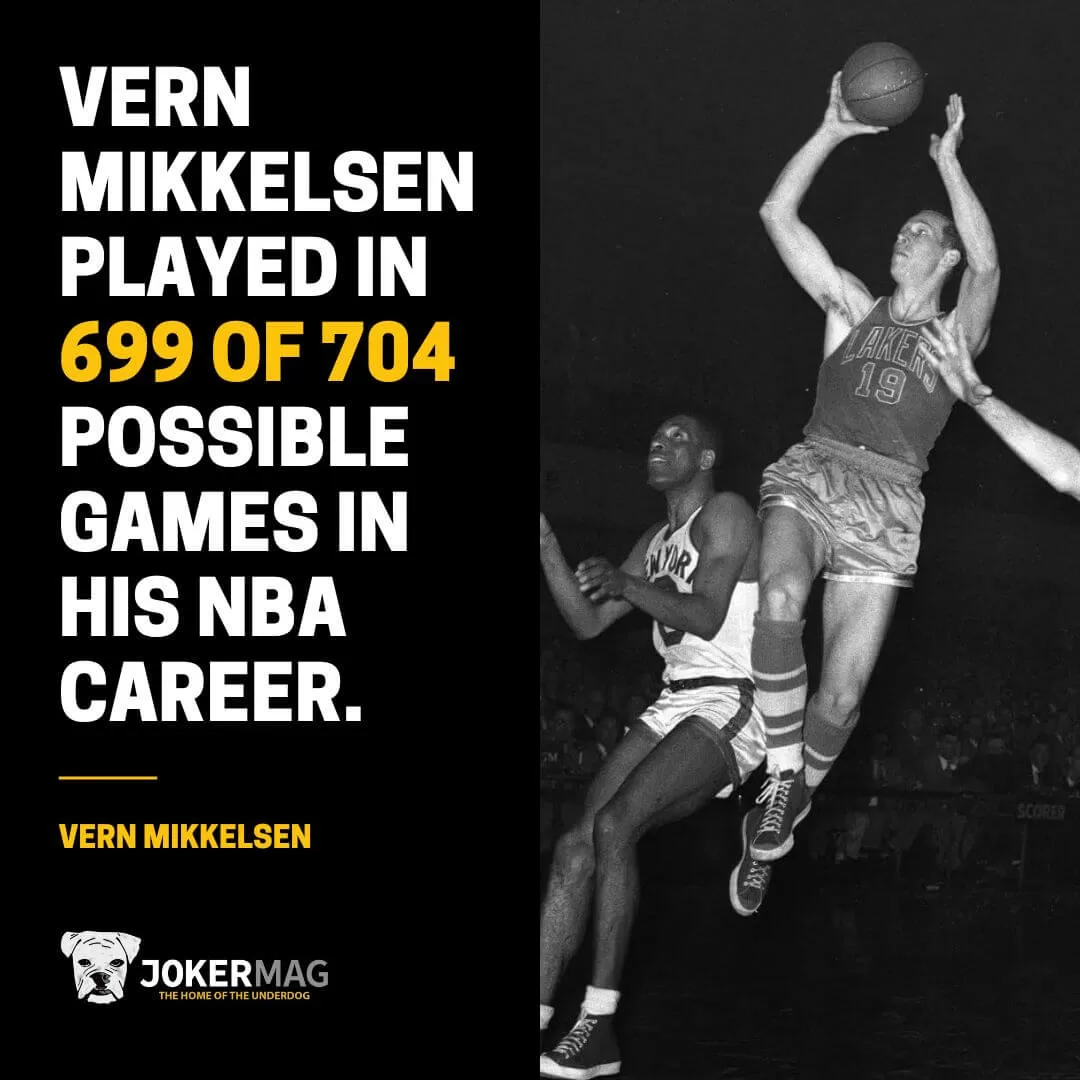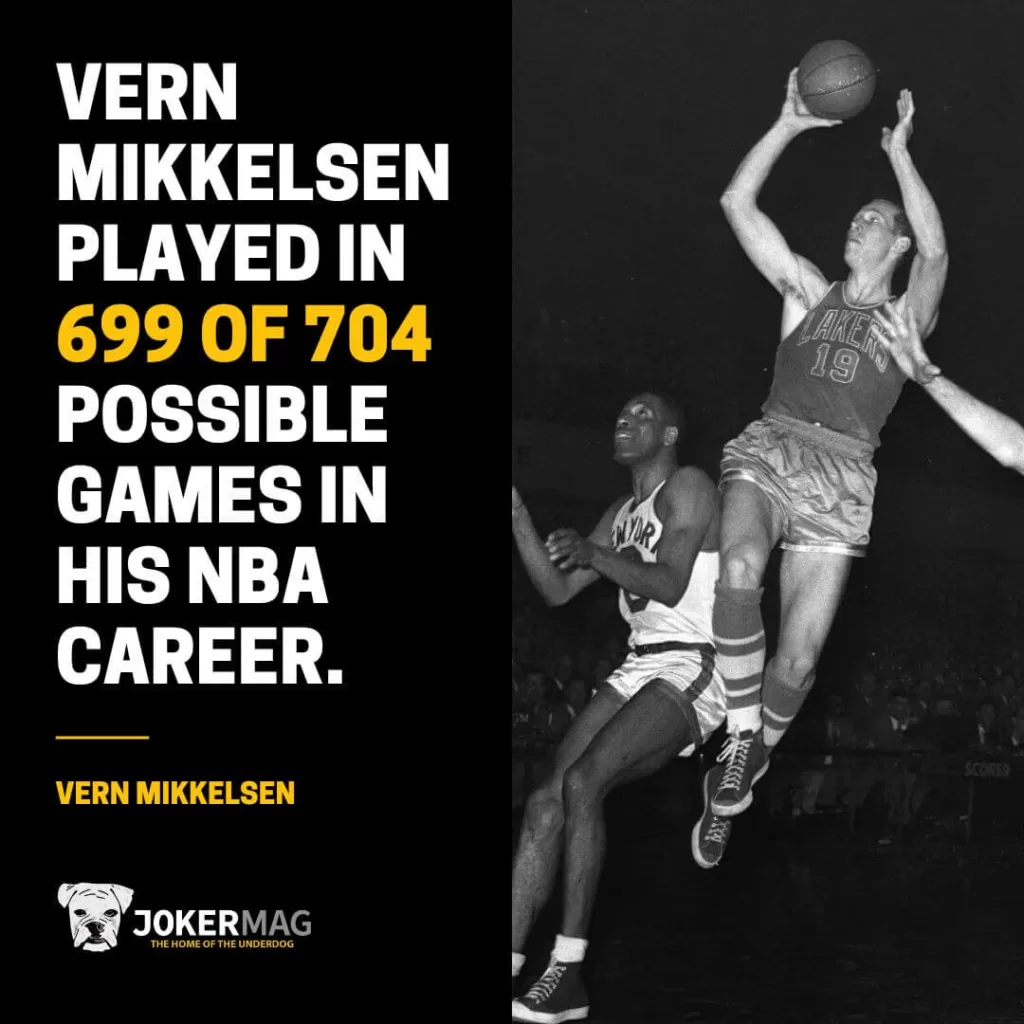 Vern Mikkelsen entered NAIA Hamline University on a basketball scholarship when he was just 16 years old.
The 6'7″ power forward became an All-American college star before being selected by the Lakers in 1949.
Known as an ironman, Mikkelsen played 699 out of 704 possible games in his NBA career. He was a 6-time All-Star, tenacious defender, and 4-time NBA champion.
More notable NAIA alumni who made it to the NBA:
Dick Barnett – SG, Tennessee A&I College
Rick Mahorn – PF, Hampton University
Terry Porter – PG, University of Wisconsin–Stevens Point
M. L. Carr – SF, Guilford College
World B. Free – SG, Guilford College
Joe Hutton – PG, Hamline University
John Barnhill – PG, Tennessee A&I College
Zelmo "Big Z" Beaty – C, Prairie View A&M University
John Drew – SF, Gardner–Webb University
"Jumping" Joe Fulks – PF, Murray State University
Elmore Smith – C, Kentucky State University
Remember, it's not about how you start. It's about how you finish. Future pros have and will continue to come from every level of college basketball.
If you're a current or future NAIA student-athlete, take this inspiring quote from Elgin Baylor to heart:
"Every time you compete, try harder to improve on your last performance. Give nothing short of your very best effort."
Recommended
ProductiveRecruit: The All-in-One College Sports Recruiting Platform
Ready to be a college athlete? Take complete control of your recruiting process and find the perfect fit with ProductiveRecruit – an all-in-one platform that allows you to connect with any college coach in the country.
Pros:
Joker Mag readers get 15% off their first year!

Connect with 80,000+ coaches across 22 sports

Track which coaches are opening your emails
Joker Mag is reader-supported. When you buy through our links, we may earn an affiliate commission at no additional cost to you.
Check out the rest of our college-to-pro series: