Whether you're a player or coach, these inspirational basketball quotes will help you navigate whatever challenges you're facing.
In a sport dominated by physical prowess, the mental side of the game is often overlooked. Professional athletes and coaches have seen it all – and their wisdom can be beneficial to any player looking to succeed on the hardwood.
Here is our list of the best basketball quotes of all time – from Hall of Famers and underdogs alike.
Table of Contents
Inspirational Basketball Quotes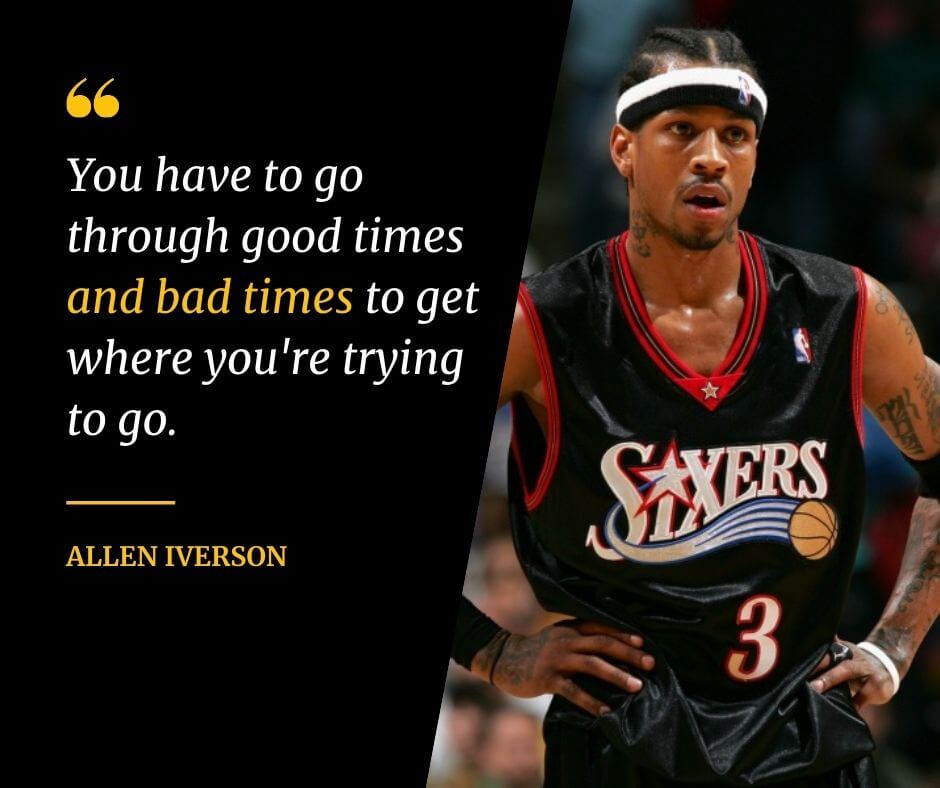 "You have to go through good times and bad times to get where you're trying to go." – Allen Iverson
"Excellence is a habit. You are what you repeatedly do." – Shaquille O'Neal
"No one knows how big your potential is, how big your heart is, when you start." – Muggsy Bogues
"You are responsible for how people remember you—or don't. So don't take it lightly." – Kobe Bryant
"Whatever I try to do, I always try to give it my best and try to be a killer because, at the end of the day, if you don't work hard, you are not going to get food on your table." – Giannis Antetokoumbo
"Every time you compete, try harder to improve on your last performance. Give nothing short of your very best effort." – Elgin Baylor
"I've missed more than 9,000 shots in my career. I've lost almost 300 games. Twenty-six times, I've been trusted to take the game-winning shot and missed. I've failed over and over and over again in my life. And that is why I succeed." – Michael Jordan
"For me, when I get knocked down, I really try to get back up and go at it again. I don't like to give up." – Jeremy Lin
"A lot of people told me I couldn't do it because of my size. I was determined to prove those people wrong." – Ben Wallace
Quotes About Passion for The Game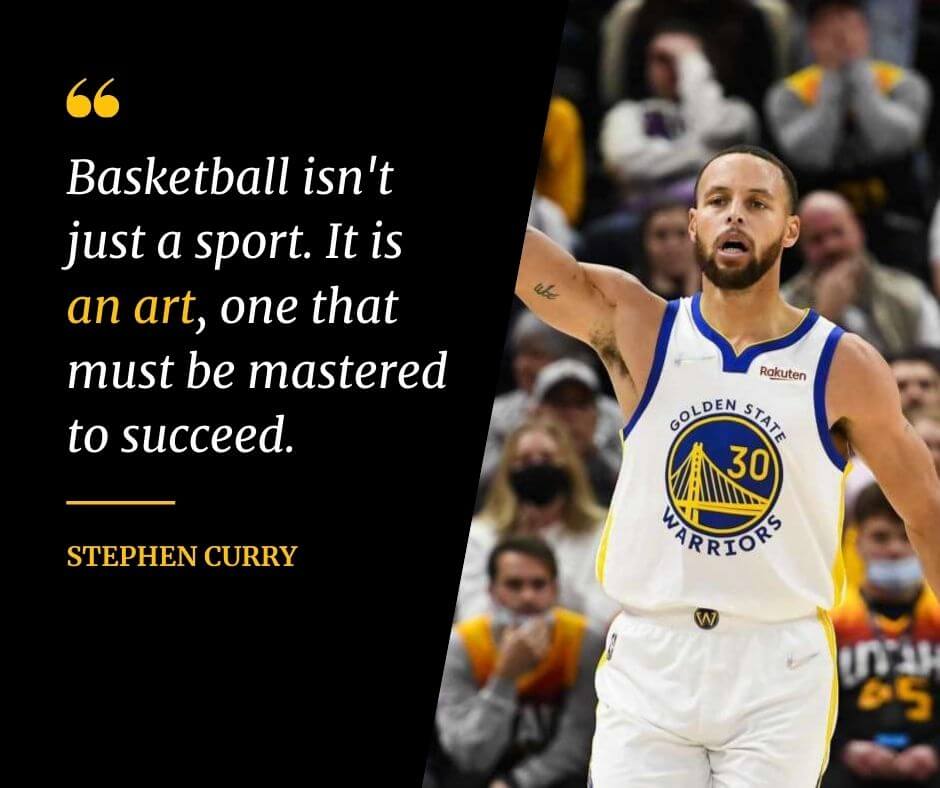 "Basketball isn't just a sport. It is an art, one that must be mastered to succeed." – Steph Curry
"I treated it like every day was my last day with a basketball." – LeBron James
"Basketball doesn't build character, it reveals it." – James Naismith
"Every morning you have two choices: continue to sleep with your dreams, or wake up and chase them." – Carmelo Anthony
"Leadership is diving for a loose ball, getting the crowd involved, getting other players involved. It's about being able to take it as well as dish it out. That's the only way you're going to get respect from other players." – Larry Bird
"The most important measure of how good a game I played was how much better I'd made my teammates play." – Bill Russell
"Whatever your goal is: dedicate yourself to it. And it's going to be a lot of sacrifice, but if you love what you want to do, it shouldn't be a problem." – Derrick Rose
"If you love the game and you love playing, just have fun and enjoy it. Work hard and don't get bogged down by it." – Blake Griffin
"Ability may get you to the top, but it takes character to keep you there." – John Wooden
RELATED: The 30 Best Coaching Quotes of All-Time
Motivational Basketball Quotes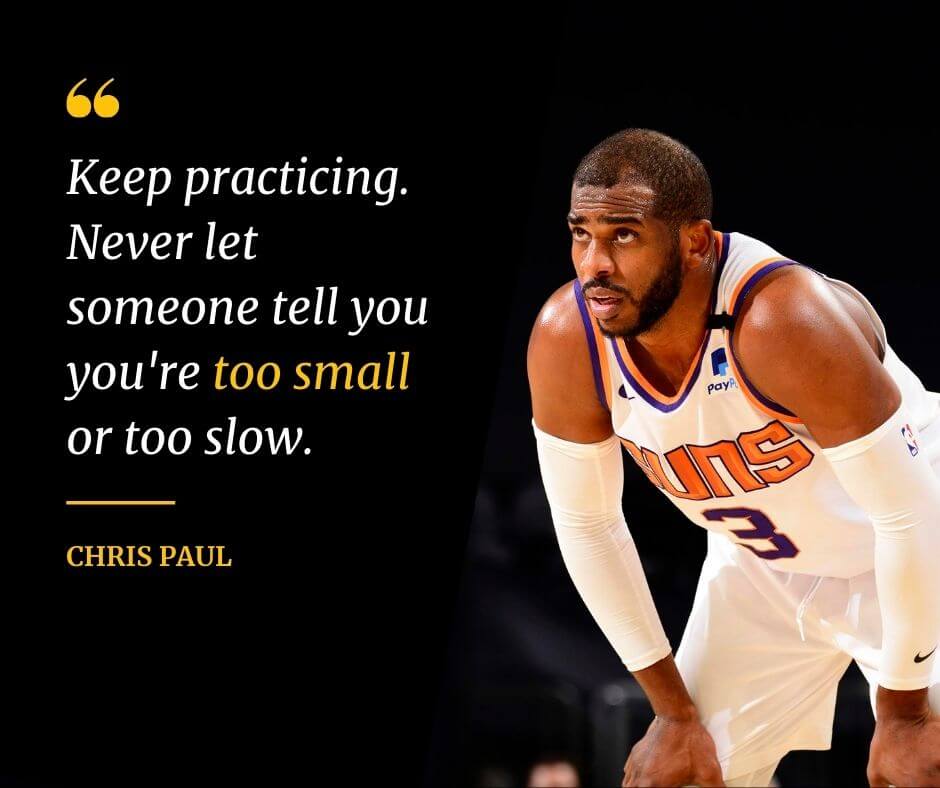 "Keep practicing. Never let someone tell you you're too small or too slow." – Chris Paul
"Never say never, because limits, like fears, are often just an illusion." – Michael Jordan
"Making the big shot wouldn't feel so good if missing it didn't feel so awful." – Paul Pierce
"There's no reason to hold yourself back and say you can't do something in life unless you go for it and try to do it." – Russell Westbrook
"You can't stop people from trying to limit your dreams, but you can stop it from becoming a reality. Your dreams are up to you. I encourage you to always be curious, always seek out things you love and always work hard once you find it." – Kobe Bryant
"There are going to be a number of people all of the time telling you that you're too small. They still tell me that, but I just make them eat their words." – Isaiah Thomas
"Don't let winning make you soft. Don't let losing make you quit. Don't let your teammates down in any situation." – Larry Bird
"Everything is habit-forming, so make sure what you do is what you want to be doing." – Wilt Chamberlain
"Nothing is given; nothing is handed to you. You have to take what you deserve." – Marcus Keene
"Every time I'm on the court, every time a fan cheers for me, I just want to go out and make a play for them to cheer even more." – Joel Embiid
RELATED: The Best Quotes from Sports Movies
Basketball Instagram Captions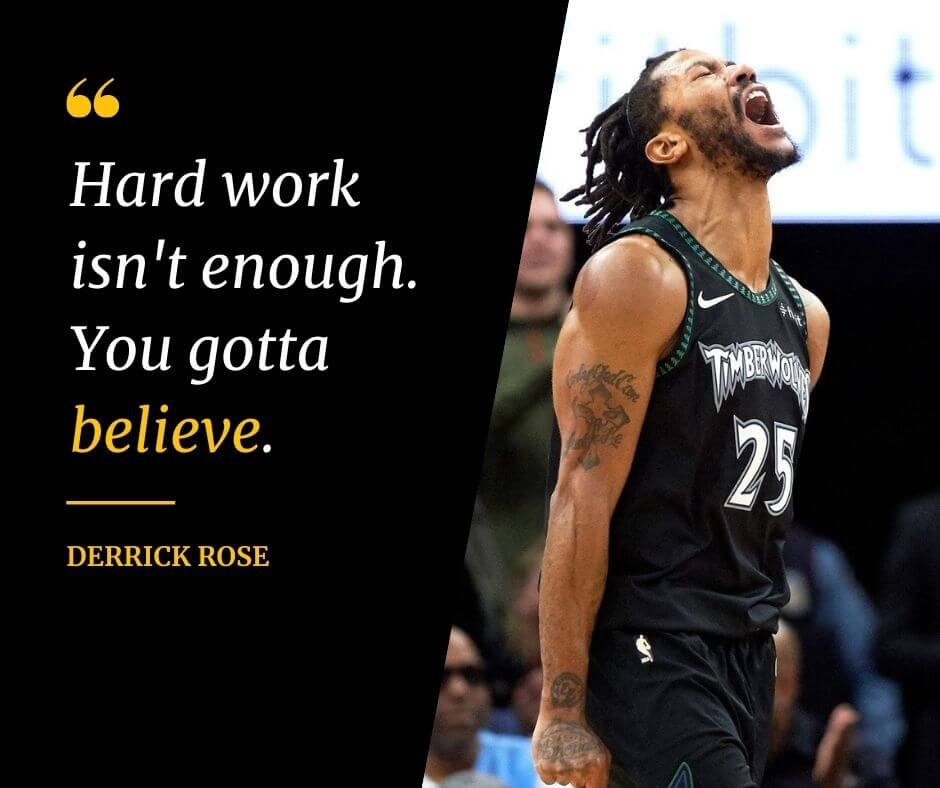 "Hard work isn't enough. You gotta believe." – Derrick Rose
"The key to success is failure." – Michael Jordan
"The worst has happened. The best is next." – Paul George
"He who expects not to achieve will never do so." – Caron Butler
"Once you know what failure feels like, determination chases success." – Kobe Bryant
"Be strong in body, clean in mind, lofty in ideals." – James Naismith
"Dream as if you'll live forever. Live as if you'll die today." – LeBron James
"Trust the process." – Joel Embiid
"You must expect great things of yourself before you can do them." – Michael Jordan
"Haters are a good problem to have. Nobody hates the good ones. They hate the great ones." – Kobe Bryant
"​​I'd rather have more heart than talent any day." – Allen Iverson
"If you do the work, you get rewarded. There are no shortcuts in life." – Michael Jordan
"So many people doubted me. They motivated me every single day to be who I am." – Kevin Durant
"All dreams are crazy. Until they come true." – Dirk Nowitzki
"Don't let what other people think decide who you are." – Dennis Rodman
Have a favorite basketball quote we missed? Let us know on Twitter!
Don't miss the next great basketball underdog story! Join our newsletter 👇