Sports films are known for two things: dramatic underdog stories and epic speeches. When both elements are executed properly, a great sports movie can become a timeless classic.
But while the details of the story might be fuzzy, some quotes stay with you forever.
Here is a breakdown of the best sports movie quotes of all time.
Famous Sports Movie Quotes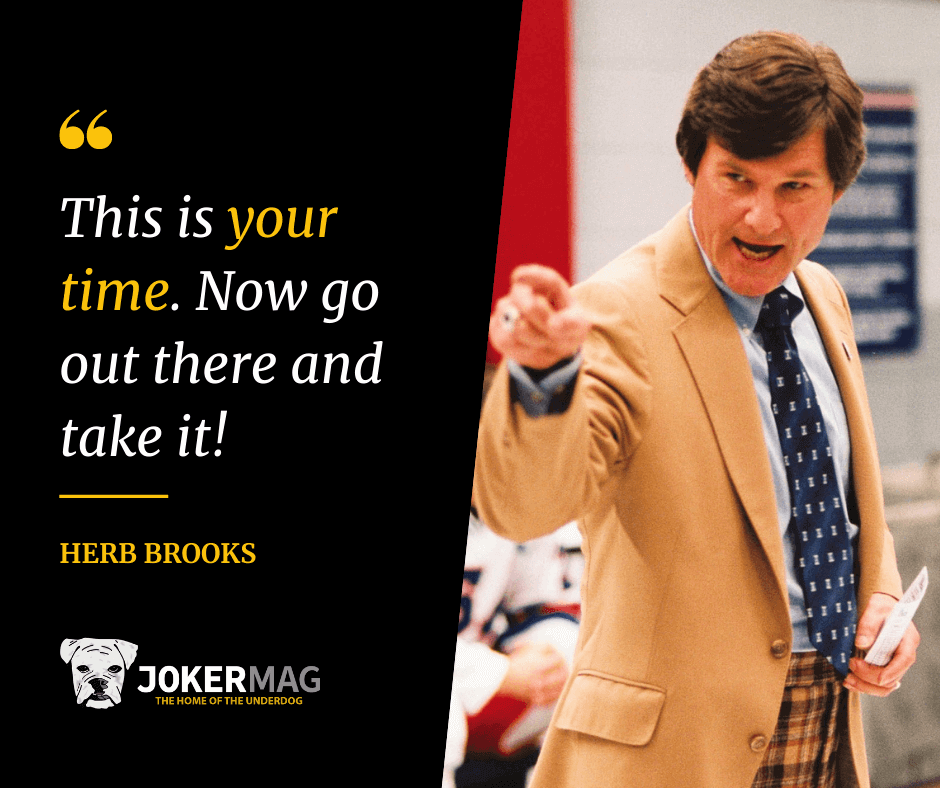 "This is your time. Now go out there and take it!" – Herb Brooks, Miracle (2004)
"How can you not be romantic about baseball?" – Billy Beane, Moneyball (2011)
"There's no crying in baseball!" – Jimmy Dugan, A League of Their Own (1992)
"Ducks fly together!" – Michele MacKay, D2: The Mighty Ducks (1994)
"This is a very simple game. You throw the ball, you catch the ball, you hit the ball. Sometimes you win, sometimes you lose, sometimes it rains." – Nuke LaLoosh, Bull Durham (1988)
"You know what we get to do today, Brooks? We get to play baseball." – Jim Morris, The Rookie (2002)
"Wax on, wax off. Breathe in through nose, out the mouth. Wax on, wax off. Don't forget to breathe, very important." – Mr. Miyagi, The Karate Kid (1984)
"People will come Ray. The one constant through all the years, Ray, has been baseball. America has rolled by like an army of steamrollers. It has been erased like a blackboard, rebuilt, and erased again. But baseball has marked the time. This field, this game: it's a part of our past, Ray. It reminds us of all that once was good and it could be again. Oh… people will come Ray. People will most definitely come." – Terrance Mann, Field of Dreams (1989)
"If you build it, he will come." – The Voice, Field of Dreams (1989)
"You get on base, we win. You don't, we lose." – Billy Beane, Moneyball (2011)
"Now that's what I call high-quality H2O." – Bobby Boucher, The Waterboy (1998)
"If you ain't first, you're last." – Ricky Bobby, Talladega Nights (2006)
"That's why when somebody says, 'when you get to the NBA, don't forget about me', and that stuff. Well, I should've said to them, 'if I don't make it, don't you forget about me.'" – William Gates, Hoop Dreams (1994)
"This crowd has gone deadly silent. Cinderella story. Out of nowhere. A former greenskeeper is now about to become the Master's champion. It looks like a miraculous – it's in the hole! It's in the hole!" – Carl Spackler, Caddyshack (1980)
"If we don't come together right now on this hallowed ground, we too will be destroyed, just like they were. I don't care if you like each other or not, but you will respect each other. And maybe… I don't know, maybe we'll learn to play this game like men." – Coach Boone, Remember the Titans (2000)
RELATED: The 27 Best Sports Movies Ever Made (Voted by Our Readers)
Inspirational Quotes from Sports Movies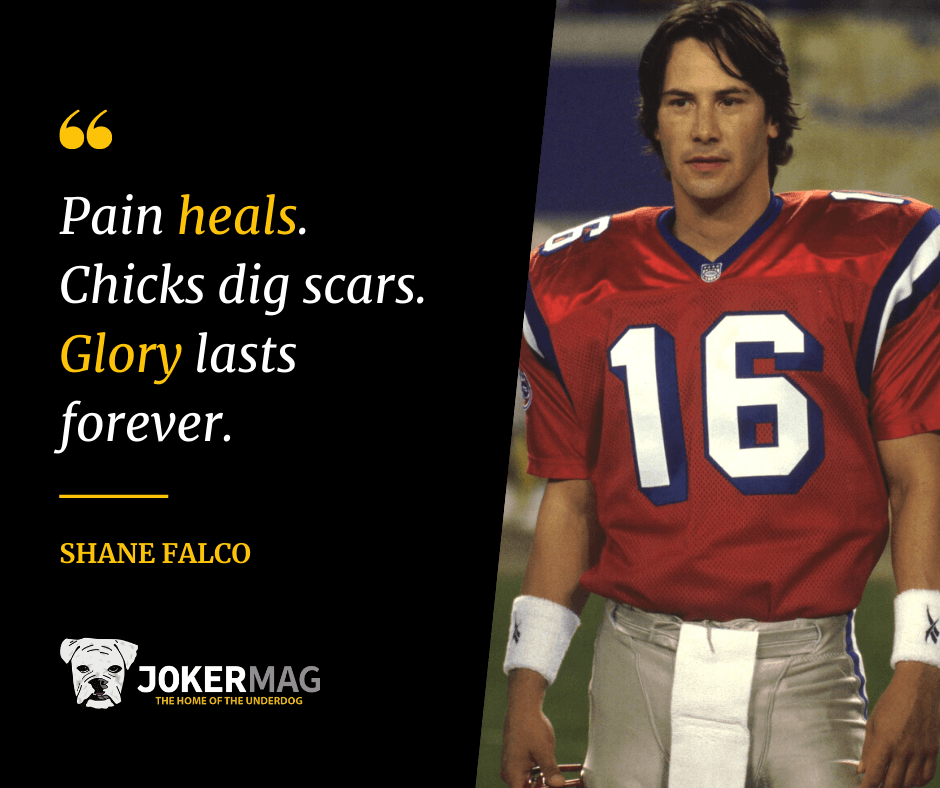 "Pain heals. Chicks dig scars. Glory lasts forever." – Shane Falco, The Replacements (2000)
"Heros get remembered, but legends never die." – The Babe, The Sandlot (1993)
"Why would I think about missing a shot I haven't taken?" – Michael Jordan, The Last Dance (2020)
"Our deepest fear is not that we are inadequate. Our deepest fear is that we are powerful beyond measure." – Timo Cruz, Coach Carter (2005)
"You've got to look at the guy next to you, look into his eyes. Now I think ya going to see a guy who will go that inch with you. You're gonna see a guy who will sacrifice himself for this team because he knows when it comes down to it your gonna do the same for him. That's a team, gentlemen, and either, we heal, now, as a team, or we will die as individuals." – Coach Tony D'Amato, Any Given Sunday (1999)
"It's never a mistake to care for someone. That's always a good thing!" – Linda, Radio (2003)
"Being perfect is about being able to look your friends in the eye and know that you didn't let them down, because you told them the truth. And that truth is that you did everything that you could. There wasn't one more thing that you could've done." – Coach Gary Gaines, Friday Night Lights (2004)
"I look at you and I see two men: the man you are, and the man you ought to be. Someday those two will meet." – Jimmy McGinty, The Replacements (2000)
"It really don't matter if this guy opens my head, either. 'Cause all I wanna do is go the distance. Nobody's ever gone the distance with Creed, and if I can go that distance, you see, and that bell rings and I'm still standin', I'm gonna know for the first time in my life, see, that I weren't just another bum from the neighborhood." – Rocky Balboa, Rocky (1976)
"We just don't recognize life's most significant moments while they're happening. Back then I thought, "Well, there'll be other days." I didn't realize that that was the only day." – Dr. Archibald "Moonlight" Graham, Field of Dreams (1989)
"A lot of people told me that I'd never wrestle again, they said "he's washed up", "he's finished", "he's a loser", "he's all through". You know what? The only ones gonna tell me when I'm through doing my thing is you people here. You people here… you people here. You're my family." – Randy 'The Ram' Robinson, The Wrestler (2008)
"If you put your effort and concentration into playing to your potential, to be the best that you can be, I don't care what the scoreboard says at the end of the game, in my book we're gonna be winners." – Coach Norman Dale, Hoosiers (1986)
RELATED: 30 Quotes From the Best Coaches of All-Time
Funny Quotes from Sports Flicks
"You trying to say Jesus Christ can't hit a curveball?" – Eddie Harris, Major League (1989)
"Yes sir, Mr. Ducksworth. Thank you very much, Mr. Ducksworth. Quack, quack, quack, Mr. Ducksworth!" – Gordon Bombay, The Mighty Ducks (1992)
"There are rich teams and there are poor teams…then there's 50 feet of crap, and then there's us." – Billy Beane, Moneyball (2011)
"Remember the time Bobby Boucher showed up at halftime and the Mud Dogs won the Bourbon Bowl, do ya?" – Bobby Boucher, The Waterboy (1998)
"They're gonna make us do stand-up comedy! The same jokes, every night, for all eternity! We're gonna be locked up like wild animals and then trotted out to perform for a bunch of lowbrow, bug-eyed, fat-headed, humor-challenged aliens! Eh, what I'm trying to say is… WE NEED YOUR HELP!" – Buggs Bunny to Michael Jordan, Space Jam (1996)
"I got the shakes that'll make you quake. I got the fries that'll cross your eyes. I got the burgers that'll…I just got burgers." – Cheeseburger Eddie, The Longest Yard (2005)
"Hey, why don't I just go eat some hay, make things out of clay, lay by the bay? I just may! What'd ya say?" – Happy Gilmore, Happy Gilmore (1996)
"So, Hiroshi "Kamikaze" Tanaka, recently of the Tokyo Giants, knocks himself cold for the second time this week. Maybe in Japan, that's actually better than catching the ball. Personally, I think he's just trying to get out of the lineup." – Harry Doyle, Major League II (1994)
"I like to think of Jesus like with giant eagle's wings, and singin' lead vocals for Lynyrd Skynyrd with like an angel band and I'm in the front row and I'm hammered drunk!" – Carl Naughton Jr., Talladega Nights (2006)
"If you can dodge a wrench, you can dodge a ball." – Patches O'Houlihan, Dodgeball: A True Underdog Story (2004)
Get the best underdog stories in your inbox by joining our Underdog Newsletter! 👇