In Major League Baseball, there is a clear separation between big market teams and small market teams. Every season, franchises like the New York Yankees and Los Angeles Dodgers epitomize the phrase "the rich get richer."
They attract the big-name superstars, sell the most jerseys, and draw the largest fan bases in sports.
But why?
Since there's no hard salary cap in baseball, small market teams are at a severe disadvantage when it comes to retaining productive players, signing top free agents, and remaining competitive. And there's a growing list of reasons why it's only getting harder.
While bigger market teams can eat millions of dollars, one bad contract can sink an entire small-market squad (see Chris Davis).
The market inefficiencies uncovered by GMs like Billy Beane have been patched up. Every team now has access to cutting-edge technology and advanced analytics to evaluate talent.
Brilliant execs who succeed with less are eventually poached by richer teams (see Andrew Friedman, Farhan Zaidi, and many others).
As the famous Moneyball line goes, "There are rich teams and there are poor teams…then there's 50 feet of crap, and then there's us."
Here are the smallest market teams in Major League Baseball – broken down by market size, franchise value, payroll, stadium capacity, and more.
Table of Contents
1.) Milwaukee Brewers
Market Size: 1,689,572 people
Stadium Capacity: 41,900
2022 Payroll: $128,666,826 (19th of 30)
Franchise Value: $1.28B (25th of 30)
The Milwaukee Brewers are the smallest market MLB team with a market size of 1,689,572 people.
Despite their size, the Brewers boast a loyal fanbase and a competitive squad that has made the playoffs in each of the past four seasons.
While they may not have the same resources as a team like the L.A. Dodgers, the Brew Crew makes the most of what they have.
2.) Kansas City Royals
Market Size: 1,776,062 people
Stadium Capacity: 37,903
2022 Payroll: $95,938,860 (23rd of 30)
Franchise Value: $1.11B (28th of 30)
While they haven't had a winning season in seven years, the Kansas City Royals are the last small-market team to win the World Series (2015). They are also the best example of the downfall of a small market squad.
In the years following their championship season, the Royals began losing their young core of hittters. Eric Hosmer, Lorenzo Cain, and Mike Moustakas all departed in free agency or via trade.
Kansas City simply couldn't afford to extend these players, and thus began the next cycle of tanking and rebuilding.
3.) Cincinnati Reds
Market Size: 1,979,202 people
Stadium Capacity: 43,500
2022 Payroll: $116,494,040 (21st of 30)
Franchise Value: $1.19B (26th of 30)
The days of the "Big Red Machine" are long gone. The Cincinnati Reds have finished dead last in the NL Central four times since 2015.
After a brilliant 2021 season, star outfielder Nick Castellanos left for Philadelphia in free agency. And the front office traded away bright spots Jesse Winker and Eugenio Suarez for a bundle of lower-cost prospects.
Now, the nearly two million people of Cincinnati hope those prospects can help their team turn it around soon.
4.) Pittsburgh Pirates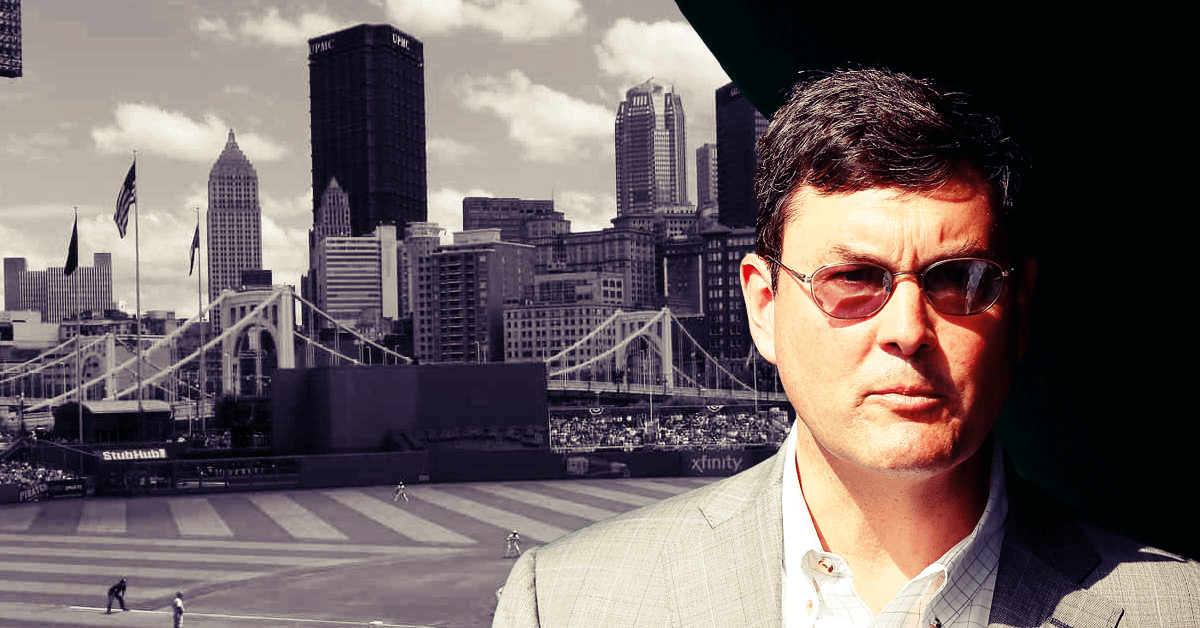 Market Size: 2,358,695 people
Stadium Capacity: 38,747
2022 Payroll: $66,261,413 (28th of 30)
Franchise Value: $1.32B (23rd of 30)
The last time the Pirates made it past the Wild Card game was during Andrew McCutchen's MVP season in 2013. Yes – a long time ago.
Pittsburgh fans are continually disappointed by ownership's refusal to pursue big-time talent. So much so that they once started a petition for owner Bob Nutting to sell the team.
Currently, the Pirates boast the 7th best farm system in baseball with shortstop Oneil Cruz and recent first-round picks – such as Henry Davis and Nick Gonzales – providing a glimmer of hope to a franchise that's spent a long time in the cellar.
5.) Tampa Bay Rays
Market Size: 2,395,997 people
Stadium Capacity: 42,735
2022 Payroll: $85,945,027 (26th of 30)
Franchise Value: $1.1B (29th of 30)
Unlike the other teams on this list, the Tampa Bay Rays have a rare ability to make the most of their limited resources. With a penchant for finding hidden gems and an unorthodox approach to managing games, the team has remained competitive since their out-of-nowhere Cinderella season in 2008.
Tampa's farm system is consistently top-tier, while their low-payroll roster routinely outperforms expectations.
According to Spotrac, the New York Mets' top-3 players make more money ($93MM) than the Rays' entire 26-man roster ($86MM) in 2022. And still, the Rays find a way to win.
RELATED: MLB Players Who Came From Division 3 Schools (Past & Present)
More small-market MLB teams:
Oakland Athletics (29th in payroll)
Cleveland Guardians (smallest capacity stadium)
Baltimore Orioles (lowest payroll in MLB)
Arizona Diamondbacks
Minnesota Twins
Colorado Rockies