When it comes to playing hoops, sometimes you do not have to have the craziest hops or the sickest handle, or the longest range. Sometimes you just have to have the heart, desire, and knowledge of the game.
Aside from the last name on the list, the following players made their way onto the court with the intent to not only fill the hoop – but more importantly, their bucket list.
Here are the stories behind the oldest college basketball players in history.
Ken Mink – 73 Years Old
Growing up in Maryville, Tennessee, Ken Mink played high school basketball before moving on to Jackson, Kentucky in 1955 to suit up for the Lees College Generals. A star in the making, fans came from all over to watch Mink and the Generals.
Unfortunately, all of the good things basketball related in Mink's life came to a crashing halt during his sophomore season.
Wrongfully accused of pulling a prank on the school's principal, Mink was expelled from school. Rather than sitting in a pool of tears, Mink joined the United States Air Force for the next four years.
Following his military commitment, Mink embarked on a career in journalism, quickly becoming the editor for several newspapers in Tennessee and Virginia. While he played in a variety of basketball events in the military and recreationally, Mink still had college eligibility left on his resume.
In 2007, Mink connected with Roane State Raiders head coach Randy Nesbit. Despite being 73 years old, Mink received an opportunity to try out for the Raiders and even though he was fifty-plus years older than his teammates, Mink made the final cut.
On December 7th, 2008, Mink was on the court for the Raiders as they battled the Labuth University Eagles. Figuring that if he was good enough to play, Eagle head coach Yogi Wood told his players, specifically Kendrick Coleman, "If he goes in for a layup, don't let him have it. If he scores on you, we will never let you forget it."
In the second half of the game, the septuagenarian found himself open in the corner and upon driving to hoop, was fouled. By making both of his free throws, Ken Mink became the oldest college player to score an official point.
Unfortunately, he was declared academically ineligible in the second half after dropping a course. Although this officially ended Mink's college basketball career, in 2010 Tennessee Tech Golden Eagles head coach Mike Sutton offered him an opportunity to compete for a walk-on spot.
RELATED: The 59-Year-Old College Football Player Who Stunned The Sports World
Gabrielle Ludwig – 52 Years Old
Not only did Gabrielle Ludwig break down barriers for older women looking to play college basketball, but she also represented the transgender community at the same time.
In 2013 at the age of 52, Ludwig entered her second year playing for the Mission College Saints, a community college in Santa Clara, California.
Thirty years before stepping on the court for the Saints, Robert Ludwig played just one season for the Nassau College Lions. After stepping away from school, Ludwig started a family, not just once, but twice, complete with three daughters. After undergoing gender-assignment surgery in 2012, Gabrielle stepped on the court as the coach of numerous youth programs.
It was during one of the youth games that she ran into her future coach.
Coach Corey Cafferata was the official during one of the games that Ludwig was coaching, a game in which she had plenty to say about his officiating. After sarcastically offering Ludwig to come to one of his practices to learn the game, Cafferata got a call three months later.
"She called me at work and said, 'I want to play for you.' I didn't remember who she was and I told her, 'School starts in three days and I already have my team.' Then she said, 'And oh, by the way, I'm 6'6",' and I said, 'Why don't you come on over?'"
Known as Gabbi, Giant, or Big Sexy to her teammates, Ludwig made her debut with the Saints at the start of the 2012-2013 season, but it wouldn't be her age that had opponents and media around the country talking. It was her sexuality that caused a stir.
Despite all of the controversy surrounding her, Ludwig played in 18 games during her first season with the Saints, averaging just under 11 minutes and averaging 5.9 points per game.
Dan Stoddard – 40 Years Old
Few people outside of Ontario know where Algonquin College is. However, in 2017 the small community college became a focal point for the media when Dan Stoddard made the cut for the Wolves men's basketball team. From the Globe and Mail to Sports Illustrated, and even overseas newspapers, Stoddard was making the headlines.
Hovering at about 6'8" and in the neighborhood of 300 pounds, Stoddard was a high school basketball star. But following graduation, he found himself settling into married life, raising a family, and working various jobs.
While working as a bus driver, Stoddard decided to upgrade his life, taking up accounting courses at Algonquin. Although he hadn't played competitive ball since high school, he was still finding time to play in local rec leagues and tournaments with other "weekend warriors".
It was here that Stoddard met Wolves head coach Trevor Costello. As the leader of a team that had struggled for years, Costello was taken by Stoddard's size and skill set.
At the age of 40 years old, Stoddard found himself teaming with and playing against guys half his age and while he didn't have the pure athleticism as most of his peers, it was his mental understanding of the game and his willingness to push his body harder than anyone else in the gym that continued to earn his spot on the team.
According to The Daily Mail, Stoddard fit "5am gym training sessions, practice, games, and accounting classes around his 12-hour bus shifts".
Stoddard's career with the Wolves lasted two seasons, playing all thirty-eight games and starting all but one in his sophomore year. Averaging 6 points and 5 rebounds a night, Stoddard made an impression on everyone, including the opposition.
"I told him it was an honor to play for him," Seneca College point guard and captain Yusuf Ali stated. "I know people out there are scared of the risks to pursue their dreams. He is a hero in my eyes. This doesn't happen every day."
Vicky Oganyan – 40 Years Old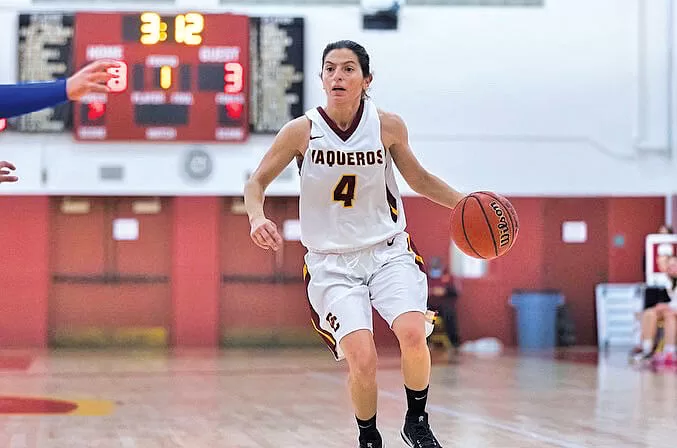 During the 2020 season, the starting lineup for the Glendale College Lady Vaqueros featured a backcourt duo of 5'3" guards, freshman Vicky Oganyan and sophomore Penelope Trieu. While this is far from abnormal, the difference is that Oganyan was twenty-one years older than her running mate.
In addition to playing for the Lady Vaqueros, the 40-year-old Oganyan also juggles twelve online credits, plus coaches the girl's team at Burbank Burroughs High School and if that wasn't enough, is also a full-time anatomy and biology teacher.
Despite her busy schedule, it never seems like basketball takes a backseat, as evidenced by the toy hoop hanging in her classroom, one that she gives students extra credit if they hit the shot after correctly answering a question.
"Most of my kids in these classes can't shoot, so they never make it," Oganyan admits.
Growing up a Chicago Bulls fan, Oganyan played high school ball for the Glendale Nitros, and even tried out for the Cal State University Northridge Matadors, impressing coach Chris Abrams. Unfortunately, Oganyan's parents had different ideas for their daughter, who they wanted to focus on school and earning a high-paying job.
In 2000, Oganyan's mother was diagnosed with Stage 4 colon cancer, leaving the promising point guard to put basketball in the rearview mirror to help her family. Yet her passion for hoops continued to burn as she found a place in the coaching world at various high schools.
Twenty years after Glendale Community College tried to recruit Oganyan out of high school, she was finally able to pull on a Lady Vaqueros jersey, helping her team to a 27-3 record as a freshman.
Fast forward to 2023 and Oganyan looks back on her journey: "I'll tell the kids today: What is your rush? Slow down. Enjoy your experience. It led to the experience that I had. If I had played out of high school, I wouldn't have had the same experience. The last two years have been the best time of my life. What's wrong with that?"
RELATED: How Chelsie Schweers Made The Leap From D3 Basketball To A Professional Career Overseas
Brad Butterworth – 39 Years Old
Before Brad Butterworth took over as the athletic director at King's Way Christian Schools, he found himself fulfilling a dream. In 2017-18, Butterworth was part of the Portland Bible College Arrows men's basketball team.
In 2000, Butterworth still had one year of eligibility left after playing for the College of Coastal Georgia Mariners. However, life took a different path for the point guard, one that included joining the U.S. Coast Guard, getting married, raising three children, coaching hoops at both the high school and college levels, and working as the regional director for a national training franchise.
Yet something still ate away at the 39-year-old.
At one point, Butterworth attempted to return to the game, playing for Cuesta College's summer league team, but a serious shoulder injury derailed those plans. While playing a casual 3-on-3 game at work, one of Butterworth's co-workers planted the seed for another comeback attempt.
While Butterworth did suit up for a number of the Arrow's exhibition games, he only saw floor time in one regular season game. Still, the 39-year-old made basketball history at only a few years older than the oldest NBA rookie ever.
"It's not about playing college basketball at 39," Butterworth told The Columbian. "Who cares? It's a cool story, but the real story is that it's never too late to change habits…I wanted to prove that to my kids. If you're getting deep in your life and you're not happy with the way things are going, you can make a change."
Stefawn Payne – 31 Years Old
You know you're getting old when your teammates dog you for the aroma of Icy Hot that fills the gym as soon as you walk through the door. Such was the case for California State San Marcos Cougars guard Stefawn Payne.
As a 31-year-old freshman, Payne was at least a decade older than his teammates, who ragged on his use of the smelly, but useful ointment.
In 2017, Payne had already spent fourteen years as part of the U.S. Marines and had been married to his wife for five years. As a staff sergeant, Payne was enrolled at Cal State San Marcos under the Marine officer commissioning program completing his degree in Global Studies.
Growing up in Orange County, Payne played high school ball and participated in countless games as part of the Camp Pendleton base traveling team. It was then approached and impressed Cougars coach B.J. Foster.
"He comes out and he's trying out with these 18 and 19-year-olds and he's making every shot, and he's beating up on these little young guys. With his background, it was a no-brainer to keep him on the team. People with military training have all those tools that we try to teach the guys."
In his first and only year with Cal State San Marcos, Payne played in eight games and twenty-nine minutes of action, finishing with 11 points, 2 rebounds, and 1 assist.
Jonothan Nicola – 29 Years Old
Had he applied to play for a college program, chances are nobody would have batted an eyelash. And in hindsight, he probably should have.
Many believed that Jonothan Nicola was a 17-year-old basketball player, but in actual fact, the 6'9" eleventh grade student at Catholic Central High School in Windsor, Ontario was a 29-year-old South Sudanese man.
Upon receiving a study visa and an athletic scholarship from Catholic Central, Nicola left his home in South Sudan, one that was dealing with war and terrorism for a much quieter and peaceful home in Canada.
Living with Comets head coach Pete Cusumano, as part of the Canada Homestay program, Nicola blended perfectly with his peers, knowledgeable of all the current music, movies, and clothing styles.
But it was his talent and looks that drew attention.
Listed among the top fifteen players in the country, Nicola was tagged by the Canada Border Services Agency when he applied for a United States visitors' visa so he could cross lines with his team.
Nicola's student visa and passport stated he was born on November 25th, 1998. But records with the United States showed he was actually born twelve years earlier. Nicola claimed his intent was not to harm anyone but rather to receive a good education so he could support his family.
After being jailed in April of 2016 for misrepresenting material facts, Nicola was released on bail a month later and as of August 2016 was reportedly applying for refugee status.
Are there any older college basketball players we missed? Drop a comment below. In the meantime, check out these related stories: