As I sat at my friend's house watching Game 5 of the World Series, I thought to myself, "This is like the All Star Game. It's the best of the best." Then I corrected myself. "This is different than the All Star Game. A lot of the best players in the world are here, but there are a lot of grinders as well."
And one of those grinders won the World Series MVP.
That Steve Pearce used this term in his MVP interview made me smile.
Here's a guy who was drafted in 2004 by his childhood favorite team, the Red Sox, but turned them down to chase a College World Series title at the University of South Carolina.
The next summer, after the Gamecocks were eliminated by a Matt Wieters-led Georgia Tech team in the NCAA Atlanta Regional, Pearce was drafted by the Pittsburgh Pirates in the 8th round, and the ultimate grind of being a professional baseball player began.
It was the third time Pearce had been drafted. According to Joe Buck on the Fox broadcast, Pearce actually took a pay-cut by not signing with the Red Sox the previous summer.
This was never set to be a Disney story. Then again, just making the Major Leagues feels like a Disney story to the family of every player who makes it. And certainly to the player himself.
Bouncing Around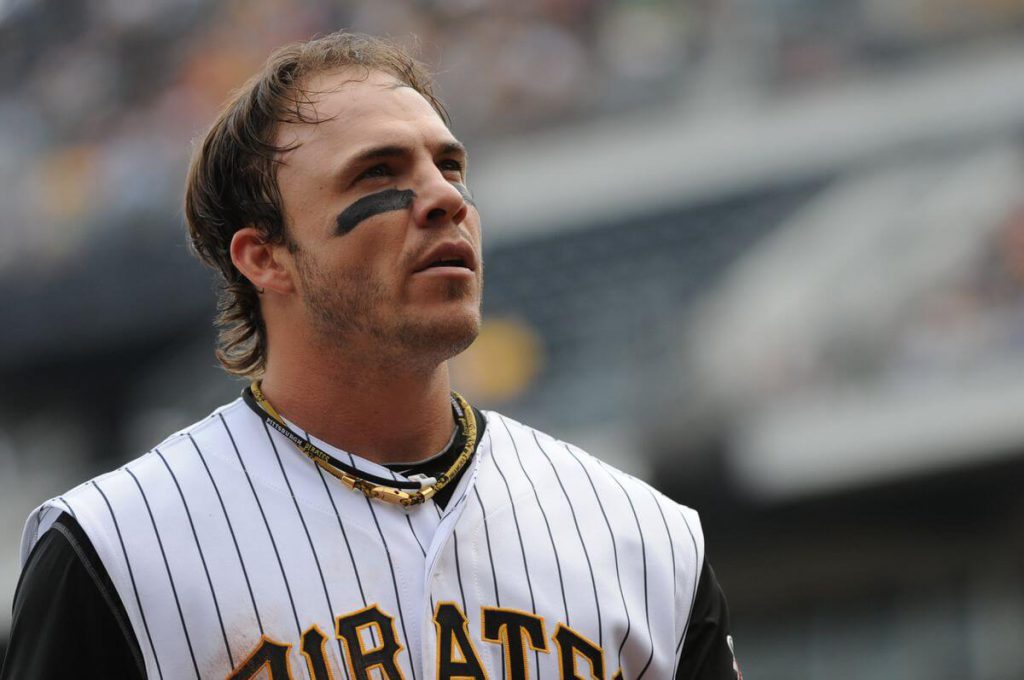 Pearce didn't stay in the minors long.
After 337 minor league games, or something nearly equivalent to two full seasons, Pearce got the call to the Show as a September call-up, and he started his very first game.
Despite notching two hits in that contest, he was an ordinary story. The 16,792nd player in Major League history, and just another among many to live out their childhood dream.
Of the 211 players to make their debut in 2007, the headliner was certainly Josh Hamilton. Eighty-four of those players were hitters. Thirty-one of those had at least one hit in their debut.
While an exciting start for Pearce and his family, few outside of Pittsburgh were paying attention. He played for Team USA in the fall, something that normally gains notoriety in a sport. But in baseball, fall prospects on the national scene are heavily overshadowed by the postseason, free agency, and Winter Meetings, as well as the buzz of all the other winter sports.
Still, Pearce ripped 8 hits in 27 at-bats and socked two homers against some of the world's best prospects. Unfortunately, that wasn't enough to earn him a starting spot with the Pirates next spring. Heck, he didn't even make the Opening Day roster.
Shoved down in the minors, Pearce fought his way back to the Show by July, and there he stayed. However, he hit an unremarkable .248 as a part-time player for a last-place ball club.
Grinding It Out
He earned an invite to the prestigious Mexican Pacific Winter League that fall. While it's always an honor for prospects and guys on the Major League bubble, it means you're now playing baseball year-round. At least for that year.
Spending time in a foreign land without family and friends, and most importantly, time to rest up, is the definition of a grind. Pearce hit .203 and served as the backup left fielder for Venados de Mazatlan.
His time in Mexico didn't turn him into an instant superstar, either — he split the next four years between the Majors and AAA.
There were also injuries that took a huge toll. Pearce missed most of 2010 after May surgery to repair his patellar tendon. And in 2011, he tore his calf in July and fractured a finger in August.
When it was all said and done, he missed a total of 81 games. Pearce's five years in Pittsburgh would sadly be the most stable of his career.
After failing to make the Minnesota Twins' roster out of Spring Training in 2012, the New York Yankees signed him to a minor league deal a day later. He played just 12 games in the Bronx, however, before being shipped off to Baltimore, the team he's played the most games with in his career (291).
The Orioles DFA'd him two months later, and he was off to Houston. At that point, he was just happy to have a job, albeit with the worst team in baseball.
Pearce didn't do much for the Astros, slashing .254/.347/.349 with zero home runs.
He drew these rave reviews on Fangraphs:
"Mashing isn't a bonus at (first base): it's a job requirement. In 2009, the average MLB first baseman crushed to the tune of .277/.362/.483. It's hard to envision Pearce reaching those heights, and he's pretty much glued to that spot on the field."
"The Pirates tried to make him a right fielder in 2008, but he played the position like Adam Dunn's little brother," wrote David Golebiewski.
Matt Klaasen was just as fond of him:
"Most likely, he is the classic Quadruple-A slugger — ambiguously flitting between corner outfield spots and first base (a sign of having no position), destroying the ball for years in the high minors, and then flopping whenever he briefly makes an appearance in the majors."
Ouch.
However, the Orioles thought enough of him to bring him back for the 2013 season, beginning a three-year stint there. It was less than rosy, however.
One month into the 2014 regular season, the Orioles again DFA'ed Pearce, then released him, and finally brought him back two days later.
Putting It All Together
The lack of organizational confidence in Pearce seemed to fuel a career in him. He belted a career-high 21 homers and hit .293 in an also career-high 383 at-bats as the Orioles won the division and won a playoff series before coming within a different opponent of going to the World Series.
Pearce was even a useful piece in the series win over Detroit, posting 3 hits in 10 at-bats in his first postseason experience. His next postseason appearance came 4 years and 4 teams later.
During his trek across the entire AL East, Pearce established a reputation as a quality clubhouse personality and fastball masher.

This led the Red Sox to acquire Pearce. They threw him in the mix with a slumping Mitch Moreland and ineffective Blake Swihart at first base.
The move brought Pearce full-circle, and allowed him to chase a ring with the team he grew up rooting for. After a couple of injury scares that kept him out for a few games here and there, he charged into the World Series and the hearts of not just Red Sox nation, but America as a true underdog.
After whacking three homers and a double in the final two games of the postseason, leading his team to a championship, Pearce won World Series MVP.
With that honor comes a vehicle from a major sponsor, and this year, it was a pick-up truck. There's no vehicle more perfect for a grinder — except maybe a tank. It's functional, tough, and associated with the masculine blue-collar perception of grinders.
Congratulations, Steve Pearce. After years of fighting and grinding, you are now a household name and World Series Champion.
Want More Underdog Stories?
Get a bite-sized rundown of the best underdog stories in sports – handpicked from across the web & delivered to your inbox every Tuesday.
Join 2,055+ Weekly Readers