NFL journeymen hold a special place in the hearts of football fans. There is something admirable about players who bounce around the league and make contributions in different places along the way.
And in a world where fewer players are loyal to a single franchise, the journeyman trend is only growing stronger.
Let's break down the best journeymen in NFL history – from quarterbacks and beyond.
Table of Contents
What Journeyman Has Played For The Most NFL Teams?
Josh Johnson has played for 14 NFL teams, the most of any player in league history. He's also made pitstops in other leagues, including the UFL (2012) and the XFL (2019).
Johnson has only started a handful of games during his pro career, spending the majority of his time as a backup quarterback.
After being drafted from a small school, the QB has defied the odds to stick around in a league dubbed "Not For Long".
So how has he done it?
"A lot of people give up too soon," Johnson told The Oaklandside.
"Every time I go through something and it doesn't work in my favor, it benefits me as a man. I wasn't the star athlete growing up. I had to believe in where I was headed."
Best Journeymen QBs in NFL History
When you hear the word "journeyman", quarterbacks typically come to mind first. Let's break down the best.
Earl Morrall
Number of NFL Teams: 6
Career Accomplishments: 3x Super Bowl Champion, NFL MVP, 2x Pro Bowler
While younger NFL fans will not recognize his name, Earl Morrall is perhaps the most successful journeyman quarterback of all time.
Best known for replacing Johnny Unitas and leading the Colts to a Super Bowl victory, Morrall was part of two more Super Bowl wins and one NFL Championship.
Playing for a total of six teams in his career, he won league MVP at 34 years old and went undefeated as a starter at age 38.
How did he pull it off?
"When you get the chance to do the job, you have to do the job," Morrall said in 1989. "That's all there is to it."
Nick Foles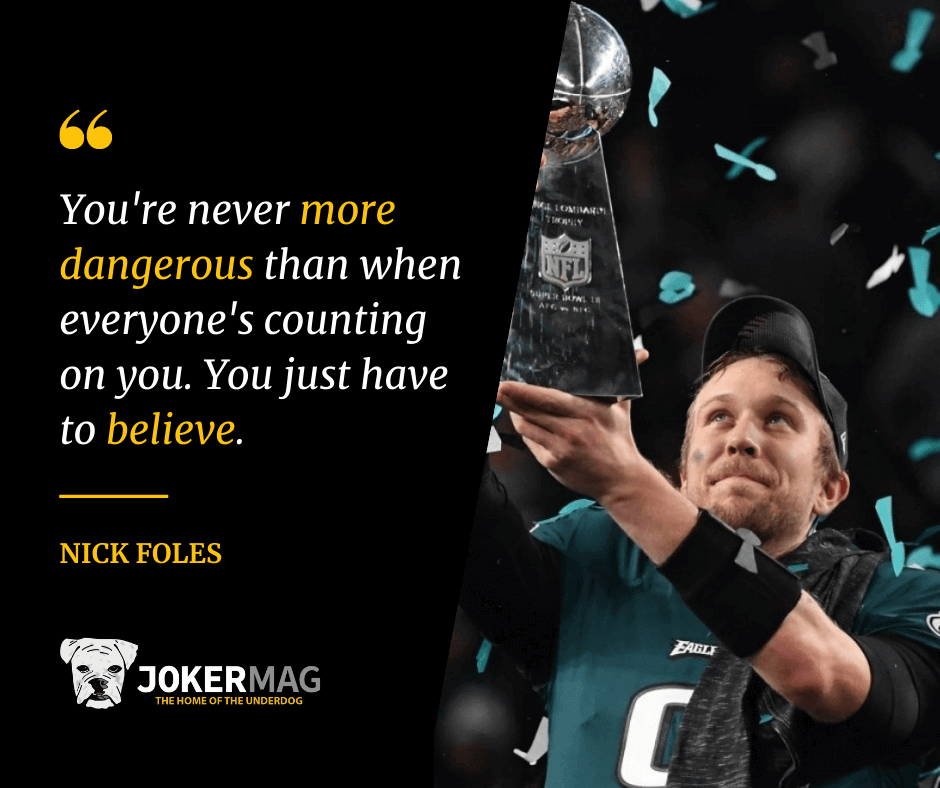 Number of NFL Teams: 6
Career Accomplishments: Super Bowl MVP, Pro Bowl, NFL Passer Rating Leader
Nick Foles is one of the most accomplished journeyman quarterbacks in recent memory. After a solid start to his career in Philadelphia, Foles quickly fell into obscurity after getting traded to the Rams.
He contemplated retirement for a short time before latching on with the Chiefs, then found his way back to the Eagles, ultimately leading them to a miraculous Super Bowl run.
Foles has now been a member of six different NFL teams, with varying degrees of success at each stop. However, he'll go down in football history for his Super Bowl MVP performance that brought Philadelphia their first Lombardi Trophy.
Vinny Testaverde
Number of NFL Teams: 7
Career Accomplishments: 2x Pro Bowl, 2x AFC Passing TD Leader
In a career marked by longevity, Vinny Testaverde was a #1 overall pick who played for seven different teams across 21 NFL seasons.
The strong-armed QB threw for 46,233 yards and 275 touchdowns, accumulating 90 wins as a signal-caller.
Upon his retirement at the age of 44, Testaverde ranked top 10 in career passing yardage, touchdown passes, and completions.
Ryan Fitzpatrick
Number of NFL Teams: 9
Career Accomplishments: Most Career TD Passes by an Ivy League Graduate, Ed Block Courage Award
Ryan Fitzpatrick was a 7th-round draft pick out of the prestigious Harvard University.
But coming out of college, he was known more for his giga-brain-level Wonderlic score than his playing ability.
Following a disappointing rookie season, the Arizona native sat on the bench for the majority of his next two seasons. His career could've ended right there.
But Fitzpatrick made the most of a one-year deal with Cincinnati which he parlayed into a starting role with the Buffalo Bills, where he proved his worth as an NFL quarterback.
Fitzpatrick got better with age, earning the nickname "Fitzmagic" for his spotty yet spectacular performances as a starter.
More notable journeyman QBs:
Doug Flutie – 4 NFL Teams, 3 CFL Teams
Kerry Collins – 6 NFL Teams
Josh McCown – 12 NFL Teams
Kyle Orton – 5 NFL Teams
Best Non-QB NFL Journeymen
Deion Sanders – CB/WR
Number of NFL Teams: 5
Career Accomplishments: 2x Super Bowl Champion, NFL DPOY, 8x Pro Bowler
Not only did Deion Sanders play for 5 different NFL teams, but he also played for 4 MLB franchises during the same period – making him the most unique journeyman on this list.
One of the greatest athletes of his generation, "Prime Time" was a perennial All-Pro and one of the best cornerbacks to ever play the game. In 1996 – when he skipped the MLB season to focus on football – Sanders became just the second two-way starter since Chuck Bednarik.
Deion is also the only man to compete in both a Super Bowl and a World Series.
Brandon Marshall – WR
Number of NFL Teams: 7
Career Accomplishments: 6x Pro Bowler, First-Team All-Pro
After entering the league as a fourth-round pick in 2006, Brandon Marshall spent the better part of 13 seasons in the league.
The 6'5″ receiver racked up 12,351 yards and 83 touchdowns for a total of seven NFL teams. Marshall eclipsed the 1,000-yard mark with four different franchises – an accomplishment not even the legendary Terrell Owens could match (who played for 5 NFL teams in his career).
While he may not make it into the Hall of Fame, Brandon Marshall will go down in history as one of the best journeymen wideouts ever.
RELATED: From 5'6″ Third-Stringer to Racking Up 8,643 Yards in the NFL
Adrian Peterson – RB
Number of NFL Teams: 7
Career Accomplishments: NFL MVP, 7x Pro Bowler, 4x First-Team All-Pro
While known for his days in purple, Adrian Peterson went on to play for six different franchises after leaving Minnesota.
Cementing his status as one of the all-time greats, "All Day" put up 1,250 yards from scrimmage as a 33-year-old with Washington in 2018.
All in all, Peterson rushed for nearly 15,000 yards over the course of his Hall of Fame career – making him one of the most well-known and successful journeymen in any sport.
More notable non-QB journeymen:
Tommy McDonald, WR – 5 NFL Teams
Terrell Owens, WR – 5 NFL Teams
Tashaun Gipson, S – 5 NFL Teams
Jared Cook, TE – 6 NFL Teams
Stefen Wisniewski, G/C – 5 NFL Teams
Jonathan Bostic, LB – 5 NFL Teams
Like underdog stories? Join our free Underdog Newsletter to keep up with the best stories that you won't see on ESPN.