The NFL season brings two types of fans. There's the diehard season ticket holders. And then there's the fantasy footballers. While the diehards tailgate in the stadium parking lot, fantasy football fans stay cooped up in their living rooms from 11:00 am til the end of the Sunday Night Football game.
They most likely have their laptops out, constantly refreshing their fantasy matchups, flipping back and forth to NFL RedZone, and checking to see if their running backs are getting goal line carries.
Over the last few seasons I've morphed into the latter. In my defense, I'm a New York Jets fan and there has not been much to get excited about until this year. With the Jets being a laughing stock in the NFL, I turned to fantasy football to fill the void.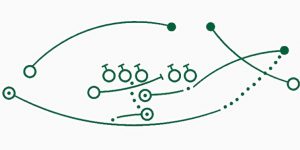 I began to analyze player talent and became a fan of individual players not associated with my home town team. In doing so, I learned a lot more about the game of football and the way teams assemble their rosters.
With that said, it's certainly possible to be both a diehard fan and a fantasy football player. In fact, my goal is to get back to watching the Jets games in their entirety every week, while simultaneously keeping an eye on my fantasy football team's progress.
Want to do the same?
By following the steps outlined here, you can put yourself in the best possible position for fantasy football glory. So get your note pads out.
Here is the beginner's guide to a successful fantasy football season.
Draft Date
This is a public service announcement for league commissioners across the globe. DO NOT set your draft until after the third week of preseason. The NFL Preseason tends to ruin fantasy seasons before they start.
Torn ACL's and freak accidents claim different names each year. Some of which are key components for both their respective teams and fantasy football teams across the nation.
The biggest loss to an injury this preseason was Marqise Lee. The fifth-year wideout suffered a season-ending knee injury. Lee was owned in more than 69% of ESPN leagues before the announcement. Obviously, it's a frustrating blow to owners who picked him over other receivers in their seemingly premature fantasy drafts.
The good news is that this problem has an easy fix. Set your draft date for after the third week of preseason games are over. Week Four of the preseason is where head coaches typically rest their starters. So I would not hesitate to pull the trigger on any day after the conclusion of Week Three.
If you're not the commissioner of the league, let him/her know that the draft date should be later. Be pushy if you must. This is vital.
Draft Preparation
Now that we know when you should be drafting, let's focus on who you should be drafting. Like many things in life, preparation is key.
First and foremost, know when you're picking. This is a simple, yet extremely important detail when it comes to drafting. It will shape how you prepare for your draft.
After you know your draft pick, use your resources. Fantasy football player rankings are available everywhere and are incredibly easy to access. Believe it or not, there are people that analyze fantasy football for a living.
These experts showcase their knowledge on ESPN, NFL.com, and FantasyPros (my personal favorite). Utilize their rankings and generate a list of players that could be available every time you're on the clock.
The second part of your draft preparation should include knowing when to draft certain players.
Here's a breakdown of how you should go about drafting your championship team:
Rounds 1-6
The first six rounds are critical to your team's success. Keep it simple in these rounds by drafting the best skill players available — meaning wide receivers and running backs. This will be the core of your team.
Rounds 7-10
These next four rounds are crucial. This is where you draft your tight end, starting quarterback, and a plug-and-play running back and wide receiver.
By plug-and-play, I mean players that you can insert into your starting lineup when your starters have a bye week or an injury. They may not be as talented as your frontline guys, but they'll get the job done.
Rounds 11-14
Don't worry. The draft is almost over, but this is no time to fall asleep, X out, and let auto-pick do its thing. No. These are the rounds that can make or break your squad.
Here, you should be picking your defense and backup quarterback, as well as a handcuff or two. A handcuff is a player who is a backup to the starter.
An example of a handcuff would be Austin Ekeler (back up to Melvin Gordon) on the LA Chargers. Gordon is the clear-cut starter at running back, but Ekeler is a player that would earn a similar amount of touches if Gordon were to go down with an injury. Thus, he'd be worth a start in fantasy.
Rounds 15-16
Finally. Your draft is basically over. In the last two rounds, select the best kicker available and a lottery ticket/experimental type player.
An example of this could be drafting a player who's currently a free agent, like Dez Bryant. Or it could be a player from your favorite team that you think will emerge as a big-time contributor.
Have fun with it!
Team Name
The draft is over. Your roster is stacked and looking like a playoff contender. Now it's time to pick your team name. This is obviously not as important as the team itself, but it gives your team some character.
Team names should be creative and funny. A common trend is to utilize names of players on your rosters. If you're creative enough, it can be quite comical.
"Stairway to Evans" is a combination of wide receiver Mike Evans and arguably one of the greatest songs ever written, "Stairway to Heaven" by Led Zeppelin. Other team names are intended to poke fun at other fantasy players in your league. If your league is made up of close friends, this is a nice option.
Pick your personal favorite team name and then gear up for Week One!
Waiver Wire
Your team is set. But the work isn't over. Now it's time to monitor your team closely each week of the season. While this might seem like a lot to handle, it's much easier than it seems.
Turn on all notifications possible and play the waiver wire — it will be your best friend throughout the season. It's likely that your roster on the final week of the season will look much different than it did immediately after the draft. In fact, it's almost guaranteed.
Injuries, poor play, and bye weeks will force you to utilize the wire more than a handful of times. Waivers can be accessed in different ways, depending on the site that your league uses.
But in all cases, it will show you a list of players that you can add to your roster. Choose wisely, as you'll need to drop a player from your current roster in order to make room for your new addition.
Monitor available players closely, and build out a "watch list" of guys you're keeping an eye on. If you catch wind of a roster shakeup, you'll want to be the first to pounce on that game-changing pickup.
You now have the keys to a successful fantasy football season. Follow this basic strategy, and you'll undoubtedly be ahead of a majority of teams in your league.
Any questions? Comment below.
If a season-long commitment isn't your thing, daily fantasy is always an option. DraftKings is the best place to play daily fantasy sports for cash prizes. You can learn more here.
I am a promoter at DraftKings and am also an avid fan and user (my username is continobryan2) and may sometimes play on my personal account in the games that I offer advice on. Although I have expressed my personal view on games and strategies, they do not necessarily reflect the view(s) of DraftKings and I may deploy different players and strategies than what I recommended. I am not an employee of DraftKings and do not have access to any non-public information.