Jim Abbott pitched for 10 years in Major League Baseball. In that time, he struck out 888 batters, threw a no-hitter, won an Olympic gold medal, and inspired millions to pursue their dreams.
The media referred to him as "the one-handed pitcher" due to a birth defect, but Abbott never let it define him. He credits his parents for instilling his "why not" attitude – the belief that anything is possible if you work hard enough.
Throughout his big league career, Abbott made a point of speaking with countless children who wanted to meet him – most who were, like him, born different. He was motivated to succeed at baseball's highest level to make those kids believe they could achieve greatness in their own lives.
After hanging up the cleats, Abbott published a book called Imperfect: An Improbable Life – excerpts from which you'll find below.
Here is our collection of the best Jim Abbott quotes of all time.
The Best Quotes from Jim Abbott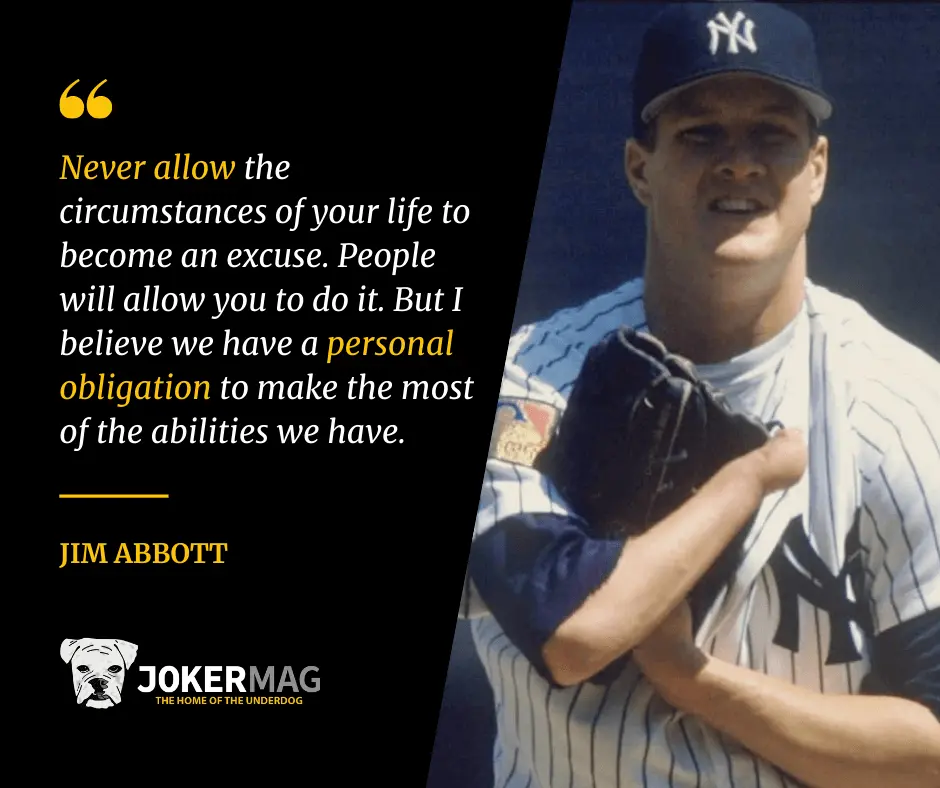 1.) "Never allow the circumstances of your life to become an excuse. People will allow you to do it. But I believe we have a personal obligation to make the most of the abilities we have." – Jim Abbott
2.) "It's not the disability that defines you; it's how you deal with the challenges the disability presents you with." – Jim Abbott
3.) "Find something you love, and go after it, with all of your heart." – Jim Abbott
4.) "…life isn't easy and it isn't always fair. But if we can make the most out of what we've been given, and find our own way of doing things, you wouldn't believe what can happen." – Jim Abbott
5.) "The doubt would come and go, but I could lean on my parents, all they'd instilled in me, and I could lean on the game, and what it meant for me." – Jim Abbott
6.) "There was always another issue, it seemed, no matter how I tried to outrun it. But I'd done stuff on the field, been better at something. And I'd won my share, no matter what my hand looked like." – Jim Abbott
7.) "The accommodations I made off the field were becoming my fire on the field. If people were going to search me for deficiencies, which I was sure they would, they wouldn't find them at the end of my fastball, or in my ability to field a bunt, or on the scoreboard." – Jim Abbott
8.) "I didn't want to be known for this, for something I was born with rather than something I'd worked for." – Jim Abbott
9.) "When you are told all your life that something meaningful is waiting, maybe you start to believe it." – Jim Abbott
10.) "The game can be moody. It is cool and then comforting, warm and then entirely unjust." – Jim Abbott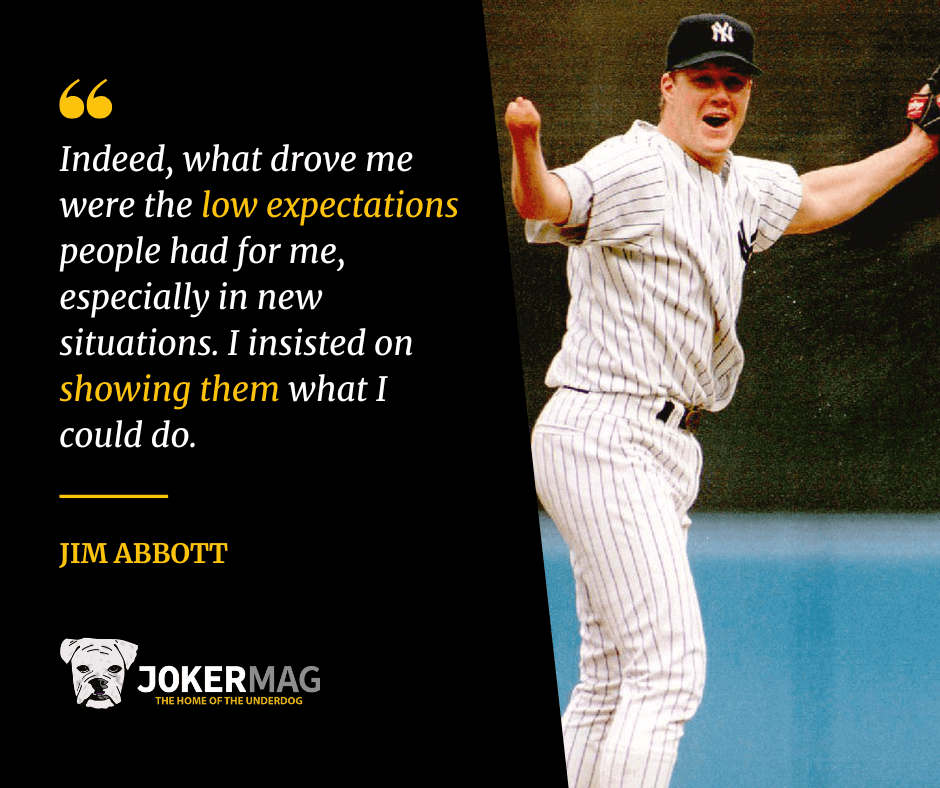 11.) "Indeed, what drove me were the low expectations people had for me, especially in new situations. I insisted on showing them what I could do." – Jim Abbott
12.) "Sports gave me an outlet. A way to get involved and have fun." – Jim Abbott
13.) "Like my mom said, every step, every new level, was supposed to have been a gift. And it was." – Jim Abbott
14.) "I truly believe that difficult times and disappointments can push us to find abilities and strengths we wouldn't know existed without the experience of struggle." – Jim Abbott
15.) "Be comfortable with trying different ways of getting things done, and be strong enough to ignore the attention that being different might bring." – Jim Abbott
16.) "I believe that misfortune can be our gift and our strength." – Jim Abbott
17.) "Baseball gave me many great blessings—the people I met, the places I saw, the incomparable feeling of winning a major league baseball game. But maybe the greatest gift was that it helped me come to peace with the burden of being different." – Jim Abbott
18.) "I benefitted from tremendous encouragement as a kid. So many people reached out to me, helped me, and believed in me when I didn't always believe in myself." – Jim Abbott
19.) "I hope what people learned from watching me is that just because you do things a little differently doesn't mean you can't do them just as well." – Jim Abbott
20.) "What if we could begin to look at challenge as an opportunity? As a chance to prove ourself? As a chance to reveal inner strength?" – Jim Abbott
21.) "At every level, I remember having self-doubt…and every time there was always somebody there who told me that I could do it." – Jim Abbott
22.) "I did not have to apologize for the way I was born, least of all to myself. And it was not for me to comfort others because of it." – Jim Abbott
23.) "My goal was to be the best baseball player I could be. That's how I would like to be remembered." – Jim Abbott
Is there a Jim Abbott quote we missed? Let us know on Twitter.