Greg Maddux is one of the best pitchers in Major League Baseball history. But, as a second-round draft pick out of Las Vegas, Maddux struggled to find a groove in his first few big league seasons.
After posting a 5.61 ERA in his first full season with the Cubs, Maddux grew into the dominant pitcher most know him as today.
Over a historic 23-year career, Maddux won four Cy Young Awards and was an 18-time Gold Glove recipient. The 1995 World Series champion was inducted into the Baseball Hall of Fame in 2014 and retired from the sport with 355 career victories.
Throughout his time as one of the most dominant pitchers in baseball, Maddux relied on his superb command over sheer velocity. In fact, his incredible efficiency is still discussed in baseball circles to this day; a "Maddux" is a game in which a pitcher throws a complete game shutout on fewer than 100 pitches.
Small in stature for a pitcher, Maddux (6-foot, 170 pounds), defied the odds and became a feared hurler for over two decades. While not always quick to get in front of the camera, Maddux has provided a fair share of memorable quotes that can provide wisdom for any young ballplayer.
Here is our collection of his best.
The Best Quotes From Greg Maddux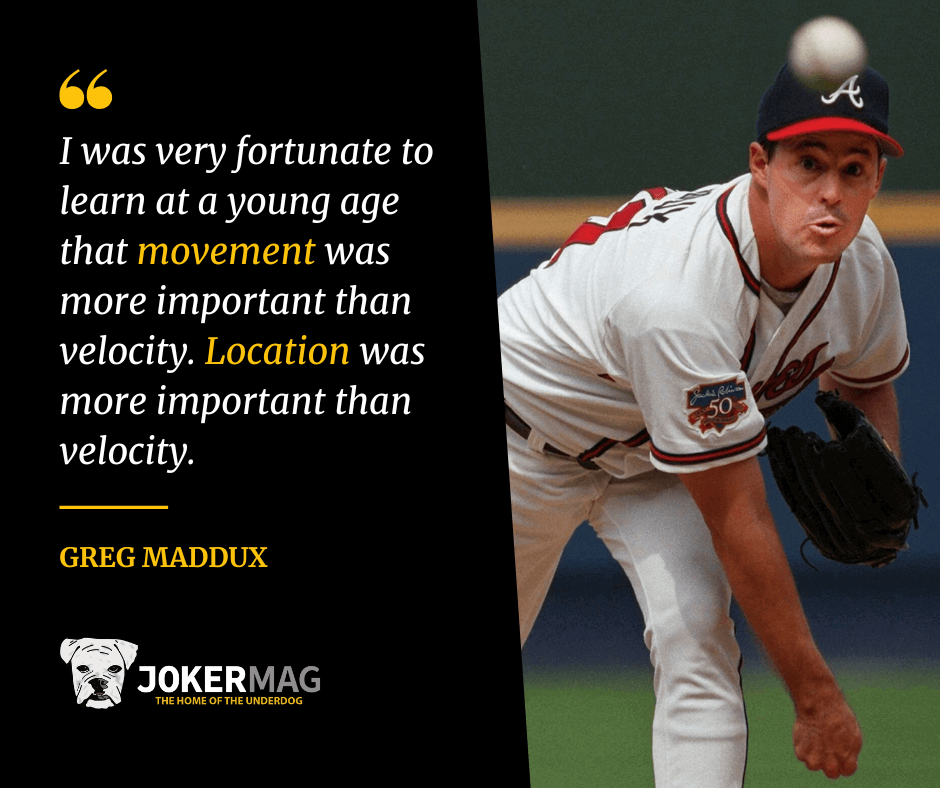 1.) "I was very fortunate to learn at a young age that movement was more important than velocity. Location was more important than velocity." – Greg Maddux
2.) "I went about 2 1/2 months without winning a game. I was going nuts…physically I felt fine…I didn't think it was physical, I thought it must have been mental. So I tried to get some help on my head. [The sports psychologist] told me how to like myself. He gave me more confidence about how to live my life the way I want to live." – Greg Maddux
3.) "I barely got through high school…if you make good pitches it makes you smart, if you don't make good pitches, you're stupid." – Greg Maddux
4.) "I don't wanna throw a good pitch to be as good as I was in 1995. I wanna throw a good pitch to get that guy out." – Greg Maddux
5.) "You grow up learning how to pitch one way…I was taught to get hitters out by throwing in the strike zone, now they teach pitchers to get hitters out by throwing outside of the strike zone." – Greg Maddux
6.) "I'm not trying to read their mind or get in their head. I'm just trying to make good pitches to him and get him out. If I get him out in the first inning, I want to get him out again in the third, fourth inning." – Greg Maddux
7.) "[When I first started pitching in MLB], I pitched fast enough, but I didn't know how to pitch slow enough." – Greg Maddux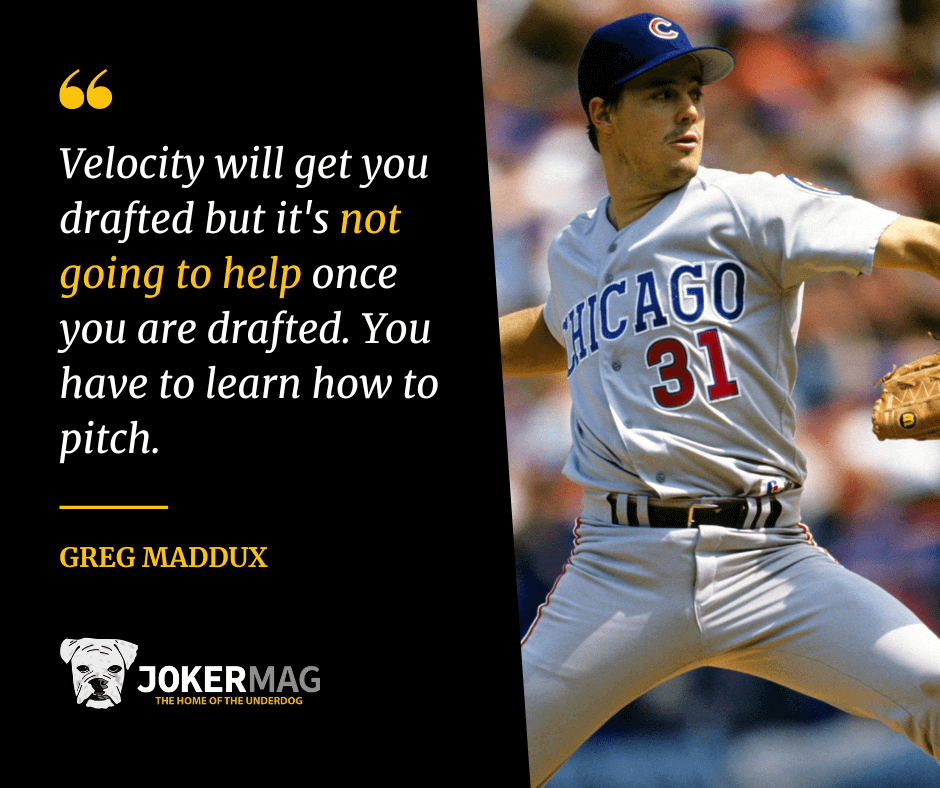 8.) "Velocity will get you drafted but it's not going to help once you are drafted. You have to learn how to pitch." – Greg Maddux
9.) "Luckily, you beat lineups and not hitters. Sometimes you have to pick your fights and know where your 27 outs are." – Greg Maddux
10.) "I got the best job in the world. I love to pitch, I love to compete. I'm doing something I've wanted to do just about my whole life. When you enjoy doing something, you're excited about being the best you can be." – Greg Maddux
11.) "I think they [Rangers minor league pitchers] are down here with a purpose, which is to get better. That's my job – to try and help them get better." – Greg Maddux
12.) "The biggest thing is that every pitch matters. You can't win a game on 4-5 pitches, but you can certainly lose one." – Greg Maddux
13.) "I think it's important to enjoy each day's accomplishments." – Greg Maddux
14.) "I know I pitched, but I also considered myself a baseball player. You have to be able to field, you have to hit a little bit." – Greg Maddux
15.) "I never gave a thought to the Hall of Fame as I was going through my career. My goal as a baseball player was very simple: All I wanted to do was try to get better for my next start. And to think it all ended up here, it's pretty cool." – Greg Maddux
Is there a quote we missed? Let us know on Twitter.