Eric Demers is a 6'1″ guard for the Maine Celtics in the NBA G League. He shattered records at Division III Gordon College, where he led the nation in scoring with 33.3 points per game.
Demers also plays for We Are D3 in The Basketball Tournament – a nationally televised, high-stakes tournament that helped kickstart his professional career.
Eric joined us to discuss his unique journey, advice for the next generation of athletes, and much more.
What kind of player were you growing up?
I was really a spot-up catch-and-shoot role player growing up. I was never the best player on my team growing up but I loved the game so much that I kept working at it.
I was a really late bloomer and didn't become the multidimensional player I am today until college and even after.
What was the recruiting process like for you in high school? What kind of experience did you have getting in front of college coaches?
I didn't have much of a recruiting process. It was more of a lack of recruiting process.
I had the opportunity to play in front of plenty of college coaches in the AAU circuit of all Divisions 1, 2, and 3. I was only recruited by two Division 3 schools and ended up choosing Gordon because I thought it was the best fit for me on and off the court.
Back in 2020, Sports Illustrated described your insane work ethic – getting in the gym at all hours of the night to shoot. How would you describe your journey and the work it took to go from Division III Gordon College to the NBA's G League?
I know my path to the G League and pro hoops is very unconventional. I truly just fell in love with the process of getting better and better each off-season.
I never have and never will put a ceiling on my career. I truly just want to find my potential and I believe I will by putting my best into the game and the rest will take care of itself.
What advice would you give a 17 or 18-year-old going into the recruiting process?
Finding the right fit is everything. If I made it to a low major D1 school I don't think I would be where I am today.
Playing D3 at Gordon allowed me to grow into the player I am today and allowed me different opportunities to gain national media attention that I wouldn't have received being a role player at a D1.
So I just tell kids to find the best fit for you. Everyone's journey looks different but find a place where you can be the best version of yourself.
RELATED: Meet the Best Basketball Player You've Never Heard Of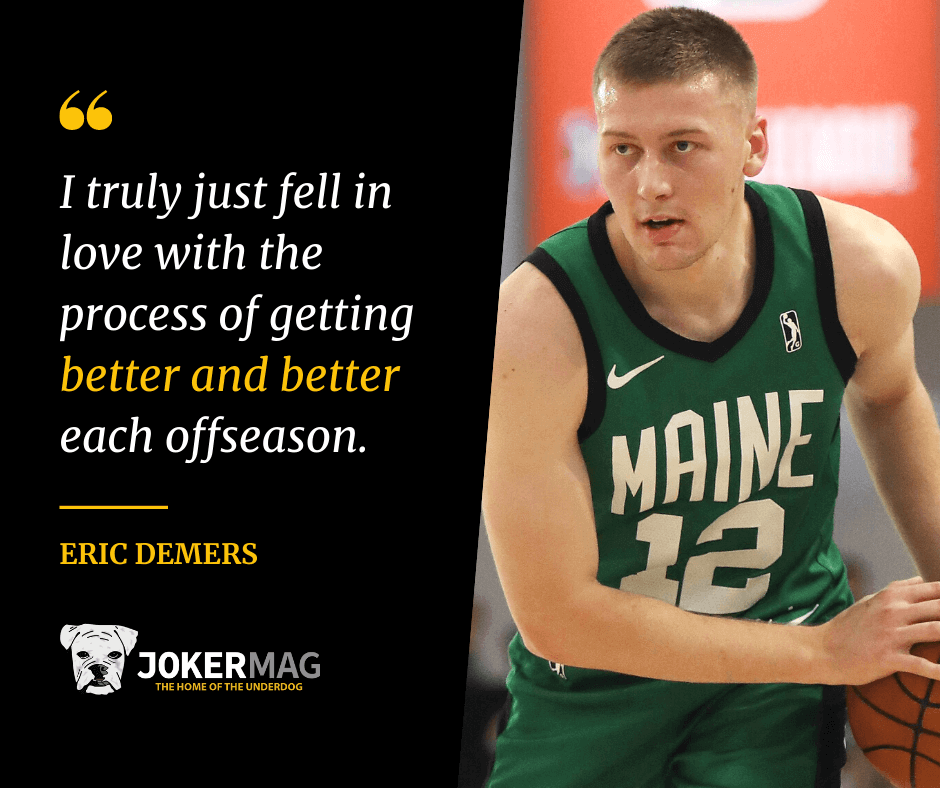 What is the most overlooked aspect of pursuing a sport at the professional level?
I think everyone thinks being a professional basketball player is a lifestyle of glitz and glamor. I want to normalize the struggle it can really be to make it to the pro level.
I think there are a lot of people that assume or even try to live a lifestyle of an NBA All-Star but I want to normalize the real struggle it can be at times to pursue this career.
Yes, there are amazing things that come with being a pro but don't shy away from the struggles of not knowing where your next contract is coming from or where your income is coming from in the offseason.
I hope to see more guys embrace the journey and be transparent with the next generations coming up.
What is your favorite part about playing in The Basketball Tournament?
TBT is an unbelievable event. I look forward to being able to showcase my talents on a national stage.
TBT helped jump-start my career a year ago and I think the platform itself is my favorite part not only for me but for everyone playing. I'm looking forward to seeing who takes advantage of this tournament this summer to better their career.
If you could put one message on a big billboard for millions of people to see, what would that message say?
Everything outside of Jesus overpromises and underdelivers every single time.
How can our readers support you?
As much as they can support me I want to support them. I want to be very accessible to the next generation so anytime anyone reaches out I do make it a point to get back to them. Feel free to reach out to me over social media so I can support your journey the way you support mine.
Editor's Note: Huge thanks to Eric for being so generous with his time and for sharing his hard-earned wisdom with us!
This interview was published in collaboration with D3 Direct – a platform for info and advice on Division 3 recruiting. To learn more about the world of D3, join their Recruit to the Real World newsletter and follow them on Twitter!