Baseball is America's pastime, and while at its core baseball is a very simple sport, the road to playing in the Big Leagues can be a long and winding road.
However, there is also a path for players to make their big league debuts at a young age.
Players can be drafted out of high school in the annual MLB Draft, but there is also an international signing pool where players can sign minor league contracts when they are as young as 14 years old.
It could still take a while to make it to MLB – and the vast majority never do – but there are players who have defied the odds. Whether they were drafted or signed at a very young age, these guys lived up to the hype and debuted on an MLB roster before they could legally crack open a beer in the United States.
Could you imagine being 18 years old and standing on the bump at Yankee Stadium? Or stepping into the batter's box at Fenway Park? Me neither.
But that dream turned into a reality for these players, who were the youngest to ever step foot on a Major League Baseball diamond.
Who are they, and how did they get there? Let's take a look.
Table of Contents
Who Is The Youngest MLB Rookie Ever?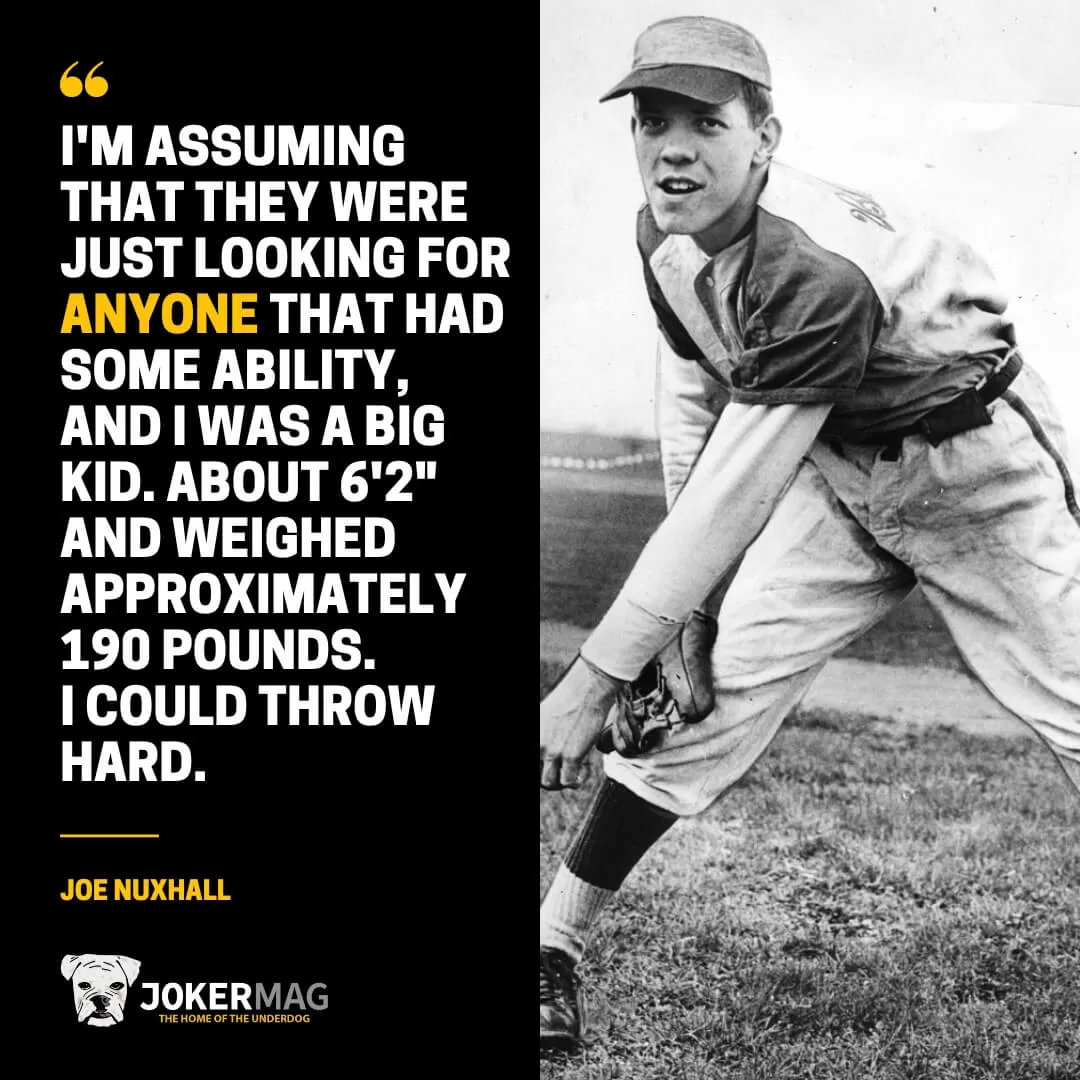 Joe Nuxhall made his MLB debut at 15 years and 316 days old, making him the youngest rookie in Major League Baseball history.
Nuxhall was a tall, left-handed flamethrower in high school, and at the peak of WWII, there was a need for more MLB talent since a lot of players went to serve in the war.
On February 18th, 1944, the Reds signed Nuxhall to a major league contract (when he was just 14 years old).
On June 10th of the same year, Nuxhall made his first ever MLB appearance in the 9th inning of a 13-0 blowout loss to Stan Musial's Cardinals, becoming the youngest player to ever play in an MLB game. To this day, Nuxhall is still the youngest player to step foot on a Major League field – a record that will likely stand the test of time.
Nuxhall went back and forth to the minors and ended up playing professionally until 1966. He was a two-time All-Star, and he was inducted into the Cincinnati Reds Hall of Fame.
Who Was The Youngest Professional Baseball Player Ever?
Joe Reliford not only played, he played well, grounding out on a close play in his AB, throwing a runner out advancing & making a stellar running catch in the OF. After the game, the crowd rushed the field & cheered him, a 12 year old African-American boy in segregated GA.
👀👇 pic.twitter.com/NcS7cH6o7T

— Legends_Sports (@LegendsSports3) March 3, 2022
Joe Louis Reliford has the distinction of being the youngest professional baseball player in history.
On July 19th, 1952, Joe Reliford, a 5-foot 90-pound bat boy, made baseball history.
With the Fitzgerald Pioneers down 13-0, the crowd began to chant, "put in the bat boy." So at just 12 years and 234 days old, Reliford was sent to the plate.
Amazingly, Reliford made contact, hitting a sharp ground out to third base in this historic at-bat. The 12-year-old stayed in the game, playing center field for the remaining half inning – where he made a leaping catch at the fence on a deep fly ball.
While spectators enjoyed watching the 12-year-old play, minor leaguers were not thrilled about the manager throwing a child into a professional ballgame.
Reliford was released, the manager who put him in was fined, and the umpire was fired. Yup, whoever was running the Class D Georgia State League hated fun. Can't win 'em all!
Breaking Down The Youngest Rookies in MLB History
Joe Nuxhall, LHP – 15 Years, 316 Days
When Nuxhall was signed to his Major League contract at age 15, the general manager of the Reds actually wanted to sign his father, Orville Nuxhall. After Orville declined the opportunity so he could focus on raising his family, scouts pivoted to his son, Joe, due to his hard fastball and the fact that he was a lefty.
Nuxhall was with the Reds organization from when he made his debut at 15 years old in 1944 through 1960. He then played a year for the Kansas City Athletics and then the Los Angeles Angels before returning to Cincinnati to finish his career.
Nuxhall made the All-Star team twice with the Reds, and he was inducted into the Cincinnati Reds Hall of Fame. He finished his career with a win-loss record of 135-117, a 3.90 ERA, and 1,372 strikeouts. He still holds the Reds record for most career games pitched by a lefty, and when he retired, he was a radio broadcaster for the Reds from 1967 to 2004.
At 15 years and 316 days old, Nuxhall's legacy of being the youngest rookie in MLB history may never be broken.
Tommy Brown, INF – 16 Years, 241 Days
In the same year as Joe Nuxhall, Tommy Brown also made his Big League debut, and he is still the 2nd youngest rookie in MLB history. At 16 years and 241 days old, Brown made his debut for the Brooklyn Dodgers, got his first MLB hit, and also made his first MLB error in the field.
Brown ended up playing professionally from 1944 to 1953. He ended his career with a .241 batting average, 31 home runs, and 159 RBIs. He played for the Brooklyn Dodgers, the Philadelphia Phillies, and the Chicago Cubs in his career.
Brown was the youngest non-pitcher to ever play in an MLB game and the 2nd youngest player ever. While Brown only played professionally through 1953, he still played Minor League ball through 1959 before officially retiring from baseball.
Carl Schieb, RHP – 16 Years, 8 Months, 5 Days
After leaving high school to sign with the A's as a batting practice pitcher, Carl Schieb made his MLB debut in 1943 at age 16. At that time, he was the youngest rookie in Major League history.
To this day, Schieb is the youngest rookie to ever debut in the American League, playing for Connie Mack's Philadelphia Athletics.
He was a right-handed pitcher and one of the best hitting pitchers of his era. Schieb played with the Philadelphia Athletics from 1943-1954, and he finished his career with the St. Louis Cardinals in 1954.
In his MLB career, Schieb had a win-loss record of 45-65 with a 4.88 ERA over 1,070 2⁄3 innings pitched. He batted .250 with five home runs, 49 RBIs, and 117 hits in 668 at-bats.
Jim Derrington, LHP – 16 Years, 10 Months, 1 Day
At 16 years, 10 months, and 1 day, Jim Derington made his debut for the Chicago White Sox, which was one of the most anticipated MLB debuts at the time. Derrington, a left-handed pitcher, signed with the White Sox when he was 16, and he received one of the largest signing bonuses ever at that time.
Unfortunately for Derrington, his MLB career did not last long. Still, he beat the odds by getting a $50,000 signing bonus and playing in the MLB at age 16. He only played 21 games at the big league level.
Derrington was under contract with the White Sox from 1956-1957, but after suffering an elbow injury, he retired, and his career ended. 
He remains the youngest player in American League history to record a base hit, and the youngest pitcher to start a game in the American League. 
According to Baseball Reference, after hanging up the cleats, Derrington "After baseball he "ran a TV/appliance store, managed a produce business and brokered produce."
Ralph Joseph "Putsy" Caballero, 3B – 16 Years, 10 Months, 9 Days
Upon making his MLB debut for the Philadelphia Phillies at 16 years old, Ralph Joseph "Putsy" Caballero became the youngest player in MLB history to appear at third base. The 5-foot-9, 158-pounder signed a contract with an $8,000 bonus at 16 years old, and after playing in the minors for a short while, he debuted for the Phillies in 1944.
Caballero spent his entire career with the Phillies. He was a platoon player at first, and he was eventually named the Phillies starting third baseman in 1948. He played for the big league squad from 1944-1945, then he went to the minors before returning to the MLB level from 1947 to 1952.
Caballero is still believed to be the youngest position player to debut in MLB history. He finished his career with a .228 batting average, one home run, and 40 RBIs in 322 games played.
Roger McKee, LHP – 16 Years, 11 Months, 2 Days
When Roger McKee debuted for the Philadelphia Phillies in 1943, he was a 16-year-old rookie and the youngest player to appear in a National League game that season. Despite defying the odds and making his MLB debut at 16, McKee's career was short – it only lasted during World War II.
McKee was a left-handed pitcher who became the youngest pitcher in Major League history to throw a nine-inning complete-game victory. Despite this jolt of success, he only played professionally from 1943-1944.
In his short but historic career, McKee was 1-0 with a 5.87 ERA and one strikeout in five appearances. He moved to the outfield and played there with the Phillies' minor league affiliate, but he never made it back to the big leagues.
Alex George, SS – 16 Years, 11 Months, 19 Days
YOUNGEST TO PLAY LAST MLB GAME 2 of 3
1950s Alex George KCA 9/25/55 16y 363d
1940s Charlie Osgood BRO 6/18/44 17y 208d
1930s Clarence Fieber CHW 5/26/32 18y 265d
1920s Joe Ogrodowski BSN 4/27/25 18y 158d
1910s Harry Hanson NYY 7/14/13 17y 178d pic.twitter.com/b7cmap7KRc

— Random Baseball Stuff (@RandomBaseball4) November 16, 2020
Alex George made it to MLB at 16 years old, and he started at shortstop for the Kansas City Athletics. The 5'11" shortstop had high hopes when he made his MLB debut in 1955, but unfortunately, his career never panned out.
However, he did set a record during his short time as a big leaguer.
"I got the hit in Detroit and was the youngest player to ever get a hit in the American League."
George ended up playing in just five MLB games, and despite debuting when he was 16 going on 17 later that month, he never played an MLB game as a 17-year-old.
He batted .100 in his career, and while the Royals sent him down to the minors so he could get some experience, George never made his way back to the majors.
Mel Ott, RF – 17 Years, 1 Month, 25 Days
Mel Ott, at barely 17 years old, debuted for the New York Giants in 1926. The 5'9″ outfielder, who went on to be inducted into the Baseball Hall of Fame in 1951, almost did not sign an MLB contract because he was too small.
However, Ott instantaneously defied the odds and ended up being one of the great power hitters of not just his era, but of all time.
Ott was a 12-time All-Star, a World Series champion, a 6-time NL home run leader, and a one-time NL RBI leader in his career. He batted .304 and had 2.876 hits, 511 home runs, and 1,860 RBIs over the course of his career.
Ott played for the Giants from his MLB debut in 1926 all the way through 1947. He went on to be the manager of the New York Giants as well. Ott made the Hall of Fame with 87.2% of the vote in 1951, and his number 4 was retired by the Giants.
He came into the MLB with doubts about his size, yet he still was one of the youngest players in MLB history to debut and will go down in history as a baseball legend.
Erv Palica, RHP – 17 Years, 2 Months, 12 Days
At 17 years old, Erv Palica made his big league debut for the Brooklyn Dodgers. Palica initially made his MLB debut as a pinch runner before he moved to the mound as a pitcher.
The 6'1″ California native played on and off for the Dodgers from 1945-1954, before heading to the Baltimore Orioles from 1955-1956.
Palica finished his career with a 41-55 win-loss record, a 4.22 ERA, and 423 strikeouts in 838.1 innings.
Gran "Granny" Hamner, 2B/SS – 17 Years, 4 Months, 18 Days
Gran "Granny" Hamner signed with the Phillies during World War II at 17 years old, and he ended up having a long MLB career. Hamner spent over 15 years with the Philadelphia Phillies, was a three-time All-Star, and was inducted into the Philadelphia Phillies Wall of Fame.
According to Baseball Reference, Hamner was the first player to start the All-Star Game at two positions (shortstop in 1952 and second base in 1954).
Hamner was an All-Star in three straight seasons with the Phillies. He finished out his career with the Cleveland Indians and then the Kansas City Athletics. In his career, Hamner finished with a .262 batting average, 104 home runs, and 708 RBI.
More articles you might enjoy:
Want more sports stories you've never heard before? Join thousands of subscribers on our Underdog Newsletter 👇