When you think of Brock Lesnar, a few things probably come to mind. He's the WWE's "Beast Incarnate". He's one of the top pay-per-view draws in UFC history. But there was some time in between where Lesnar pursued his real dream – playing football in the NFL.
There's no doubting that Brock Lesnar is a physical specimen.
He's built like a brick house and is extremely athletic for his size. But, how in the world could a professional wrestler possibly make the transition to NFL football?
After three years as a WWE superstar, Lesnar decided to go after something he'd always wanted. So, at 27 years of age, he decided to put his wrestling career on hold.
Faced with many critics, Lesnar took a gamble on himself.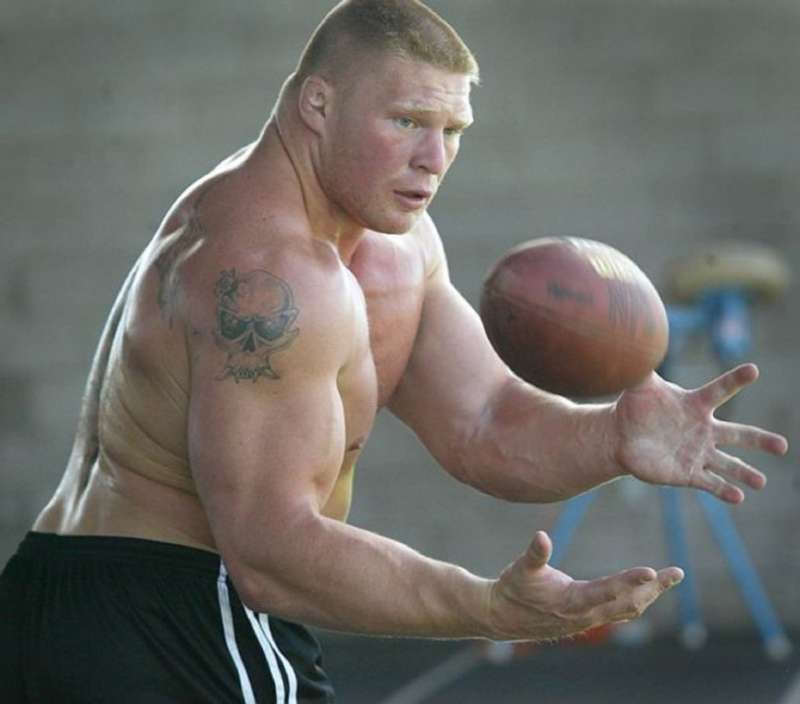 He bet that he was just as athletic, perhaps even more so than the guys in the league. Lesnar participated in the 2004 NFL Combine and, despite minor differences in official numbers, had a spectacular showing.
Unfortunately, the Combine wasn't televised back then, so there's no footage to show. But, luckily, I was able to dig up some numbers from his performance.
At 6'3″, 283 pounds, Brock Lesnar posted impressive numbers at the NFL Combine:
40-yard dash: 4.7 seconds
Vertical jump: 35 inches
Broad jump: 10 feet
225lb bench press: 30 reps
To compare, 3-time Defensive Player of the Year JJ Watt ran a 4.84 40-yard dash. Watt is only two inches taller and a mere five pounds heavier than Lesnar.
Lesnar also showed incredible explosiveness with a 35-inch vertical jump. To put this into perspective, that's higher than All-Pro defensive end Robert Quinn. It's also higher than Anthony Barr, Chris Long, and Cliff Avril.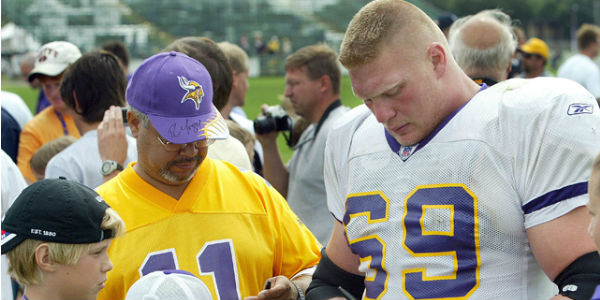 Sure, those numbers are impressive, you might say. But if he's so great, why haven't you seen Lesnar out on the gridiron?
Well, after the NFL Combine, Lesnar got into a motorcycle accident.
While he was banged up, he made a full recovery before training camp was over. Despite not playing football since high school, Lesnar landed a contract with the Minnesota Vikings.
Donning jersey number 69, Lesnar played defensive tackle throughout the preseason.  He quickly earned the respect of his teammates with his hard work and passion for the game.
He was also involved in some scuffles throughout camp, including one that has become a bit of a tall tale.
His former teammate, wide receiver Nate Burleson, explains in this entertaining 2-minute video:
Unfortunately, he didn't make the final 53-man roster.
While it was not what he'd hoped for, Lesnar accomplished far more than most thought he could.
He proved that he is a transcendent athlete that can not only wrestle and fight but also hang with the elite talent of the National Football League.
Want More Underdog Stories?
Get a bite-sized rundown of the best underdog stories in sports – handpicked from across the web & delivered to your inbox every Tuesday.
Join 2,055+ Weekly Readers