Jalen Hurts is used to being counted out:
Benched for a freshman at Alabama
Passed over for the Heisman Trophy
Fell to the 53rd overall pick of the NFL Draft
After overcoming all of that, football pundits still questioned whether he could be a franchise quarterback in the NFL.
Jalen Hurts responded by letting his play do the talking. And he's remained a humble, selfless leader the whole way.
Here is our collection of the best Jalen Hurts quotes of all time – sourced from pre-game speeches, post-game interviews, and media appearances throughout his career.
The Best Quotes from Jalen Hurts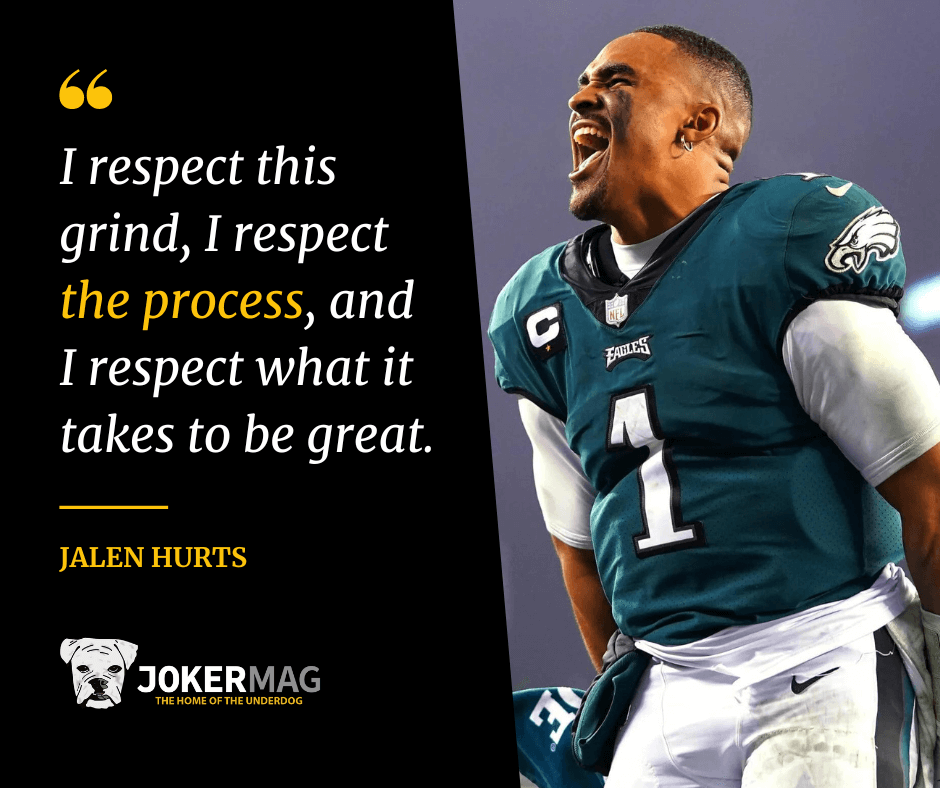 1.) "I respect this grind, I respect the process, and I respect what it takes to be great." – Jalen Hurts
2.) "We have a standard for ourselves and it only rises." – Jalen Hurts
3.) "No one expected the kid from Houston with the long dreadlocks to take over, and that's exactly what I did." – Jalen Hurts
4.) "The most important thing is to be where your feet are." – Jalen Hurts
5.) "I've been blessed to grow, learn things, and just mature. And I know God has been there the whole entire way." – Jalen Hurts
6.) "I just want to set the right example, and I want to be remembered as someone who made a difference…It's something that I think about every day." – Jalen Hurts
7.) "I admire anyone who puts their head down and works for what they want." – Jalen Hurts
8.) "It takes everyone. No man is an island, you must draw your strength from others." – Jalen Hurts
9.) "People lead because their peers let them lead. And I've just tried to lead by example and gain the respect of my teammates." – Jalen Hurts
10.) "We don't worry about external factors. We control what we can." – Jalen Hurts
11.) "Effort will never be questioned." – Jalen Hurts
12.) "Every game, every play, every ounce of studying, every ounce of preparation, it's for the benefit of the group." – Jalen Hurts
13.) "I know that there are tons of different things that are said, but I don't hear them. I don't listen. I don't look for it. I just come here. I come to work. I do my job. I strive to grow in doing my job every day." – Jalen Hurts
14.) "With the opportunity I have, I just wanna share some light, and show these kids that you don't have to choose the wrong way. You can do anything you put your mind to." – Jalen Hurts
15.) "When you look yourself in the mirror as a man and say, 'I'm gonna control the things I can control'…that's how you get better." – Jalen Hurts
Our Pick
Joker Mag is reader-supported. When you buy through our links, we may earn an affiliate commission at no additional cost to you.
16.) "I'm always in the process of getting better." – Jalen Hurts
17.) "When you take you a deuce, you don't sit there and look at it. You flush it and move on. We're going to flush it and move on." – Jalen Hurts
18.) "It's a matter of putting it together, it's a matter of being consistent. It's a matter of being in tune to the little details that win you games – and that lose you games too." – Jalen Hurts
19.) "It takes a group effort and together everyone achieves more." – Jalen Hurts
20.) "Never get too high, never get too low. Take it day by day, and just continue to learn." – Jalen Hurts
21.) "The work comes first every day." – Jalen Hurts
22.) "I feel if you step into any situation and you're able to play your game, be confident, have a poise you need to have, you'll be alright." – Jalen Hurts
23.) "Coach used to always say 'hungry dogs run faster'. I ain't hungry, I'm starvin' for this sh*t." – Jalen Hurts
Is there a Jalen Hurts quote we missed? Let us know on Twitter.
More quote collections you might like: