Growing up in Brazil, Adrian Pinheiro was a soccer player. That was the sport of his country, and naturally, that is what he focused on. Boxing was the farthest thing from his mind.
But before he moved into the ring, Pinheiro gave another sport a try. He took to football – but this time, it was the "American" version of the sport.
"Before moving to the US, I went to Poland to live with my grandpa and go to school there for a year," says Pinheiro. "One day, one of the teachers from school in Poland saw me and invited me to try out for the amateur football team where he coached."
Upon moving to the United States, Pinheiro settled in Orlando, Florida. He promptly joined the football team at Freedom High School, where he starred at defensive end.
Despite playing a new sport in a completely new city – and country – Pinheiro saw sports as a source of comfort during a time of uncertainty.
"Sports always helped me adjust to new beginnings and challenges and always helped me make new friends and feel home," he says.
During his senior season in 2015-2016, Pinheiro amassed 14 tackles and four sacks. Although he was not even introduced to football until his teenage years, he quickly became one of Freedom's best players. For a moment, he considered playing at the next level and joining a college football program. 
But the full scholarship offers that he had hoped for never came. With this, Pinheiro had a difficult decision to make. He'd soon find himself beginning a completely new journey.
Taking The Stage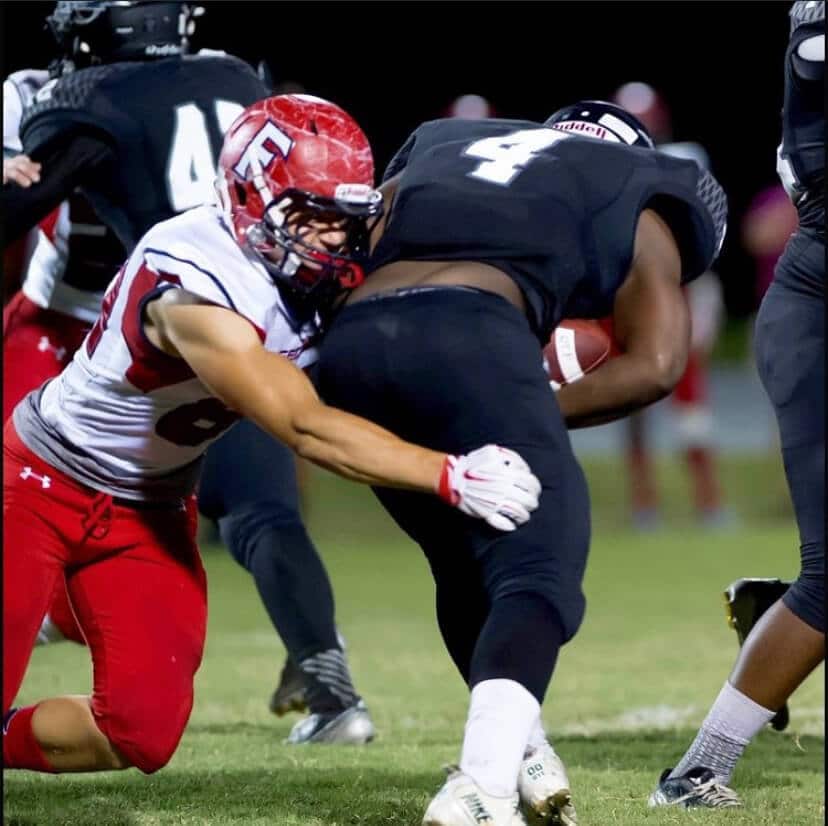 Fitness has always been a major component of Pinheiro's life. He's a regular at the gym, working to not only build up his body, but to keep himself "in line and disciplined" as well.
With an Instagram following of over 18,000 followers, Pinheiro found another area where fitness makes an impact: modeling.
"Just because I'm pretty doesn't mean I can't hit hard," he says.
His popularity as a model continues to grow, as he manages to balance two seemingly different career paths – that and boxing. Although critics have questioned a boxer stepping into the modeling scene, Pinheiro never lets doubts get to him.
"I do get a lot of criticism from time to time for doing a couple of modeling shoots because I'm supposed to be this tough guy for boxing," he says. "When I'm modeling, I need to be more vulnerable and sensual but I never cared about the criticism and haters."
Instead, Pinheiro has simply turned this fuel into greater motivation to be his best, whether it be in modeling, boxing, or other aspects of his life.
"I'm always working out and staying in shape, so there's no real reason to prepare for something when you're always prepared," he says.
That expert level of preparation – which Pinheiro is continually improving in the gym – has served him well in his boxing career thus far.
Soon, he will embark onto the professional ranks. 
Into The Ring
When Pinheiro first stepped into a boxing ring, he completely fell in love with the sport. Immediately, he wanted to challenge himself to the greatest limits. Becoming a world champion was the goal from the start. 
In the four years since then, he's won the New England Golden Gloves at super heavyweight as a novice fighter. He's also been around multiple world champions, contenders, and Olympians.
"I learned a lot [from those boxers] and was never scared to step in the ring with them and learn the hardest way," Pinheiro says.
What keeps him so motivated, even in the toughest, scariest of situations against some of the world's top boxers?  The belief in being disciplined in whatever he does. His mindset does not waver from the goals that he sets for himself. 
"Knowing what you have to do to be where you want to be," he says about his mentality. "Putting a goal in your head and following through, making a plan and following it."
Learning From His Father and Inspiring Others
One of the most important lessons Pinheiro has learned as an athlete is a rather simple message, yet one that he strives to carry out every day.
"As soon as I step in the ring, my goal is to do my best – that's what my dad always taught me," he says. "As long as you do your best and leave like you left it all on the field or in the ring, you should be happy."
With this winning mentality, Pinheiro knows he has so much left to prove as a boxer. But outside of the ring, his desire to positively impact others is even greater. After all, he knows exactly what it feels like to be counted out when starting a new journey.
"My advice to anybody wanting to start something new is to take it step by step," he says. "Be patient, believe in the process, be coachable and be disciplined." 
More than just a boxer, Pinheiro is a true inspiration to those who are aiming to take a leap of faith into a new area of life. No matter the goal – whether in sports or otherwise – Pinheiro's values and mindset are something everyone can learn from. 
He may have started as an underdog, but now, Pinheiro continues to chase his dream of being a world champion. Nonetheless, that idea of being the underdog pushes him to be his best through the toughest of times. 
"Be proud of how far you've come, but never be satisfied," he advises. "Be the best version of yourself." 
Author's Note: Adrian won his professional debut with a first-round knockout on May 8th, 2021 at the Orlando World Center in Orlando, Florida.
Want More Underdog Stories?
Get a bite-sized rundown of the best underdog stories in sports – handpicked from across the web & delivered to your inbox every Tuesday.
Join 2,055+ Weekly Readers