Welcome to Wild Card Weekend. Lots of great matchups on the horizon.  Let's talk about how you can make some money off of them.  But first:
"Playoffs?! You kiddin' me? Playoffs?!"
With help from myself and our fantasy insiders on the Sneaky Plays podcast, your DraftKings lineups will be looking sharp for the postseason.
Here are your Wild Card Weekend Sneaky Plays.
Russell Wilson – QB, SEA
Opponent – Dallas Cowboys
Price – $5,700
It's the playoffs and I'm going with a QB who's been here before. Russell Wilson is a proven postseason stud and I don't see why his success would end this Saturday evening against the Cowboys.
Although it was Week 17 and the Cowboys had already clinched the division, they rolled out their starters against the Giants who dropped 35 points against them.
I think Wilson and his experience carries a significant weight in this matchup. Look for the veteran QB to work some magic and lead the Seahawks to victory.
Chris Carson – RB, SEA
Opponent – Dallas Cowboys
Price – $6,800
We're going to be flying under-the-radar this weekend at the RB position. Ezekiel Elliot is projected for 86% ownership. I like the other 14% and I'm rolling with Chris Carson, who's had an incredible season to date.
The young RB has averaged 26.4 fantasy points in his last three games and thrashed the Cowboys in Week 3 for 102 yards on the ground and a score.
Carson and Wilson are a dynamic duo this week — you heard it here first.
Jordan Howard – RB, CHI
Opponent – Philadelphia Eagles
Price – $4,600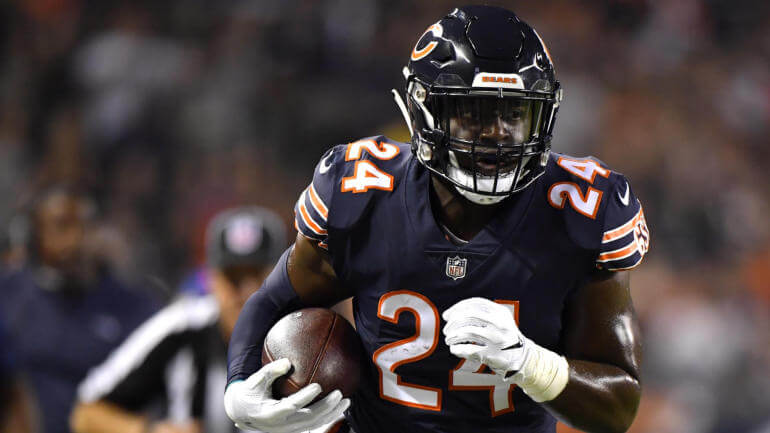 Jordan Howard is getting back to his game in recent weeks, posting 14+ fantasy points in each of the last 4 matchups.
I'm instilling my trust in Howard this week because I can't see the offense going through Trubisky until it becomes completely necessary. The Eagles rank 25th against enemy RBs and Howard has had a nose for the endzone towards the end of the regular season.
Howard should get between 16-20 touches. At his minuscule price, I just can't look away from this sneaky play.
Michael Gallup– WR, DAL
Opponent – Seattle Seahawks
Price – $3,600
I'm taking a risk and slotting Michael Gallup into my lineup this week. Seattle ranks in the middle-of-the-pack in all defensive categories and their secondary has gotten shredded a bit in the last few weeks.
Gallup isn't the safest play, but he's been seeing a good deal of targets go his way and is a big play waiting to happen.
I expect Dak to look for Gallup down the field in search of a momentum-swinging play at some point during this game.
T.Y. Hilton– WR, IND
Opponent – Houston Texans
Price – $7,800
T.Y. scored under 10 fantasy points in just two games this season. Aside from those games, he's torched every other defense and averaged 18.1 fantasy points per game in 2018.
In a crucial game like this, Andrew Luck will be force-feeding T.Y. Hilton early and often. The Colts' clear-cut #1 receiver should have a big day and I'm excited for it.
DeAndre Hopkins – WR, HOU
Opponent – Indianapolis Colts
Price – $8,700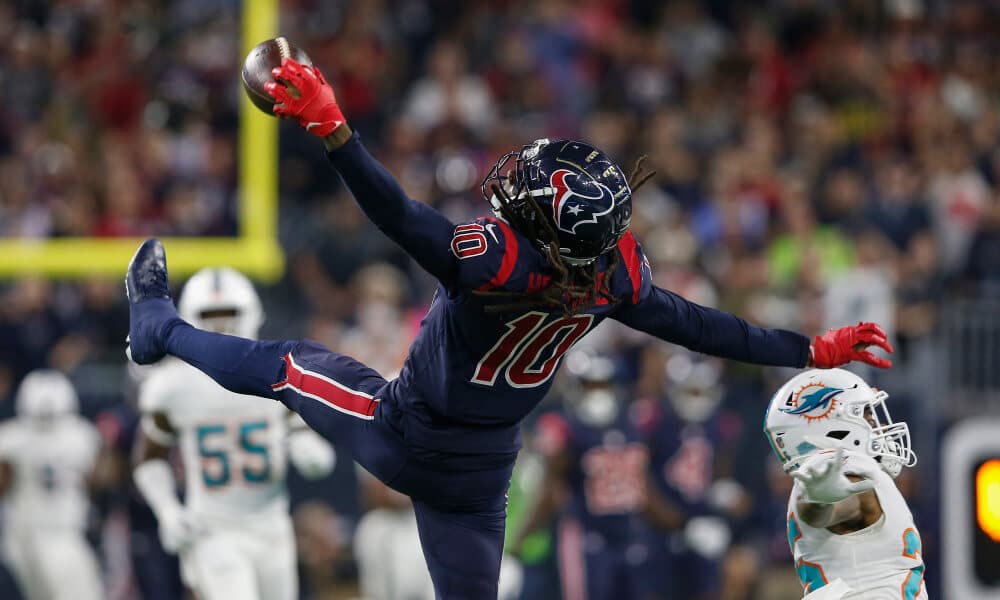 DeAndre Hopkins had zero dropped passes this season.
No, that's not a typo. Hopkins is the best WR in football (we've been saying it since last season) and he's a must-play in your Wild Card Weekend lineups.
Hopkins saw double-digit targets in 11 out of 16 games this year. With Demaryius Thomas sidelined and Keke Coutee still battling his hamstring injury, the offense will run through Hopkins.
He will be the main source of offensive firepower for the Texans. Look for the best WR in football to ball out this week.
Eric Ebron – TE, IND
Opponent – Houston Texans
Price – $5,200
Ebron has been a prolific piece in a dynamite offense. The veteran TE found the end zone 14 times this year, averaging 14.1 fantasy points per game.
The Texans defense, while stout at times, is quite generous to TEs. Houston ranks 31st against the position and Ebron scored in both matchups against them this season.
As such a significant threat in the red zone, Ebron will get plenty of looks from QB Andrew Luck.
Darren Sproles– FLEX, RB, PHI
Opponent – Chicago Bears
Price – $4,100
I'm slotting Darren Sproles into my lineup because he's the lone veteran in the Philadelphia backfield and has been leading the corps in snaps over the last 2 weeks.
Look for Sproles to see targets in the screen-game quite a bit in this playoff duel.
The ageless RB should have a great day.
Chicago Bears – D/ST
Opponent – Philadelphia Eagles
Price – $3,400
Just like at WR, I'm going with the best in the business for D/ST. While I do think the Eagles will be able to score, I can see the Bears getting some pressure on Foles, getting some sacks and forcing some turnovers.
Even if the Bears don't win, their defense will be heard.
For a more in-depth (and entertaining) look, listen to this week's Sneaky Plays podcast:
Don't have a DraftKings account yet?  Claim yours here and start winning!
Season-Long Record: 81-48 (.628)
I am a promoter at DraftKings and am also an avid fan and user and may sometimes play on my personal account in the games that I offer advice on. Although I have expressed my personal view on games and strategies, they do not necessarily reflect the view(s) of DraftKings and I may display different players and strategies than what I recommend. I am not an employee of DraftKings and do not have access to any non public information.
Want More Underdog Stories?
Get a bite-sized rundown of the best underdog stories in sports – handpicked from across the web & delivered to your inbox every Tuesday.
Join 2,055+ Weekly Readers