Phil Collins is one of the most accomplished and respected musicians of all-time, and he is also one of the most unlikely superstars. It took a series of very fortunate events for him to eventually gain worldwide stardom in the 1980's. Over that span, Collins went from unheralded drummer to world-famous singer.
Perhaps the Rock and Roll Hall of Fame will see this, and rightfully induct him as a solo artist as well.
The '70s: From Drummer to Leader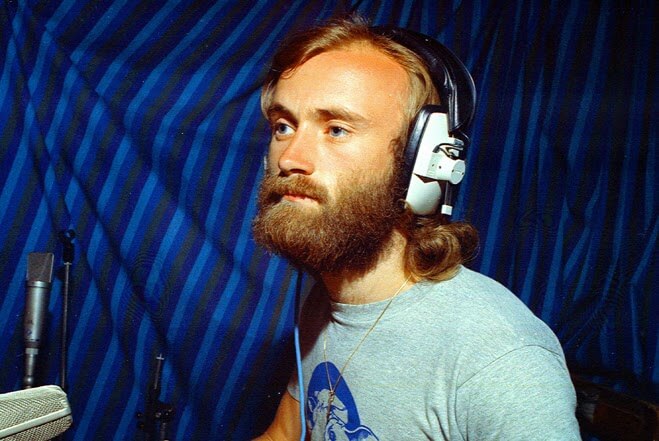 Collins became the third man to bang on the drums for Genesis in 1970, and his arrival solidified their lineup. From 1970-75, they were at their peak, at least when it came to the critics and die-hard fans.
Peter Gabriel was the front man and his stage presence led to a cult following that continued to grow.  A rift developed between Gabriel and the band, and members felt some were coming to shows to see his stage antics, as opposed to going to appreciate the music.
In 1975, Gabriel departed, leaving the band determined to find a new lead singer and continue moving forward. There's a long-running rumor that approximately 400 vocalists auditioned for the opening.
Apparently, Collins was not really in the running because he could not provide that big stage presence behind the drum kit.
But eventually, they settled on Collins. He was their man.
Their first album with the new lineup, A Trick of the Tail, was their highest charting album in both the US and the UK, and from there the numbers only got better.
Collins was a very unlikely candidate to land the job, but he did not disappoint once he had the reigns.
The '80s: Phil, The Superstar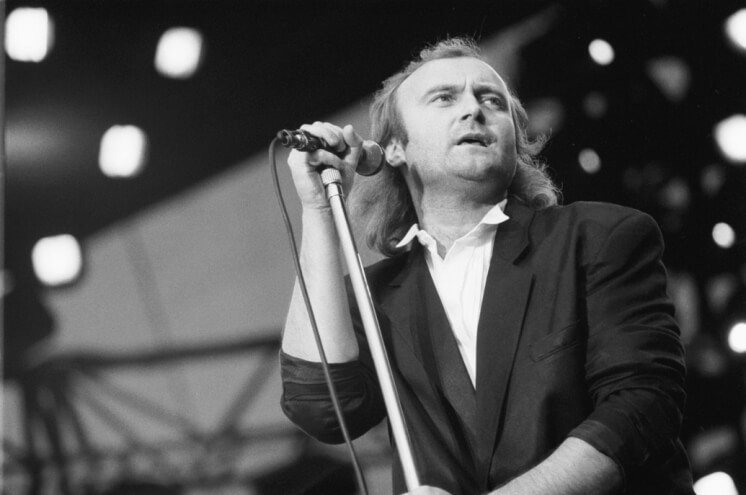 If Michael Jackson was the King of Pop, and Madonna was the Queen, then I suppose that makes Collins the Duke.
Collins and his first wife got divorced, which inspired him to begin working on his first solo project.  Like Gabriel's first solo single, 'Solsbury Hill', Collin's first single, 'In the Air Tonight', was a massive success.
However, unlike Gabriel, Collins continued to stick with Genesis, which was quite rare and something that you have to respect.
From the get-go, there was no stopping Phil. The legend himself would even say how surprising it was that he'd become one of the biggest superstars, and he would often note that he was just a normal guy. He was not your typical rock/pop star.
The man could not stop making hits, earning himself 7 number-one songs in the US within a 7-year span, and 'Invisible Touch' with Genesis additionally topped the charts in 1986.
Out of all of his songs, 'Another Day in Paradise' is my personal favorite. From the production, to the message it sends, to David Crosby on the backing vocals, it's a beautiful song that is easily in my top-25 all-time.
In case you're looking for a bit of a lesser-known Collins track, 'I Missed Again' is one that I would recommend, which reached #19 on the pop charts. But unfortunately it did not stand the test of time.
Reflecting on a Legendary Career
Collins had the slimmest of chances to become the lead singer of Genesis, and without that opportunity, he would have remained a drummer. And we likely would not have gotten Collins' solo career.
One fun fact about Collins is that himself, Paul McCartney, and Michael Jackson are the only artists to sell 100 million records as both a solo artist and part of a band.
Here's a spectacular infographic to put his success into perspective.
This past year I visited the Rock and Roll Hall of Fame for the first time, and there was a ballot-type station where you could 'nominate' an artist or band to get in. I chose The Cure and they are actually ended up being one of the nominees for 2019.
Perhaps I need to make the trip again and vouch for Collins, as like The Cure, he is way past due to be inducted. In addition to his commercial success, he has additionally worked with countless other artists, providing the percussion for their songs.
Just recently, he released a compilation album titled 'Plays Well With Others', which showcases Collins' range as a drummer working in a wide variety of musical genres.
I also can't forget to mention that Phil Collins didn't have to go so hard on the Tarzan soundtrack, but he did that for us (and also probably for a huge paycheck from Disney).
But nonetheless, Collins was the most unlikely superstar, and he's enjoyed one of the most successful music careers of all-time.
What's your favorite Phil Collins track? Comment below.