If you are reading this and are a millennial who just started following baseball, or know very little about the Boston Red Sox history, you may not know the name Yastrzemski.
Carl Yastrzemski, more commonly in the Northeast known as Yaz, played his entire twenty-three-year career for the Boston Red Sox (1961-1983). He patrolled left field for the team, making his name as one of the most balanced players in both the field and with the bat to ever play the game.
He was an eighteen-time All-Star, seven-time Gold Glove winner, and a member of the 3,000-hit club. Most notably, Yaz won the 1967 MVP Award the same year the Red Sox won the pennant.
Within that magical season, Yaz won the Triple Crown (league leader in batting average, home runs, and RBIs), the last player to do so until Miguel Cabrera, one of the most polished modern-day hitters, won the title in 2012.
Safe to say, Yaz carved out one of the most successful careers in baseball history. The combination of his longevity and durability was miraculous, and he's still believed as one of the greatest baseball players to ever walk the Earth.
History will always remember the greats — whether it be an Abraham Lincoln or Carl Yastrzemski. We are reminded of their greatness past their primes or lifetimes, but most often we focus on the greatness of contemporaries, always trying to find the next GOAT.
If you ask any avid baseball fan from the early 1960s to the mid 1980s who was one of the most exciting baseball players, I guarantee you most would say Yaz.
The longball, juiced, steroid era buried our fond memories of many greats like Yaz. Fortunately, there was another Yastrzemski along the way. He has played under the radar his entire career despite his success at every level.
The Next Generation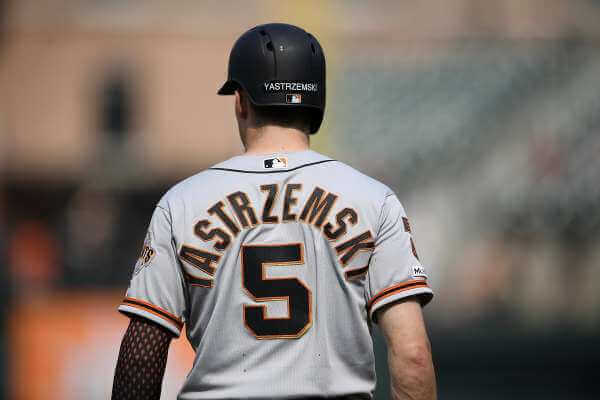 Mike Yastrzemski has carried on the family name, even patrolling left field just like his grandfather.
What a journey it has been for him to revive that name in the baseball world. He deserves great credit to not only carry on the name, but to also live life the right way and leave his own legacy.
The next Yastrzemski professional baseball career had to be halted for one year because of a reason rare in today's professional sports: Academics.
Mike Yastrzemski made a promise to his mom to get his degree first before he pursued his professional baseball dream. How often do you hear that commitment to academics in today's sports culture? Yes, the answer would be, "Almost never."
Mike is the consummate pro and scholar. He had a chance to sign a $300,000 contract with the Mariners, but stayed true to his promise to his mom and received his degree from Vanderbilt University, a powerhouse baseball school and a prestigious academic institution.
He completed his academic goal and promise while at the same time earning first-team All-SEC and a Third-Team All American as a senior. The Baltimore Orioles drafted him the second time around, and this time he signed, now holding that invaluable college degree.
Mike shot up the ranks of the Orioles' minor league system, reaching Triple-A, but was stuck and could not pierce the ceiling into the big leagues.
In the spring of 2019, however, the Orioles traded him to the San Francisco Giants where he'd have the opportunity to achieve another promise – this one for himself – of playing in a major league game.
Getting The Call
On May 25th, 2019, after 703 minor league games, and at the ripe age of 28, Mike finally got the call. He scored a run in his first game and had three hits the next day.
Almost every game since his call-up, he's been a part of the Giants' lineup.
"At some point I just wanted to get there even for one day just to say I did it," Mike said after his first game.
"That was the goal, just one day. My wife was my biggest supporter. My mom was, too. This has been a big thing for my family."
When a goal is a collective effort for an underdog like Mike, achieving the dream is even sweeter.
Mike realizes the importance and meaning of his last name in the game of baseball, and therefore, tries to honor it every time he steps between those white chalk lines. In the end, however, Mike wants to carve out his own legacy in baseball, and in the grand scheme of things, in life too.
"It's the only last name I've ever had. I've never felt any added pressure because of it," Yastrzemski said. "My grandfather has always helped me out, but I'm not here because of my name."
It's no surprise that Mike approaches the game of baseball with maturity beyond his years because of his long road to the top. But also because of the sage wisdom his grandfather gave him throughout the journey.
"I just played my game and stopped worrying about what I couldn't control," he said. "I had peace of mind."
That calm mind has gained attention from a man destined to join Mike's grandfather in Cooperstown, Bruce Bochy. The revered Giants manager has instantly taken note of this injection of energy roaming the outfield for his ball club.
Continuing The Legacy
"It's been fun to watch him," said Bochy, who's deployed Yastrzemski in left field with a few starts in right. "He plays the game the right way."
We often hear the phrase, "Like father, like son." In this case, we'd have to change it to "Like grandfather, like grandson."
Mike chooses to wear number #5, instead of his grandfather's historic #8. Throughout his entire baseball journey, Mike Yastrzemski has honored what that #8 has meant to his family and the man who wore it.
#5, however, is his number. It represents his own, singular path, thereby leaving his own legacy.
Mike's son or grandson will now have to pick a different number besides #5 and #8.
You know, to continue the tradition.
Want More Underdog Stories?
Get a bite-sized rundown of the best underdog stories in sports – handpicked from across the web & delivered to your inbox every Tuesday.
Join 2,055+ Weekly Readers