Every baseball fan knows about Ken Griffey Jr.'s physical accomplishments. 630 home runs, 10 Gold Gloves, a Hall of Fame plaque, and the sweetest left-handed swing we've ever seen.
But what about his mindset and approach to the game?
Growing up with a big leaguer for a father, Junior spent plenty of time soaking up the wisdom of MLB players (despite a particularly negative experience with the Yankees).
So, when he was drafted at 17 years old, he brought a unique perspective that few other players had. That mature mindset, combined with his generational talent, is what catapulted The Kid to the top of the baseball world.
His combination of physical tools and unshakable confidence is why number 24 will be talked about for decades to come.
Looking to get inside the mind of one of the best hitters of all time? Here is our collection of the best Ken Griffey Jr. quotes of all time – sourced from interviews, award speeches, and media appearances throughout his career.
The Best Quotes From Ken Griffey Jr.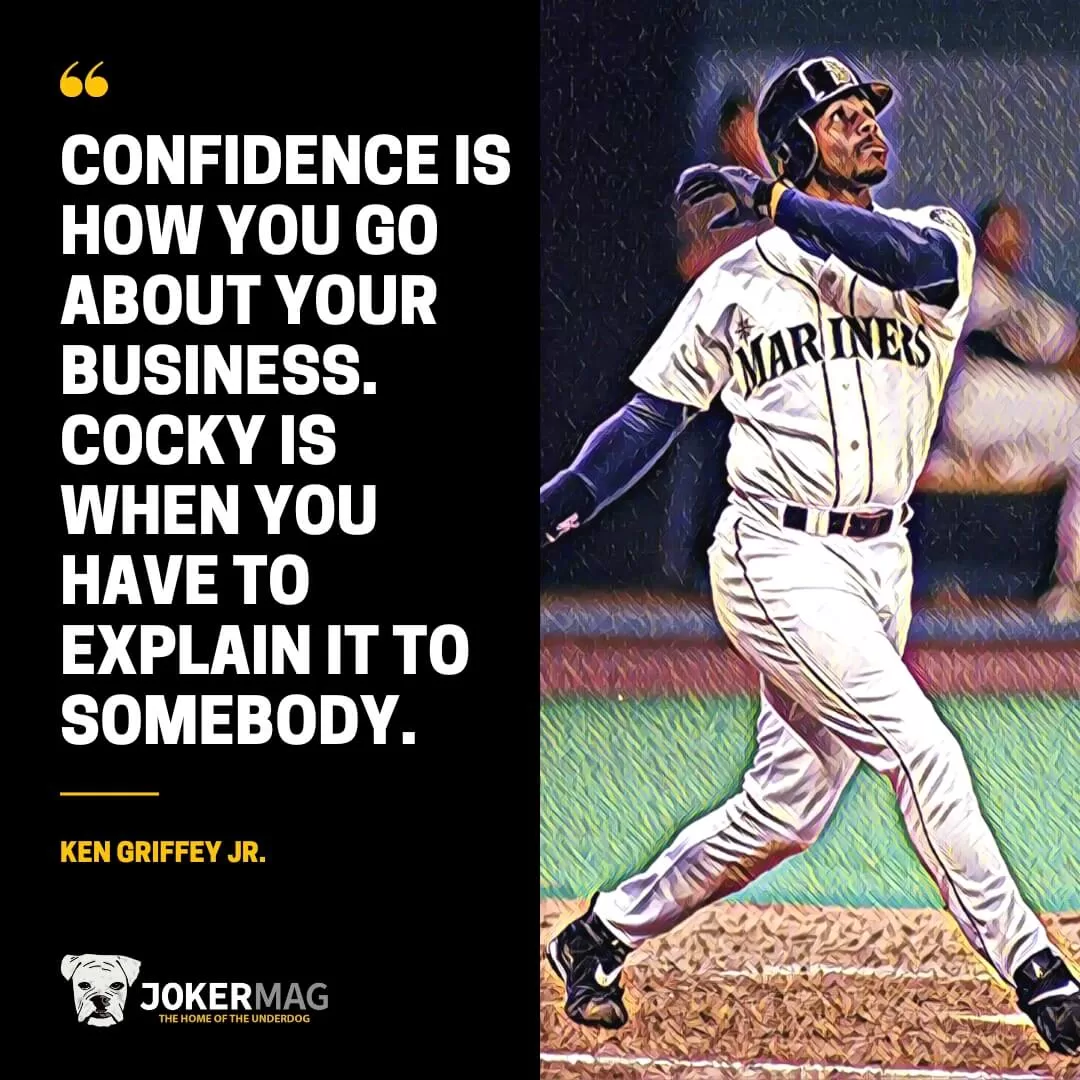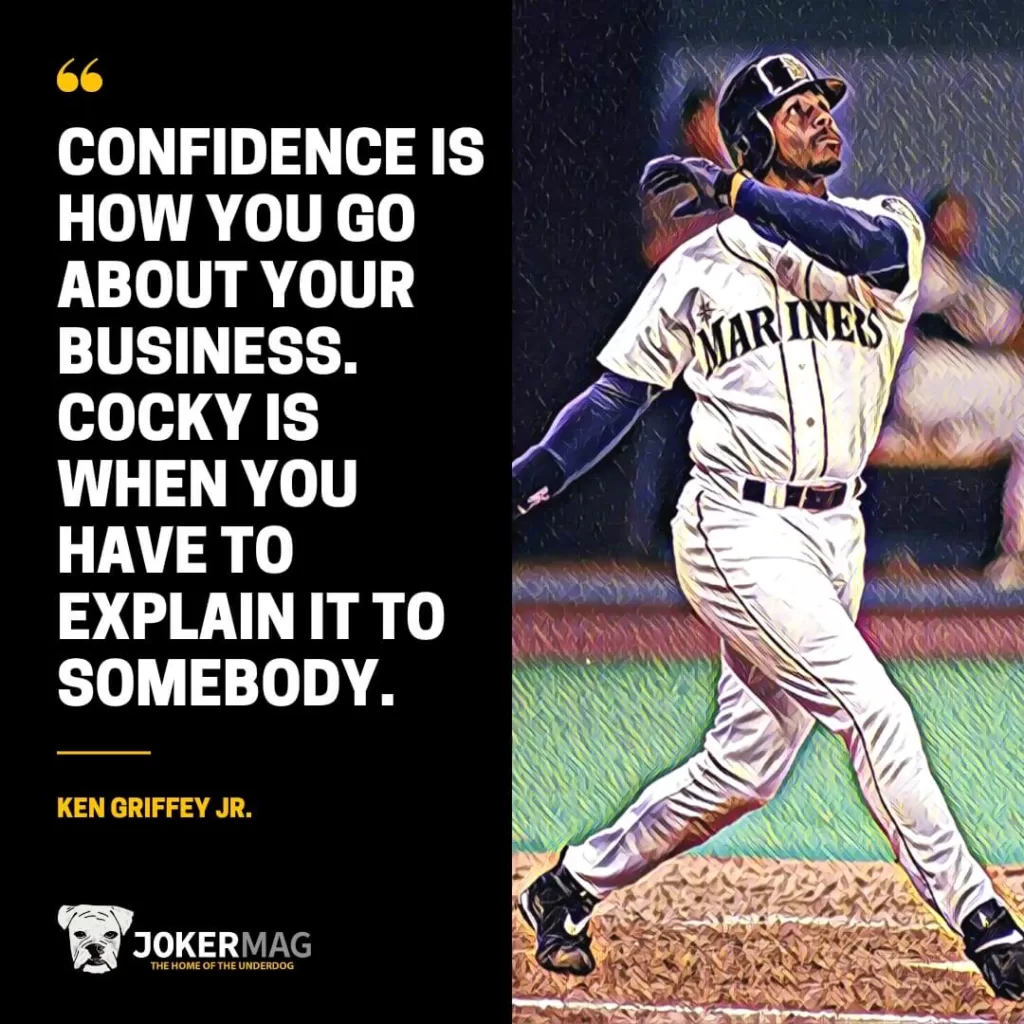 1.) "Confidence is how you go about your business. Cocky is when you have to explain it to somebody." – Ken Griffey Jr.
2.) "Even though they say I was a pull hitter, I didn't think about pulling the ball." – Ken Griffey Jr.
3.) "People think that because my dad played baseball, everything was given to us…but it was a struggle for my mom and dad…he didn't have that instant stardom. He had to work into it and get it." – Ken Griffey Jr.
4.) "I didn't know if [my dad] went 0 for 4 or 4 for 4 during the game because he never brought it home. If he went 0 for 4, we'd still go out and play catch. He was just dad when he left the ballpark." – Ken Griffey Jr.
5.) "Growing up in a house with professional athletes, you hear things earlier than most kids. Like, I knew what it took to be a big league ballplayer at age 14…I'm getting all this information as a teenager. Yeah, it helps." – Ken Griffey Jr.
6.) "I always played up. So even on my 8-year-old team, I was playing 10. When I got to 10, I was playing 12. When I got to 12, I was playing 14." – Ken Griffey Jr.
7.) "Every time I went somewhere I was like, 'There's nobody that can outplay me.'" – Ken Griffey Jr.
8.) "My dad has always said, 'If my name is in the paper before your name, we're in trouble.'…so that's one of the things I was taught." – Ken Griffey Jr.
9.) "You know why I wore [my hat] backwards? Because my dad had a 'fro, and I had a little peanut head. And every time I put the hat on, it flapped in front of me. So I turned it around because I just wanted to wear my dad's hat…it wasn't like I was trying to make a fashion statement, trying to be different. I just wanted to wear my dad's hat." – Ken Griffey Jr.
10.) "If you keep yourself right, that's the only thing you can control. So when you look in that mirror, that's who you can control. I can't control what everybody else does." – Ken Griffey Jr.
11.) "Coming from a small town, it helps. Because it's not like the big city, you gotta be larger than life. My family came from a steel mill, so I understood hard work." – Ken Griffey Jr.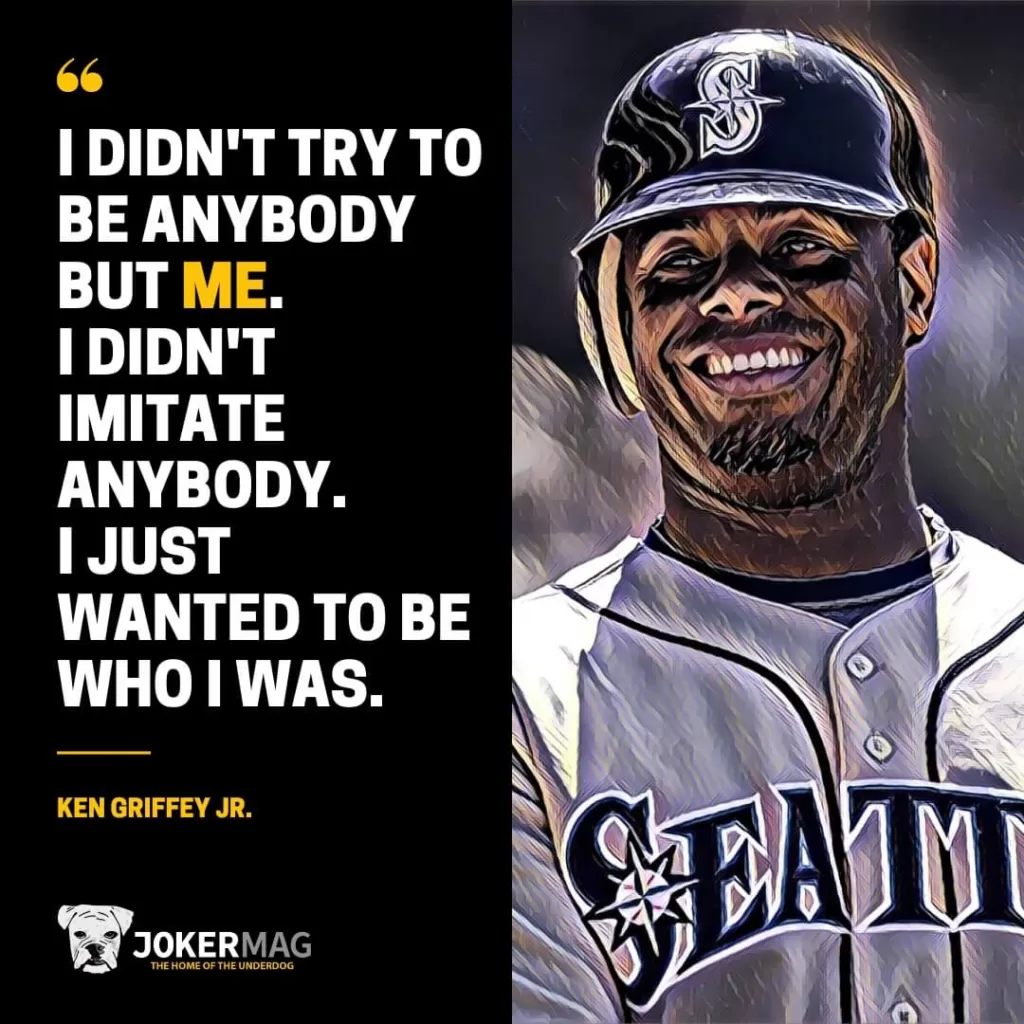 12.) "I didn't try to be anybody but me. I didn't imitate anybody. I just wanted to be who I was." – Ken Griffey Jr.
13.) "Growing up, family was important. The baseball, or sports, was always secondary." – Ken Griffey Jr.
14.) "When you're prepared for something, you don't get nervous." – Ken Griffey Jr.
15.) "The only thing I care about in my household is effort. That's it. You give me an effort, I'm cool." – Ken Griffey Jr.
16.) "There's not one of us that sat there at age 6 and goes, 'You know what, I'm gonna play professional sports, I'm gonna make a whole lotta money.' There's no shoe deal. There's no glove deal. There's no bat deal. It's for the love of the game." – Ken Griffey Jr.
17.) "I didn't do it because of the money. I didn't do it for the fame. I did it because I loved baseball." – Ken Griffey Jr.
18.) "The two misconceptions of me are: I didn't work hard and I made everything look easy. Just because I made it look easy doesn't mean that it was. And you don't work hard and become a Hall of Famer by not working day in and day out." – Ken Griffey Jr.
19.) "The other guys, all they have to do is use their big butts and big python arms to hit homers. Me, I'm the little guy in the group. People always root for the little guy." – Ken Griffey Jr.
20.) "As long as I have fun playing, the stats will take care of themselves." – Ken Griffey Jr.
21.) "Being a centerfielder, we're a different animal. Everything hit to us is fair." – Ken Griffey Jr.
22.) "Do I have the will to run into a wall, make a diving catch, go over top of a wall? Yeah." – Ken Griffey Jr.
23.) "I only play the game one way, and that's hard and with reckless abandon." – Ken Griffey Jr.
24.) "I've had two wrist surgeries, a hand surgery, ankle, knee, and hamstring surgeries…but would I change the way I play? No." – Ken Griffey Jr.
Recommended
Ken Griffey Jr. – Cooperstown Collection Authentic Jersey
Represent "The Kid" with his Cooperstown Collection Authentic jersey from Mitchell & Ness. Identical to the one he wore during his Hall of Fame career with the Seattle Mariners, it boasts the throwback logo alongside high-quality stitching.
Joker Mag is reader-supported. When you buy through our links, we may earn an affiliate commission at no additional cost to you.