I have recently developed a habit of ingesting NPR Tiny Desk concerts before I go to bed. I figure it's slightly better than ingesting copious amounts of junk food prior to sleeping.
The desired effect of these two behaviors is the same: seeking comfort to unwind at the end of the day.
Anyway, this habit led to me discover the soothing melodies of Haley Heynderickx, and her bandmates. Additionally, I felt instant kinship with Heynderickx due to her goofy humor, disguised by a deadpan delivery.
The instrumental beauty of her songs and endearing demeanor are components of Heynderickx' aura. But the key component of her greatness is the themes that permeate her writing.
The first song that Heynderickx and her band play in the Tiny Desk show is "Oom Sha La La," which is a tale of overcoming shyness and taking action that masquerades as a pleasant folk singalong.
The next song is "No Face," which Heynderickx explains is a fable whose moral is to always treat people with kindness "or else you will end up like the character 'No Face' from the [Hayao] Miyazaki film Spirited Away."
These first two songs are fascinating.
Then, Heynderickx concludes the set with "Worth It" and now I'm offically a fan. This song is another with an inspiring backstory and powerful message… and it's also irresistibly catchy.
"[It was] written in a basement with the belief that the music would never leave the basement," she says. "And I'm always stunned to get to play it anywhere outside of that space…"
And to think it all started with a submission to NPR back in 2015.
Hopelessly on the hook, I proceeded to deep-dive into the rest of Heynderickx' musical portfolio. I listened to her I Need to Start a Garden album from beginning to end and continued to marvel at the powerful storytelling and the elegant folk harmonies throughout the record.
After re-listening to the album a few times, I commenced my deep-dive and listened to Fish Eyes, Heynderickx' debut EP.
The four-track album is another triumphant effort and exhibits the same great characteristics that initially reeled me in (pun intended).
"First I'm Sorry" is the standout, seamlessly transitioning between sweet, soaring melodies with crunchy guitar sounds that sound more like what we'd expect to hear from our favorite grunge bands.
Amazed by Haley Heynderickx and her music, I was fascinated to learn about her folk music superhero origin story.
Not surprisingly, my research did not disappoint.
Heynderickx was an independent artist that caught the attention of Mama Bird Recording Co., a small record label rooted in Portland, OR, which also happens to be her hometown.  In addition to the record label, Heynderickx also captured the interest of Rolling Stone as the legendary magazine featured her in an outstanding profile.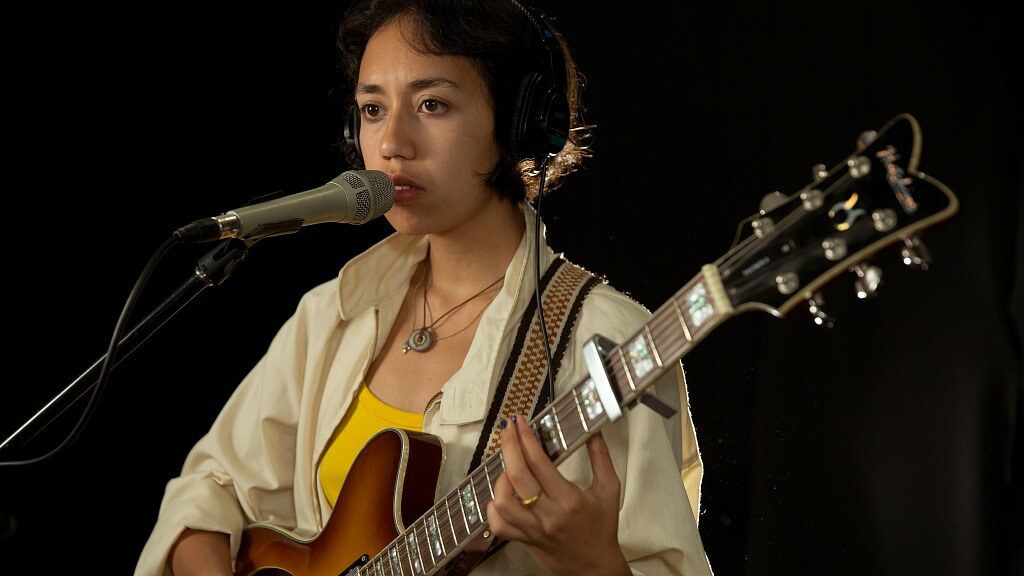 After learning anecdotes about Heynderickx imploring her fans to introduce themselves to one another while she tunes her guitar, and her April Ludgate sensibilities, it makes sense why her art resonates with many listeners.
The whimsical tunes that comprise Heynderickx' musical catalog are reminiscent of Wes Anderson movies. It would not shock me at all if Anderson recruits Heynderickx to compose the score for a future motion picture.
In the aforementioned Rolling Stone piece, Maggie Lange writes that Heynderickx' songs contain elements that feel as if they are "dropped from a daydream." This is a perfect encapsulation of the experience that new listeners should anticipate.
I did not listen to Heynderickx' music chronologically, so I won't tell you that you must do so.  But I will recommend that you listen to all of it. No matter where you begin the journey.
It is a journey similar to the way meditation or staring at clouds is a journey. It is beneficial to both the mind and soul.
And your ears will appreciate it too.
Know another story like that of Haley Heynderickx? Comment below.